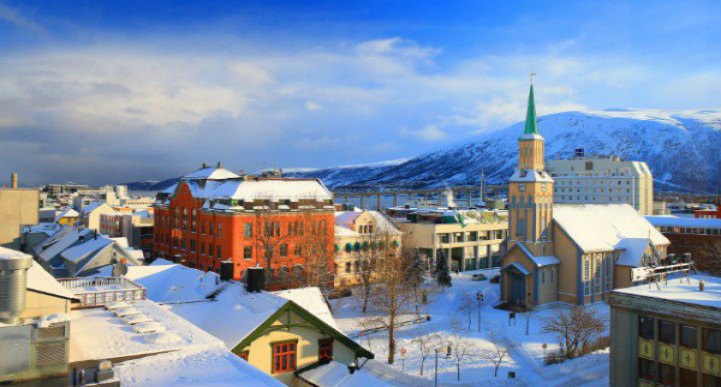 Set far above the Arctic Circle, Tromsø is the perfect base for intrepid travellers who want to get a firsthand taste of the unique landscapes and wildlife that characterise the far north. It's not just a simple launching point though: this is a city with its own attractions, events and a lively social scene, so it's worth exploring and enjoying in its own right.
With a Tromso car hire, you have the chance to really see all that the arctic has to offer, taking in all the attractions of the north on your own schedule. Being able to make time for everything that appeals to your sense of wonder without having to worry about conforming to a strict timetable will ensure that your vacation in the Arctic will be one you remember for many years to come.
Booking with Airport Rentals
Getting your Tromso car hire sorted doesn't have to be a headache of a process involving multiple websites and hours of searching. It's easy to compare a wide range of deals from different rental brands in one place at AirportRentals.com. Picking out the ideal Norway car rental for your trip can be taken care of in mere minutes, even if you're hunting for something from another Norwegian city. Booking an Oslo car hire in the capital, exploring the fjords with a Bergen car rental or discovering the scenery along the arms of Trondheimsfjorden with a Trondheim car hire, Norway is your oyster when you've got your own set of wheels.
All you have to do to find a cheap car rental in Tromso is enter a few details about your upcoming journey in the search box on AirportRentals.com. Once that's done, you'll be taken to a page where you can scroll through available deals from all kinds of different rental suppliers. Those hunting for a bargain will appreciate that the cheapest deals appear at the top, but if you're searching for something a little bit different you can swap that around or even filter by categories like transmission type, rental brand or vehicle type. After you've come across the perfect deal for your particular trip, getting it booked and finished up won't take more than a bare few minutes.
Tromsø Airport car hire brands
Those on the lookout for a car hire from Tromso Airport can choose from a handful of top-notch, internationally renowned brands.
● Budget has two different pickup depots in Tromso - one set on airport, and the other downtown at Strandskillet 5.
● Sixt has a rental desk in terminal at Tromso Airport, as well as a downtown location at Skognesveien 2.
● Europcar has a rental depot in terminal at Tromso Airport.
● Hertz has two separate pickup depots in Tromso, one at Tromso Airport and the other located at Fridtjof Nansensplass 3C.
● Avis gives visitors two pickup options - one directly on Tromso Airport itself and the other further south at Strandskillet 5.
Driving in Tromsø
After picking up the keys for your rental, you should be all set to hit the streets of Tromso. Remember that Norwegian traffic sticks to the right hand side of the road, and if you're used to driving on the left take special care at intersections. If you'd prefer to drive an automatic transmission vehicle during your time in Norway, be sure to specify this when searching on AirportRentals.com, as most Norwegians drive manuals.
Both distance and speed is measured by kilometre in Norway, and your Tromso car hire's speedometer will also be in km/h, so those who are used to thinking in miles per hour should take special note of their speed.
There are some unique challenges to driving so far north, especially if you're planning to visit during winter to spot the aurora borealis. Winter tyres are a must during the colder months; this should be all sorted by your rental supplier but you can double check with them to be sure if you like. It pays to drive more conservatively, as visibility is often poor and conditions can worsen very quickly. Carrying winter clothing with you in the car is always smart, as is bringing along a small shovel just in case you find yourself stuck in a snow drift.
Those visiting the Tromso area in summer will have other things to look out for. When you head off the main roads, drive cautiously as some road surfaces may be damaged after the spring melt. It's also worth taking special care when entering tunnels, as reindeer can gather in tunnels to escape the heat of the summer sun.
For those needing to refuel before returning their rental to the airport, there are two different fuel stations on the airport, and if you're returning your car to a city location, you might want to consider Circle K Breivika at Terminalgata 24 or Circle K Fr. Nansens Plass, at Fr Nansens plass 1.
Parking in Tromsø
There are a number of different options for parking in the city, but you will have to be prepared to pay if you're parking up during the day on weekdays. A sign with a white P on a blue background - you'll have to pay at the nearest parking meter. An important bit of Norwegian to know is "Maks 2 timer mot avgift" which means you can only pay for a maximum of two hours parking. There are also outdoor car parks and underground parking areas in tunnels, which usually work on a system where you take a ticket when driving in, and pay on the way out according to the amount of time you've taken.
Road trips from Tromsø
There's no shortage of amazing road trip destinations for those with a Tromso car hire at their disposal - be sure to research which routes are best for the particular time of year that you'll be visiting, as the seasons can dramatically affect both driving conditions and daylight hours.
● One relatively easy option is to explore the breathtaking islands to the west of Tromso city. Sommarøy in particular is a popular tourist spot thanks to stunning scenery and gorgeous white sand beaches, but it's also worth seeing Grøtfjord and Ersfjord. These islands are connected via a network of bridges, so there's no need to worry about a ferry.
● It's only about a two hour drive in good weather to the Lyngen Alps to the east of Tromso, and is well worth the visit for its spectacular alpine vistas. Lyngseidet is the main centre in the area (though still just a village) making it a decent place to start.
● Connected to the mainland by a 1147 metre long bridge, the picturesque island of Senja is a must visit destination for those who've booked a Tromso car rental. Decent driving conditions will see you arriving here in under three hours, and discovering a microcosm of Norway. Mountains, forests, rivers and fishing villages are scattered across this beautiful island, so make sure you take enough time to explore.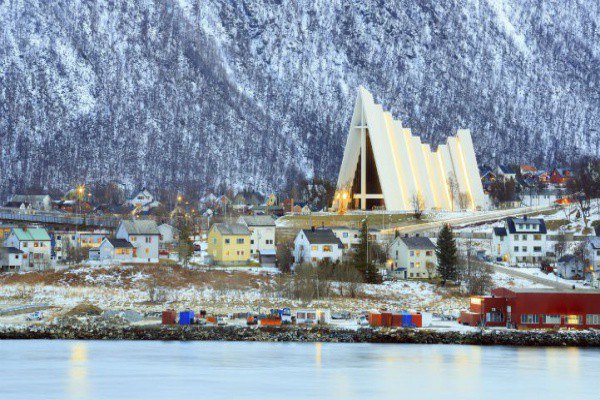 If you're hoping to incorporate a summer Tromso trip into a larger tour of Europe, be sure to check out our guide to European summer road trips to kickstart your itinerary. On the other hand, if you're chasing the northern lights but want to continue your winter adventures outside of Norway, take a look at these top European ski resorts that you could enjoy.
Tromsø city guide
Accommodation
There are a range of different accommodation options available for Tromso travellers - even though the city is set well above the Arctic Circle, you still have the option of staying in excellent hotels if that's your sort of thing, or lodges, B&Bs and guest houses for those who prefer a more cosy stay. Clarion Hotel The Edge is one of the top choices for those hunting for excellence in their accommodations, while options like Tromsø Bed & Books and City Camp Guesthouse would suit travellers keen on something a little more low key.
Dining
Don't be fooled by Tromso's relative isolation: you can still sink your teeth into some legendarily tasty dishes. From fine dining with a distinct northern spin to more casual venues with excellent atmosphere and generous portions, Tromso will have no problems satisfying your foodie cravings. For excellent yet unpretentious seasonal food that takes some of its inspiration from Norway but embraces other influences as well, Emmas Drommekjokken is a great choice, while seafood aficionados won't want to miss a visit to Fiskekompaniet. For something a bit more quirky, you could sample the much loved pizza at the steampunk themed Casa Inferno.
Geography, culture and people
The area around Tromso has been home to one group of people or another since the end of the last ice age, with one of the first historically documented inhabitants being the 9th century Norse chieftain Ohthere. The city has constantly evolved with the times, being christened the Paris of the North in the 19th century, and retaining its thriving cultural scene right up to the present day.
Tromso has a very close relationship with the sea, as most of the city is set on islands, interconnected by bridges. This is reflected in the cuisine, city layout and climate, which is unusually mild considering the latitude at which Tromso sits.
Norwegian is the leading language here, and while you will find many people who speak English as a second language, this won't be as common as in larger southern cities like Oslo and Bergen.
Attractions
Tromso is often spoken of as the gateway to the Arctic, and while that has a lot of truth to it, those who arrive here may find it harder to leave than they expected. There's plenty for travellers to discover around town once they've picked up a Tromso airport car hire.
● Tromsdalen Church, more commonly known as the Arctic Cathedral, is one of the most visually distinctive buildings in Norway and should definitely make it onto the itinerary of anyone with an appreciation for architecture.
● If you've got children along for the ride, you should definitely take a trip to the Science Center of Northern Norway. With plenty of interactive displays and activities for the kids, as well as the country's largest planetarium, the Science Center provides a fun and informative few hours for the whole family.
● If you're in Tromso during the warmer months and feel like a bit of peace, and quiet contemplation, head along to the world's northernmost botanical gardens. Featuring arctic and alpine plants, many of which cannot be grown in any other botanic garden, this is a unique and simply beautiful place.
Weather
Technically, Tromso's climate is classified as subarctic, though it is unusually warm for a subarctic zone thanks to the moderating influence of the Gulf Stream. Nevertheless, those who live in milder climes will still find temperatures here more than chilly, especially if you visit outside the height of summer, and visitors would do well to bring appropriate clothing. Those who visit in summer can expect to see the midnight sun - it never really gets dark between late April and early August. Conversely, in the winter the city is plunged into polar night, with the sun disappearing between late November and late January.