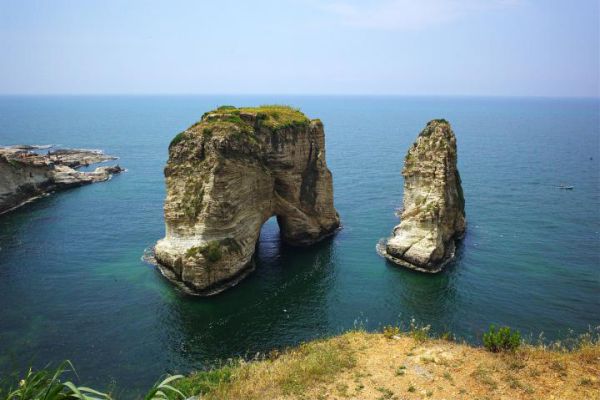 Image: Pixabay
Lebanon is a small country tucked away on the Mediterranean Sea between Israel and Syria. Secure a cheap rental car and cruise the coastline on your own schedule.
Lebanon has struggled with regional unrest many times throughout its 7000 years of recorded history and today's ongoing Syrian conflict poses its most recent challenge. It's best to check in with your local embassy as a safety precaution before heading to certain areas of Lebanon.
Archaeological sites across the nation tell the story of changing empires and former rulers. Be sure to take in this rich history as you drive from one ancient site to another. Beirut, the capital city, is the powerhouse of Lebanon and often referred to as "the Paris of the Middle East." Here visitors can enjoy luxury beach resorts and glamorous restaurants. The Metn district offers breathtaking mountain views amongst ancient ruins.
Cruise north to Tripoli, the country's second largest city to visit castles, bustling souqs (market) and more. Head south to Tyre, known as Sour, to get lost in the must-see UNESCO World Heritage town.
Visiting other nearby countries? Hire a cheap car for Egypt, Cyprus, Turkey, and more with Airport Rentals.
Find a cheap Lebanon car hire with Airport Rentals
Use Airport Rentals to take the hassle out of hiring a car in Lebanon. Simply type in your destination and travel dates to find the best rates on car rental for your trip. A list of the best deals in the industry will be presented on one user-friendly page. You can compare car hire brands and features side by side, quickly and easily.
If you prefer a certain style of car, transmission type or rental brand, use the handy filters to narrow your search. Once you've made your final selection, complete your booking on our secure site to receive instant confirmation. If you have any questions during the process, our team is ready to assist you at any hour of the day. Airport Rentals is your one-stop shop for car hire, and you never have to worry about hidden fees.
Top rental locations in Lebanon
Check out these top car hire locations in Lebanon and choose the one that best suits your itinerary.
Beirut Airport car rental - Touch down in Lebanon's capital city and explore one of the oldest cities in the world. Pick up a car hire from the airport or one of the downtown depots. Beirut is the ideal starting point for a Lebanon road trip.
Jdeideh car rental - Jdeideh in the Metn district is blessed with breathtaking scenery and views of the Mediterranean. Pick up a rental car here or in Dbayeh, just a short drive north of Jdeideh.
Tripoli car rental - Cruise north along the sea to Tripoli, a city dating back to the 7th century. Explore historic souks and stunning mosques.
Tyre car rental - This historic coastal town, once a great Phoenician city, offer tourists a look back into Roman times with ancient ruins displayed across the UNESCO site city.
Trusted rental car brands available
Do you have a favourite rental car provider? Use our preference filters to find yours and streamline your car hire experience. Check out what Lebanon has on offer from international household brands. Auto Europe and Sixt are two highly-recommended European suppliers that offer included benefits such as breakdown assistance and theft protection. Choose Avis or Budget, both internationally trusted companies with add-ons like unlimited mileage and instant confirmation. Our booking process makes it easy to select your preferences and save you time. Plus, with no additional fees and the ability to make changes using our online reservation management system, Airport Rentals is your one-stop shop for all your car hire needs.
Driving laws in Lebanon
The age requirement to rent a car in Lebanon is 23-years old and drivers must have at least one year of experience.
● Drive on the right-hand side, overtake on the left.
● All passengers, including the driver must wear a seatbelt at all times.
● Always carry a valid driver's license, proof of insurance and car registration papers.
● The speed limit is 100 km/hr on highways and open roads, and 50 km/hr in urban areas.
● Mobile phone use is prohibited while driving, but you may use a hands-free device.
● There is zero tolerance for drink driving in Lebanon.
● Children under the age of 12 are not allowed to travel in the front of the car.
Tips for driving a rental car in Lebanon
● Drive cautiously as local drivers are known for pulling onto streets without looking for oncoming traffic.
● Use your horn when necessary especially for overtaking.
● Slow down on blind turns as many drivers overtake in unsafe situations.
● Public buses rarely follow traffic laws.
● Find both on-street parking and multi-storey garages in Beirut. Residents typically park where they please.
● Petrol stations are generally open from 8am to 8pm.
If this is your first time driving in a foreign country, take time to check out our top tips toward a fun and safe journey.