Set on the coast of the Mediterranean Sea, Beirut is the lively capital of Lebanon, bursting at the seams with people, fashion, cars, and mouthwatering food. The people of Beirut are incredibly friendly and will often address you as "habibi" which translates to 'my dear'. Rent a car cheaply to take part in the city's vibrant nightlife and enviable restaurant scene.
For some more fun and exploration, travel north in your rental car to discover Jbeil, one of Lebanon's oldest districts, Tripoli, its second largest city, and Al-Qoubaiyat, Lebanon's summer music festival capital.
From high-end hotels to ancient ruins, this city where east meets west will delight your senses.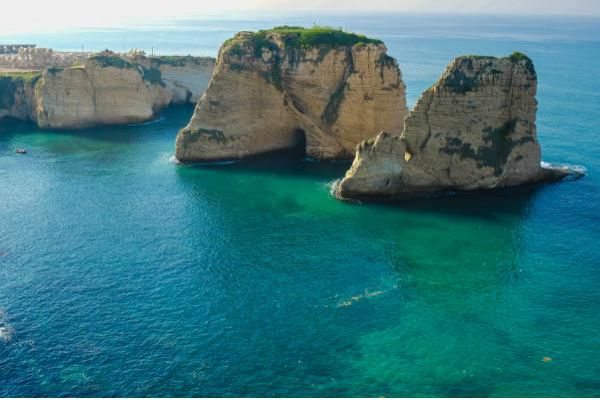 Hiring a cheap rental car in Beirut with Airport Rentals
Hiring a cheap rental car for your trip to Beirut with AirportRentals.com is easy. In a few simple steps you'll be on your way to cruising the streets of Beirut in a hired car. Type in your details and then choose anything from luxury vehicles to economy cars and everything in between. Hire a GPS to make navigation a breeze and secure a car or booster seat when travelling with the family. Our secure site provides instant confirmation with invaluable perks, plus 24/7 customer service should you need a hand.
Ranked No.1 by TrustPilot, Airport Rentals is the best car hire option for your Beirut road trip.
Beirut Rafic Hariri International Airport (BEY)
Beirut Rafic Hariri International Airport is the only commercial airport in Lebanon. Located on the Mediterranean coast, the airport is a quick 9 kilometres from the city center. International flights from cities like Paris, Doha and Cairo arrive daily. The airport's main terminal has four levels and its departure gates are divided into an east and west wing. If you're hungry upon arrival or need to finish some last minute shopping prior to departing, Beirut Airport has a variety of restaurants, cafes, shops and duty free stores.
Car rental company kiosks are located on level one of the arrivals hall. A designated rental agent will escort you and your luggage to their respective office in Beirut.
Guide to driving a car hire in Beirut
Use the handy guide below for directions, driving tips and parking information in Beirut.
Driving from Beirut Rafic Hariri International Airport
To enter downtown Beirut, use the airport access road and exit onto Route 51. Follow this road for approximately 7 kilometres (10-15 minute drive) to the heart of Beirut.
Driving tips for your Beirut Rental Car
It is wise to hire a GPS for your rental and carry a paper road map of the area in the event your GPS fails.
● Drive on the right side of the road, overtake on the left.
● Honk your horn to alert other drivers and pedestrians when you're passing.
● It is best to park and walk downtown as traffic is congested, especially during rush hour.
● Follow the posted speed limit and always wear a seatbelt.
Parking in Beirut and at Beirut Rafic Hariri International Airport
Beirut Airport is equipped with a three-level car park connected to the terminal by a pedestrian tunnel. Both short and long-term parking options are available.
There are multi-level parking lots located throughout Beirut and street parking is permitted for a maximum of 2 hours. Parking laws in Beirut are not largely enforced and cars tend to park where space is available. However, it is best to obey posted parking limits and stay within parking zones to avoid potential fines.