Santorini is an island in the Aegean Sea, located approximately 200 km southeast of Greece's mainland. It is the southernmost island in the Cyclade group of islands. Formed from one of the world's largest volcanic eruptions, Santorini is on the edge of the volcano's crater (or caldera) and its plunging cliffs overlook the enormous water-filled crater and Aegean Sea. Hire a car for cheap and visit the picturesque town of Fira, the island's capital perched high upon the edge of the caldera.
Santorini island is truly a place of romance; from its awe-inspiring sunsets and vast vineyards to whitewashed buildings teetering on the volcano's edge. Love birds from all over the world travel here to experience the most unforgettable amorous moments and relish in its breathtaking beauty.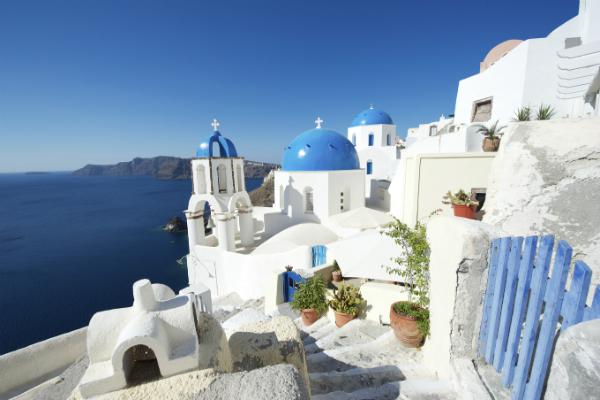 Hiring a car in Santorini
It's easy to secure a cheap rental car from Santorini Airport with Airport Rentals. Simply type in the location of hire followed by your itinerary details. Click 'search' to view a vast selection of rental cars available on your travel dates. Should you wish to narrow your search results, go to the top of the page to choose from different types of vehicles like Economy, Compact, or Medium. Each car has a star rating system and links to consumer reviews to aid in your decision process.
Once you've selected and reviewed the details of your hired car, consider the extra items page to ensure there isn't something your travel plans may require, such as a GPS. At the rental details page you'll confirm your rental and provide your payment information. Airport Rentals gives you the option of cancelling your rental without any further charges and should you need it, they provide 24/7 access to their dedicated customer service team. Manage your booking online and never worry about paying any added or hidden fees.
Guide to Santorini Airport (JTR)
Santorini Airport is the largest airport in the south Aegean Sea and has all the airport facilities you would expect from a tourist hot spot, including Hellenic Duty Shop, free internet access and ATM's located outside the terminal and in arrivals. Before leaving arrivals and collecting your rental car, stop in at one of the airport's two cafeterias for a coffee and snack.
This airport serves international flights from mainland Greece via Athens and Thessaloniki. During the busy summer months, the airport hosts charter flights from European cities including Milan, Nantes and Frankfurt.
Guide to driving on Santorini island
Use the guide provided below for directions, tips for driving on the island and parking information.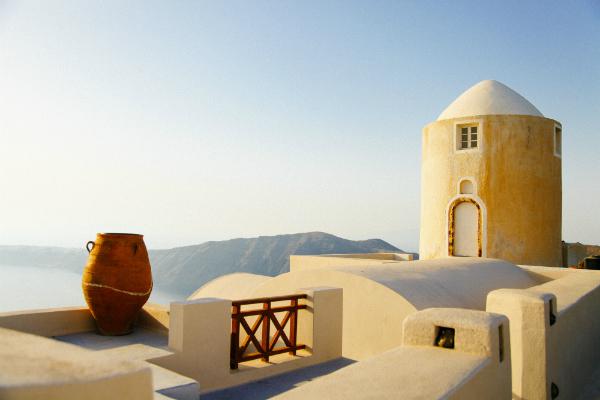 Driving from Santorini Airport
Santorini Airport is located approximately 5.5 kilometres from the town of Fira and is easily accessible from the provincial road Mesarias-Archeas Thiras. The journey to and from Fira takes about 15 minutes.
The airport is approximately 17 kilometres from the northern village of Oia and Akrotiri on the south end of the island.
Driving tips for your Santorini rental car
Hire a GPS for your hired car and carry an up-to-date paper road map of the island in the event your GPS fails.
Tips for driving on Santorini island
● Drive on the right side of the road, overtake on the left side.
● Roads are narrow and winding and motorists tend to drive in the middle of the road. Stay alert and keep to the right especially around corners.
● Traffic is heavier during the busier summer months. Follow the rules of the road and let other drivers pass.
● Have a valid driver's licence with you while driving and always wear your seatbelt.
Parking at Santorini Airport and on Santorini island
Short and long-term parking options are available outside the departures hall of the airport. Follow instructions from your rental car agency on where to park your vehicle at the end of your holiday.
Fira and other villages have free public parking areas for your rental car. Park your rental in a parking zone to avoid being ticketed.
Be prepared and check out our tips for driving in a foreign country!