Reno is affectionately known as "The Biggest Little City in the World", thanks its long list of attractions. It is located in western Nevada at the foot of the Sierra Nevada mountain range near the border with California, and is just a 45-minute drive from the ever-popular Lake Tahoe. When you rent a car in Reno, you can explore some of the splendours of the city, then make a beeline for the inviting shores of the lake.
Renting a car from Reno-Tahoe Airport also gives you the freedom to hit the road for a road trip anywhere in Nevada or its neighbouring states. Sacramento is just a couple of hours away, and the incredible Yosemite National Park is less than five hours away. Head south for camping, hiking, and sightseeing!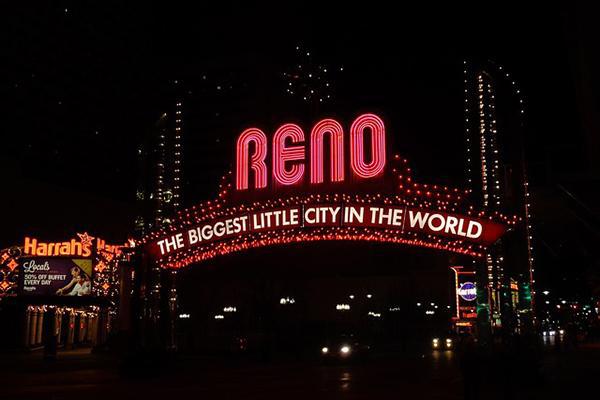 Find the best deal on car hire in Reno Tahoe with AirportRentals.com
A single search with Airport Rentals will allow you to compare rental deals from multiple brands at Reno-Tahoe Airport all in one handy place.
Airport Rentals is a car hire comparison search engine, so when you enter your arrival and departure dates in Reno it will generate a list of available cars during those times for all leading rental suppliers in the city. The cheapest car hire in Reno will be listed first, and you can easily scroll through the options to compare features and benefits. Use the filters to narrow down your search if there's something specific - such as a compact vehicle, or one with manual transmission - you're looking for.
There's no doubt you'll find your perfect car rental within moments, at which point you can book securely and immediately on our secure site. Note that 24/7 help is available if you have any questions along the way. Plus, you can update or change your booking at any time using the online reservation management system.
Introducing Reno-Tahoe Airport
The Reno-Tahoe International Airport (RNO) is Nevada's second busiest terminal (after McCarran Airport in Las Vegas), with more than 3.5 million passengers making their way through the airport every year. Routes available from Reno-Tahoe include a range of destinations, from Denver and Los Angeles to San Francisco and even Guadalajara.

The terminal facilities are world-class, so you can take your pick of restaurants, shops, bars, and more. You can also connect to the free WiFi, and you'll find all car rental agencies at the baggage claim area after you disembark your plane.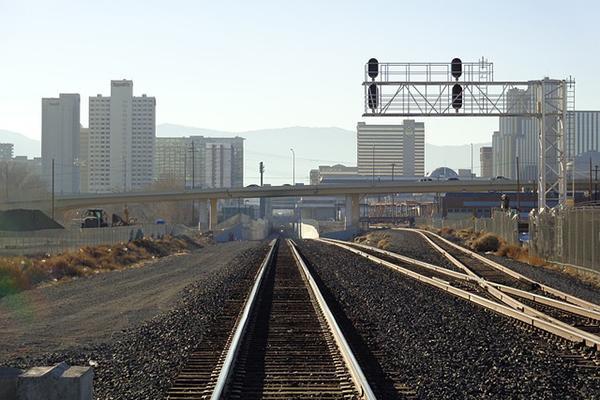 A guide to driving in Reno
Driving from Reno-Tahoe to the city
The airport is roughly six miles from Reno, and this drive should take 15-20 minutes under normal traffic conditions. When you leave the airport, follow the signs to immediately turn right onto the I-580 heading north. Take the turn-off for the I-80 heading west, then turn left onto Virginia Street to drive into the heart of Reno. If you prefer to drive to Tahoe, you'll turn left from the terminal onto the I-580, then right onto Route 431 to reach the lake.
Tips for driving in Reno
Every city and every state offer their own rules when it comes to driving, so it is recommended that visitors familiarise themselves with these conditions prior to getting behind the wheel of a car hire.
● The roads can be treacherous in winter, so read our tips for safe winter driving in North America if you're arriving at this time of year.
● The maximum blood alcohol limit in Nevada is 0.08%, but it's best not to drink at all before driving. Note that you must complete a breathalyser test if requested by a police officer.
● Nevada is one of a handful of states that allow for a speed up to 80 miles per hour in on the interstate, although it is lower on most freeways and highways, so watch for signage.
● You are not permitted to use a cellphone while driving, unless it is equipped with a hands-free device.
● You are permitted to turn right on a red light after coming to a complete stop.

Parking at Reno Tahoe Airport
There is a parking facility right in front of the Reno Tahoe Airport that holds spaces for roughly 1,900 vehicles, most of which are covered. There is also another 1,450 spaces available just south of the parking garage for long-term stays. Within the parking structure, you'll pay USD$1 for the first half hour, or USD$2 for the first hour in both short- and long-term lots.
Parking in Reno
There are on-street parking spaces all over the city, most of which are metered from 9am to 6pm Monday to Saturday. Note that many of these have two-hour limits, so read the posted signs when you park to avoid a ticket. There are also several parking garages in the downtown area, such as the Parking Gallery on North Sierra Street, and the City Hall Parking Garage