Beautiful beaches, stupendous shopping, pristine parks, and a whole lot of Disney, Orange County, California, is a thriving hub of activity no matter what time of year you visit. Make the most of your holiday by renting a cheap car at John Wayne Airport.
An incredibly culturally diverse region, the OC is the perfect combination of urban delights, festivals and events, and relaxing waterfront hotels. Take a hike on one of the many regional park trails, watch the whales surface on the coast, or take the kids to a theme park - there's so much to experience you may never want to leave.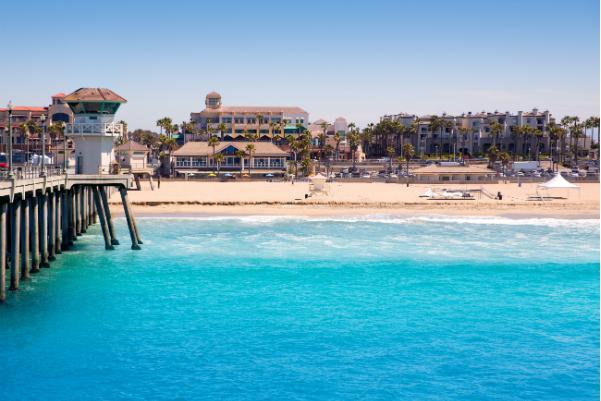 Begin your Orange County adventure by booking a John Wayne car rental
Booking a car hire from John Wayne Airport has never been easier with Airport Rentals. Whether you're after an economy car, 4WD, or people carrier, we work with an extensive range of suppliers to bring you the best deals on rental cars.
Pop in your travel dates, click 'search', and compare all the suitable cars available across multiple brands on one page. Narrow down your options even further by filtering results by car type, transmission preference, or group size. With secure online booking and 24/7 customer service just a call away, you'll be booked and ready in just a few short minutes.
Brief guide to John Wayne Airport
The John Wayne Airport services all of Orange County in California, so there is a constant stream of flights from all over the country. Fly in from major United States cities such as Portland, Denver, Albuquerque or Las Vegas to one of four terminals, with all the facilities you could possibly need. Enjoy a coffee in one of the many cafes, make use of free WiFi, or start your holiday shopping early at one of the numerous retail stores. When you're ready to be on your way, pick up the keys to your rental car from the basement level of the Parking Garages.
Driving your car hire in Orange County
Getting to and from the airport
John Wayne Airport lies in the centre of Orange County, so no matter which city you're off to, it's only a short drive away. Head north on the I-405 to Los Angeles, northeast on the State Hwy 55 to Anaheim, or head down State Hwy 73 to San Clemente. There is a public bus system which runs in and out of the airport, so if you're planning on picking up your vehicle from Santa Ana, Newport Beach or other nearby California cities, you can be there in no time.
Handy tips for driving your car rental in Orange County
Even if you're familiar with America's road rules and regulations, it's always useful to remind yourself before heading out in your hired car. Check out our USA driving guide for more information.
● Motorists drive on the right-hand side of the road.
● At traffic lights, you may turn right on a red light unless stated otherwise.
● When driving on the Interstate, keep a safe distance between you and the car in front.
● Don't forget to familiarise yourself with the mirrors and settings on your rental car before heading off.
Planning to see more of the United States? Visit our guide to USA driving distances to get an idea of how long your road trips might take.
Where to park
John Wayne Airport offers several parking options. Four parking buildings are located just outside the terminals, and begin at $2 per hour, with a daily maximum of $20. The economic option is parking at the Main Street Parking zone, which is a short shuttle ride away from the airport.
Around Orange County there are many parking options, from garages to on-street metered zones. Rates range from free to $8 per hour, depending on which area you're parking in. Always double check time restrictions before leaving your rental car.