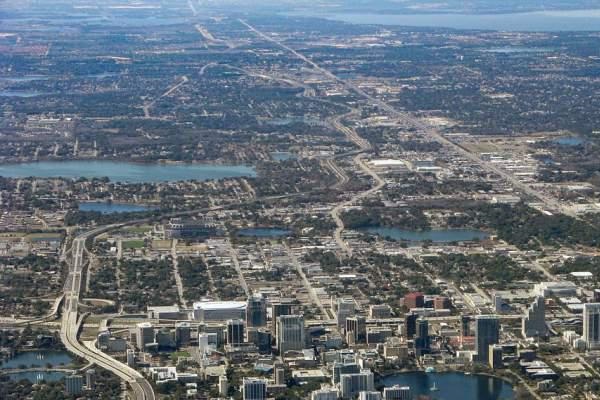 Image: Michael Adams
Hire a cheap rental car from Orlando Sanford airport for a fun-filled holiday of theme parks, nature visits and family adventure.
Sanford is located 70 kilometres northeast of Orlando and offers guests access to Florida's nature attractions, plus a pristine waterfront full of restaurants and shops. Zipline high above the ground at Zoom Air, located in Central Florida Zoo & Botanical Gardens for an adventure-filled day outdoors. Explore Lake Jesup for your chance to see alligators, hawks and eagles. Hike, camp, fish and have a BBQ at Little Big Econ State Forest spread across 10,279 acres.
If you're flying into Sanford specifically to hit the world's best theme parks, you are in luck. With an airport car hire you can drive to Epcot, Universal Studios and more in under an hour. Make friends with Mickey Mouse and catch a star-lit parade at Disney's Magic Kingdom and step into your favourite films at Universal Studios for hours of roller coaster rides, 4D shows and themed eateries. The fun never stops in this part of the world.
Florida is full of hot holiday spots. Plan a trip around the panhandle with our USA distance guide to find out where to head in your rental car.
Hiring a cheap rental car in Orlando
Did you know Orlando is the largest rental car market in the world? Simplify the process and secure your vehicle in just a few clicks with Airport Rentals. Simply enter your travel dates into our easy-to-use search engine to compare numerous rental car hires available at Orlando Sanford International Airport. What type of vehicle fits your travel needs? Choose economy-size to save on fuel, or book a van to fit the whole family. Compare optimal deals from 10 rental brands located onsite at the airport or via shuttle, using preference filters to refine your options down to one.
Complete your booking on our secure website in minutes, paying no booking fees and with access to 24/7 customer service should you need it.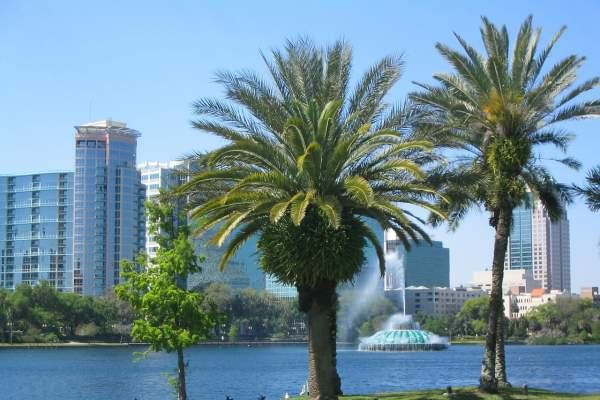 Image: Pixabay
Orlando Sanford International Airport (SFB)
Touch down at Orlando Sanford International Airport, one of the world's busiest airports located in northeast Florida. The airport was originally built as a Naval Air Station and now offers domestic and international flights serving over 2 million passengers each year. Upon landing, discover tourist shops, newsstands and a mix of eateries. Grab a bite to eat at the foodcourt or sit down for a cold one at the Budweiser Tap Room (international hall only).
Enjoy free WiFi across the entire Airport to access reservations or browse the internet. Head to the ground transportation area to hail a taxi to downtown Sanford or pick up your keys from the rental car counter located across from baggage claim.
Driving from Orlando Sanford International Airport to Sanford
The Orlando Sanford Airport is located 7 kilometres south of Sanford. Arrive in the city in just 15 minutes with this quick route: from the airport turn right onto E Airport Boulevard and take a right onto Sanford Avenue. Follow this street into the downtown area.
Heading straight to Orlando? The trip will take around 30 to 45 minutes depending on your destination. From the airport, merge onto FL-417 Toll Way and follow signs to Orlando. The highway also has signage for theme parks and resorts. Hire a GPS with your rental car to find the quickest route to your hotel.
Driving your rental car in Orlando
Florida is known for having slow drivers. Be patient and relax, you are on holiday!
USA driving tips
● Legal speed limit signs are posted on the right side of the road.
● The law requires every passenger to wear a seatbelt.
● Right turns on red are allowed unless stated otherwise, treat it as a stop sign and only turn if there is no oncoming traffic.
● Keep change in the car for tollways.
● For more tips, read our USA driving guide.
Parking at the airport, in Sanford and at Orlando's theme parks
Need to park at Orlando Sanford International Airport? Enjoy the first 15 minutes free, followed by a $2 charge every 20 minutes in the hourly parking lot. Use the parking garage for a daily rate of $17, located across from the terminal, or park at the long-term lot for $14 a day. The economy lot is the cheapest option with a daily rate of $13. A complimentary shuttle bus services the long-term and economy lots.
The city of Sanford makes parking a cinch with over 657 on-street parking spaces, with almost half of them having no time restrictions. Others are restricted to two hours. Make sure to abide by signs and avoid parking in downtown areas during street cleaning hours (4:30am to 6:30am) to avoid fines. There are multiple public parking lots near government buildings, shopping centers and restaurants.
When driving to the theme parks in your hired car, expect to pay for parking. For cheaper rates, park in the economy lots and hop on the shuttle or monorail system to travel between parks, hotels, and car lots.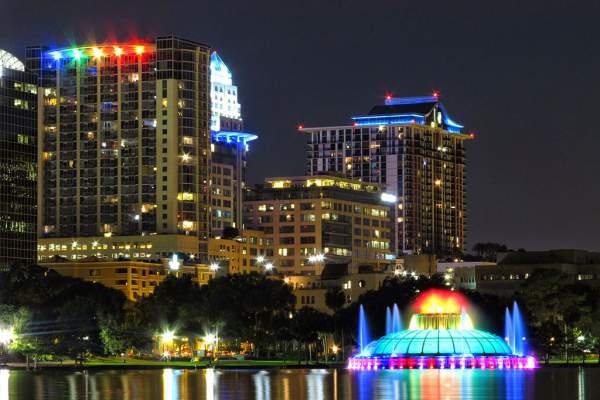 Image: Miosotis Jade