Despite a large and youthful student population, the pace of Florida's capital city is slower than most. Get amongst the relaxed lifestyle and experience stunning natural beauty, fascinating history and countless museums when you rent a car in Tallahassee. Get to know the state capital as you wander through art galleries, enjoy the parks and historical sites, and sample southern cuisine at a variety of delicious restaurants and diners.
Book a cheap Tallahassee car hire with Airport Rentals
Start your Florida holiday by pre-booking a cheap rental car in Tallahassee with Airport Rentals. We work with an extensive range of suppliers to bring you the best rental car deals available from Tallahassee Airport.
Simply type in your travel dates and hit 'search' to view a wide selection of vehicles across multiple brands. Narrow your options further by using filters for preferences like car transmission, brand, group size, style and more.
Ready to book? Confirm your car hire securely online in just a few clicks - without paying any additional fees. Call or email us with questions, any time of day or night.
A quick guide to the Tallahassee Airport
Touch down in Tallahassee from major United States cities such as Miami, Dallas, Atlanta and Fort Lauderdale. Take a short break in the recently updated terminal before heading out on your Florida adventure. Grab a coffee at one of the many cafes, enjoy complimentary WiFi, or get in some last-minute shopping. When you're ready to leave, pick up your rental car keys at the kiosks located next to the baggage claim.
Driving your car hire in Tallahassee
Driving in Tallahassee is generally straightforward, just be aware that the Orchard Pond Parkway to the north of Lake Jackson is a toll road. If you're headed that way sightseeing, the fee is $1.19 one way.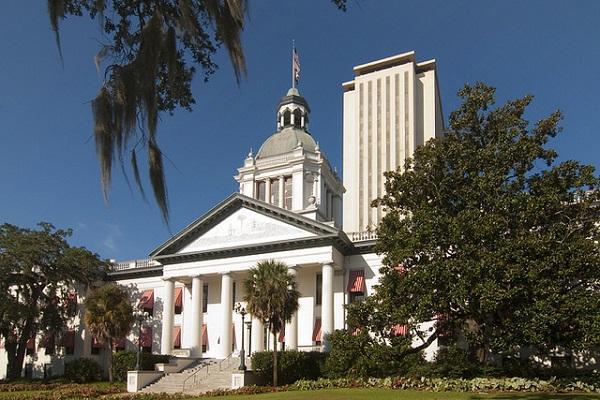 Image: Stephen Nakatani
Getting from Tallahassee Airport to the city
Tallahassee International Airport is situated 7 miles to the southwest of the CBD, with the drive to town taking around 15 minutes. From the airport, get on the Capital Cir, take a left onto Springhill Rd, continue onto Lake Bradford Rd and follow the signs to the city. Alternatively, hail a cab or order an Uber from the airport to pick up your rental car from the city.
Tips for driving in Tallahassee
First time visiting America? Follow these tips and check out our USA driving guide for more information.
● Speed and distance in the United States are measured in miles.
● You may turn right on a red at the traffic lights, unless otherwise stated.
● When driving on the Interstate, keep a safe distance between you and the car in front, and watch your speed.
● The blood alcohol level is 0.08 percent, but we suggest not drinking at all if you intend to drive.
● If driving in the countryside, watch out for wandering animals.
Visit our guide to USA driving distances to get a feel for how long your road trips might take.
Where to park
Tallahassee International Airport provides both short and long-term car parking options. Short-term parking rates are free for the first 30 minutes, and $3 per additional half hour. Long-term rates start at $2 per half hour, with a daily max of $11. Both car parking lots are located just outside the terminal building, a short walk away.
In the city centre, there are several parking garages which begin at $2 for two hours, with an increase of $0.50 for each additional 30 minutes thereafter. On weekends, daily parking is just $1 at the Kleman Plaza Parking Garage. Metered car parks are also available, beginning at just $0.50 per hour.