Tucked in at the base of rugged mountains next to the sparkling Pacific Ocean, Juneau is a hot destination in an icy location. With no roads in or out of Juneau, flying or catching the ferry in from Anchorage is only the way to go. Enter another world when you cruise around Juneau in a rental car. Even in the winter months, these shores are home to one of the most beautiful cities in Alaska.
Image: Pixabay
Experience Juneau by booking a cheap car hire with Airport Rentals
Hiring a cheap car rental at Juneau International Airport is easy with Airport Rentals. We work with an extensive network of rental companies to bring you the best deals from a wide range of brands. Get booked and ready to start your Alaskan adventure in just a few clicks.
Simply enter a few basic details about your itinerary and click 'search' to generate a list of suitable vehicles available from Juneau Airport on your preferred dates. Refine your selection further using preference filters for compact cars, minivans, SUVs and more, and favour top brands like Hertz, Avis, Alamo, and Budget.
When you're ready, confirm your selection instantly and securely online. With no hidden booking fees and 24/7 customer service, Airport Rentals is your one-stop shop for car rental in Juneau.
A glance at Juneau International Airport
Without the means of road access to the rest of the country, Juneau International Airport is the transport hub for this remote region. Daily flights from Seattle and Anchorage make up the bulk of the air traffic, however airlines also fly to Sitka. Inside the terminal, Cup O' Joe café offers excellent food and drink, and Hummingbird Hollow Gift Shop offers a great range of items. Make use of the complimentary WiFi throughout the airport before picking up your rental car keys from the kiosks located on the first floor next to baggage claim.
Image: Alan Wu
Driving your car hire in Juneau, Alaska
The cold weather and steep slopes of Juneau make the mountain roads difficult for the city to maintain. It pays to go slow as you explore, and look out for potholes. Within the city limits, however, the roads are generally well kept and pretty straightforward and navigable.
From the airport to the city
The distance from Juneau international Airport to the city is around 8 miles, with the drive taking about 15 minutes in your rental car. From the airport, head out onto Yandukin Dr, and continue on to Egan Dr. Follow the road along the beautiful waterfront until you get to the city. If you've arranged to pick up your rental car from town, the Juneau Capital Transit public system will get you there, costing just $2 one way.
Handy tips for driving your car hire in Juneau
The city is one of four state capitals not served by an Interstate highway, and there are no roads which connect Juneau with the rest of North America. Other than that, driving in Juneau is much like driving in the rest of America, with a few additional things you need to look out for.
● Juneau is quite hilly in areas, so keep that in mind when you select your hired car.
● The weather is often damp with light drizzle, due to Juneau being in a temperate rainforest. Make sure you drive to the conditions.
● Distance is measured in miles, with a limit of 25 mph in residential areas.
● Some of the streets can be quite narrow. Take it slowly and keep a safe distance away from cars in front.
If you're visiting in the cooler months, be sure to view our tips for driving in the US during the winter.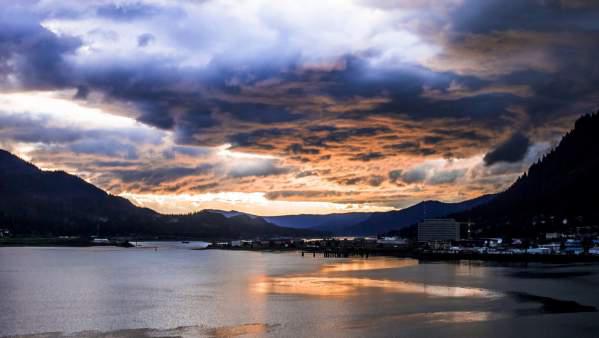 Image: Ian D. Keating
Where to park your rental car
There are short and long-term parking facilities located directly in front of the Juneau International Airport. Short-term parking offers passengers 15 minutes of free parking, before rates begin at $3 for the first hour, and $2 per hour thereafter. Long-term parking begins at $5 for 2 hours, and $1 per additional hour.
Free 2-hour on-street parking is available in downtown Juneau, while parking lots begin at $0.75 an hour during the week. There is also a parking garage available with weekly permits starting at $15 for 7 days.