Sitting along the banks of the Ohio River next to the border of Kentucky is the underrated city of Cincinnati. See what makes this city worth visiting with a Cincinnati car rental.
Home to over 300,000, Cincy (the city's nickname) welcomes visitors from across the globe. During the summer, catching a baseball game at the Great American Ball Park is a great way to get the local experience and cheer on the Reds. Interesting museums are scattered throughout the city, and all types of fabulous dining options are available. The city is most known for its five way - a chilli-inspired dish, perfect for the cooler Cincinnati nights.
Once you've exhausted the sights in Cincinnati, you can head northwest in your hired car to visit the Art Museum and Krohn Conservatory while enjoying views of the river. And to explore more of the United States, you may wish to take a road trip across the Midwest visiting nearby cities such as Columbus, Indianapolis and Chicago.
Hiring a rental car in Cincinnati
Pre-book a Cincinnati rental car to save time and hassle upon arriving in the Ohio city. Instead of scouring multiple rental car suppliers for the best deals, use Airport Rentals to quickly compile a list of available cars from top-rated brands across the industry. It is easy to simplify your search by choosing preferences such as car style and company, honing in on the perfect car to suit your Cincinnati trip. After finding the right one, continue to our secure booking process with the option for add-ons, insurance plans, and more.
As your one-stop shop for car rental, we provide free benefits with every rental deal. Plus, our customer service team is waiting by the phone at all hours of the day if any questions or concerns arise.
Cincinnati City Guide
Thanks to early settlers, Cincinnati embodies a European-influence throughout its layout and architecture. It stretches along the banks of the Ohio River with two main neighbourhoods: the central business district and Over-the-Rhine. While most residents travel via car, multiple bus routes are available from the city centre that reach outside suburbs and across the border to Kentucky. There is also a streetcar line that moves in a six-kilometre loop around downtown, The Banks and Findlay Market. The Amtrak train line also travels through the city connecting passengers to Chicago, Indianapolis, Washington D.C., Philadelphia and New York City.
For flights in or out of Cincinnati, the Cincinnati International Airport is roughly 30 minutes away across the Ohio River in Kentucky.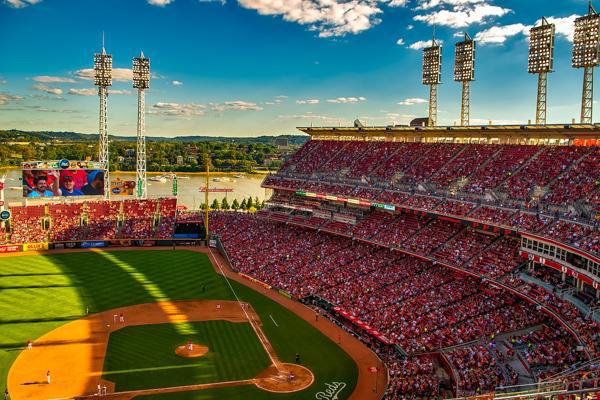 Guide to driving in Cincinnati
Driving your car hire from Cincinnati to Cincinnati International Airport
If you're flying out of Cincinnati International Airport, the drive takes roughly 20 to 30 minutes depending on traffic. Head west from the CBD and merge onto I-71 S toward Louisville. Follow this to merge onto I-275 W, then take exit 4B to Terminal Drive to arrive at the airport.
Driving tips for Cincinnati
Cincinnati sits on the border of Ohio and Kentucky. Road rules are generally the same and winter conditions can be brutal in both states, so make sure to plan ahead if you are visiting during this time.
Ohio Road Tips
● Although the Ohio driver's education manual states you must honk your horn every time you pass a vehicle, most disregard this weird rule otherwise the road would be quite the noisy place.
● Watch out for deer especially from October to January around dawn and dusk.
● Right turns at red lights are allowed unless stated otherwise.
● Hire a GPS or download a smartphone app to help with directions.
● For more tips, read our USA driving guide.
Parking in downtown Cincinnati
With 4,000 parking meters located in Cincinnati's city centre, finding a parking space is rarely a problem. Your first 10 minutes are free, followed by a rate of USD$2-2.50 per hour in the central district and USD$1-1.75 per hour in the Over-the-Rhine neighbourhood. Meters are enforced from 9 am to 9 pm Monday through Saturday and 2 pm to 9 pm on Sunday. Garages and surface lots are also available throughout the city.