Alaska, the 49th State and the largest in land mass, is known for its jaw-dropping natural landscape and diverse terrain. Start your Alaskan adventure in Anchorage and rent a car to see it all.
Perched on the Cook Inlet in southern Alaska, Anchorage is the largest city in the state and known for its cultural sites and magnificent views. Travellers to Anchorage will have access to the best of this scenic state, with sparkling glaciers, stunning national parks, and incredible wildlife all on the city's doorstep. Chugach State Park and Chugach National Forest not only provide the scenic backdrop for Anchorage but offer the most accessible outdoor adventures in the state. Go hiking, wildlife watching, glacier watching and more, and be back in time for a fabulous seafood dinner.
Be sure to make the 2.5 hour trip to Denali National Park Reserve, one of the most photogenic destinations in the world, and don't leave Alaska without visiting at least one other city. Ketchikan, Fairbanks and Juneau are all well worth the extra time. Pick up a cheap rental car in each location!
Booking an Anchorage car rental
Find an Anchorage car rental to suit your travel plans with Airport Rentals. Choose from a wide variety of vehicles across multiple brands and secure a great car hire deal and free benefits in just a few clicks. Remember to book well in advance for the summer season - car rentals do sell out at this time.
Add your travel dates to our sophisticated booking engine and sit back as we gather a list of available vehicles and present them for easy comparison on one user-friendly page. Use the filters to narrow your options into a short list, favouring certain brands, a preferred transmission type or vehicle size.
Once you've made your final selection, continue to the booking page and select any extra items like a child's car seat or GPS, and then securely confirm your reservation. You can easily make changes online at a later date if you need to, and our 24/7 customer service team is always ready to assist should you have any questions along the way.
A guide to Anchorage
With roughly 305,000 residents, about 40% of Alaska's entire population lives in Anchorage. Its northern location brings long daylight hours in summer (averaging 19.5 hours) and extremely short days in winter (averaging 5 hours). Its main tourist season is May through September, but June is known as the best month in terms of weather and hours of daylight.
Most visitors arrive via Ted Stevens International Airport, located just ten minutes from downtown.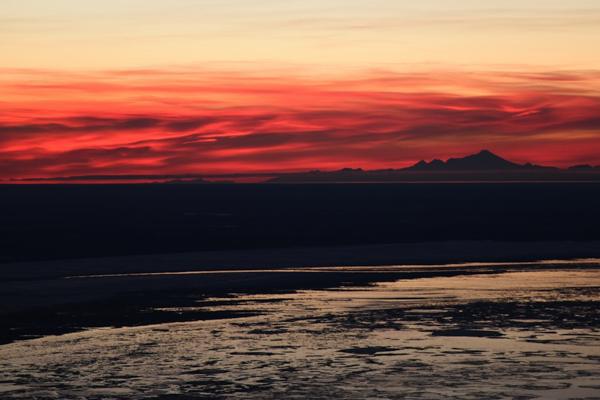 Guide to driving your car hire in Anchorage
Getting to the airport from Anchorage
The drive from Anchorage to the Ted Stevens International Airport is a straightforward 5.5 miles. Simply get on L Street (a one-way), which turns into Minnesota Drive/Walter J. Hickel Parkway, take the International Airport Road exit and follow signs for the airport.
Anchorage car hire driving tips
The number one rule to driving in Alaska is always be prepared for the weather. Read up on tips for winter driving and consider hiring a 4WD. For other useful driving tips, see below.
● Make sure to fill up on gas before adventuring away from town.
● Carry a road map, as GPS signals often fail in remote areas.
● Bring extra food, water and warm clothes if you are planning to head out for the day.
● Keep your eyes on the road and look out for of wildlife such as deer, moose, caribou and bears near the roadways.
Parking your car hire in Anchorage
There are a variety of parking options in downtown Anchorage, whether you choose to park on the street or in a parking garage. Street parking is metered with payment typically required Monday to Friday between 9 am and 6 pm, but be sure to follow any posted signs. Outside of those hours, parking on the street is free with a 2-hour limit on Saturdays from 9 am to 6 pm.