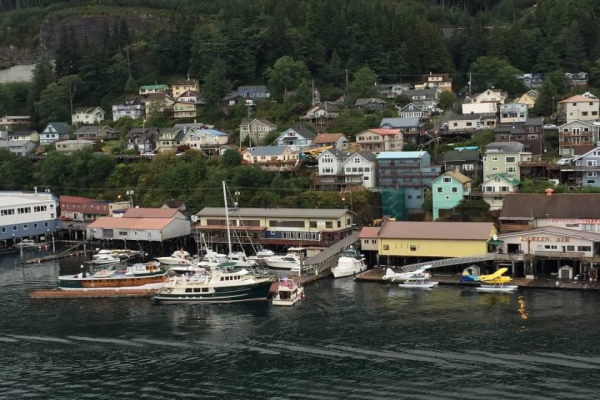 Image: Pixabay
There are few words to describe the Alaskan city of Ketchikan, but stunningly beautiful comes to mind. It's a feast for the senses, and a region you'll want to explore at your own pace with the freedom of a rental car.
Dramatic mountains and stunning ocean channels set the scene for this stunning city amongst untamed wilderness and incredible wildlife. If the location isn't enough to steal your wanderlust heart, then the people, atmosphere, attractions and sights will do the trick. With the world's largest collection of First Nation totem poles, colourful buildings, shorefront restaurants and shops to visit, you might not even have time to head inland to visit Deer Mountain. But if you do manage it, it's a view that will take your breath away.
Fly in from the United States cities of Anchorage, Juneau or Seattle and make it a holiday you'll never forget. Rent a car hire at Ketchikan Airport and experience Alaska like never before.
Grab a cheap Ketchikan car rental deal with Airport Rentals
Securing a cheap rental car at Ketchikan Airport is easy when you use Airport Rentals. We work with an extensive range of suppliers to bring you the right car for your trip at the right price.
Select your travel dates to get started, and watch the deals pour in. We always show you the cheapest options first, so you know you're getting the best price. Need something more specific? Use the handy filters to sort the results by numerous categories such as size, brand preference and transmission type. Compare benefits and prices simply and quickly, and when you've found the perfect car for your trip, book securely online with no hidden fees. We confirm your booking instantly and are just a call away, should you need us.
An overview of Ketchikan International Airport
With no road access to the outside world, the only way to reach Ketchikan is by sea and sky. Ketchikan International Airport is located on Gravina Island which is not yet connected to the mainland - although a bridge has been proposed as a future project. Upon arrival, there are a few shops and eateries at which you can relax and take a break. When you're ready to go, collect your hired car from Budget Car Rentals just outside the terminal.
If you'd rather pick up your rental car from the CBD, there are busses and taxis from the ferry terminal.
Out and about in your Ketchikan rental car
Driving in Ketchikan is pretty straightforward, as the city is well signposted and not big enough for motorists to get lost in. The ferry across to Ketchikan from the airport leaves on the hour and the half hour, and is very straightforward. Signs will point you in the right direction after you've collected your rental car.
Driving between the airport and the CBD
Step off your flight, pick up your rental car, then drive onto the ferry for the 20 minute ride across the Tongass Narrows. On the mainland, head south on Tongass Avenue and you'll be in the centre of town in just a few minutes.
Read up on the airport's ferry fares here.
Tips for driving your car hire in Ketchikan
The downtown area is very compact, which can make driving a little difficult. We recommend parking your rental car and walking around the CBD. Jump in the car for adventures further afield.
Summer can be busy, as thousands of cruise ship tourists make port in Ketchikan. While this shouldn't affect the traffic too much, the downtown area will be busy. Take extra care. On the flip side, if you're visiting between November to March, be sure to read our winter driving guide for more tips.
Where to park your rental car
Parking at Ketchikan Airport works on a 24-hour system, where you pay between USD$1 and USD$3 for the day. Monthly passes are available for USD$65 (approximately USD$2.50 a day) should you find yourself coming and going during the month.
To make use of the downtown parking lots in Ketchikan, you need to acquire a parking permit which you then display on your dash. You can get one from the City of Ketchikan Office Services Division. A daily permit costs USD$5, and a monthly pass is USD$30.