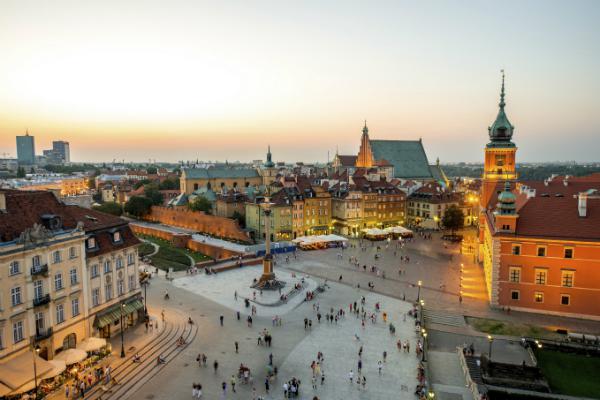 The capital of Poland, Warsaw is a remarkable mixture of stunning post-war architecture, newly built squares and monuments, landmarks and outdoor delights. It's the perfect place to enjoy a business trip or holiday break, so grab a Warsaw car hire from Airport Rentals. We can save you money and deliver the most professional customer service you've ever experienced.
Head to other locations in Poland with your airport rental car such as Silesian and Krakow.
Booking a cheap Warsaw rental car with Airport Rentals
Our extensive global network encompasses more than 2000 individual airport rental car sites. If you're flying in, Airport Rentals has a deal for you. Simply enter your Poland travel details into our easy-to-use website and a host of car rental companies will appear. All you have to do is compare vehicles and pick the one that's right for you. Filter the results by size, fleet or even transmission until you find the right vehicle for your trip.
More than one million customers are already on our books, and this number is rising quickly. Check out our independent TrustPilot reviews section for more information and testimonials from happy customers. Our multilingual service teamwork around the clock, and with extra benefits and the convenience of online reservation management, you need not look any further than Airport Rentals.
Warsaw Chopin Airport (WAW)
Named after the 19th-century Polish composer and pianist, Warsaw Chopin Airport [WAW] is the main transport hub for Poland. There is one main Terminal A, divided into the South Hall and North Hall, which houses check-in sections A to E. Passenger numbers have increased exponentially in recent years, with more than 10 million passengers in 2013. British Airways, Emirates, KLM and Lufthansa are just a handful of airlines that fly in and out.
Enjoy free, unlimited WiFi upon landing, then head to the Arrivals Hall to collect your rental car from your designated kiosk. If you're picking up a car hire from a downtown Warsaw location, take the rail link, bus or taxi to the city.
Guide to driving a rental car in Warsaw
Use our guide to driving, directions and parking in Warsaw.
Driving from the airport to downtown Warsaw
The drive from Warsaw Chopin Airport to town takes around 30 minutes. Exit the airport and head northwest on DW634 toward Przyloty to merge onto Zwirki i Wigury/DW634. Next, turn left onto 17 Stycznia, then right onto Aleja Krawoska/DW631 and follow this into the city centre.
Driving tips for your Warsaw rental car
Polish drivers are known for being aggressive; drive cautiously and abide by the rules of the road. Also, keep a GPS handy to help navigate the busy streets of Warsaw.
Poland car hire driving tips
● Drive on the right-hand side of the road.
● Always wear a seatbelt.
● The blood alcohol limit is .02 in Poland for driving; it's not worth the risk, take a taxi if you plan on drinking.
● Public buses always have the right of way when leaving bus stops.
● If you are planning a trip during winter, be sure to read our winter road trip tips.
Check out more tips for driving in foreign countries.
Parking options at the Airport and downtown Warsaw
Choose from three car parks at Warsaw Chopin Airport; two short-term and one long-term lot. Expect to pay 5 PLN for the first 30 minutes, 10 PLN for the first hour and 80 PLN for 24 hours in the short stay lots. The long-term lot charges 70 PLN for the first day, 110 PLN for two days and 10 PLN for each additional day.
Warsaw's entire city centre is a paid parking zone Monday to Friday from 8am to 6pm. Pay 3 PLN for the first hour and .60 PLN for each additional hour. Parking lots and garages are also available near hotels, shopping areas and tourist attractions.