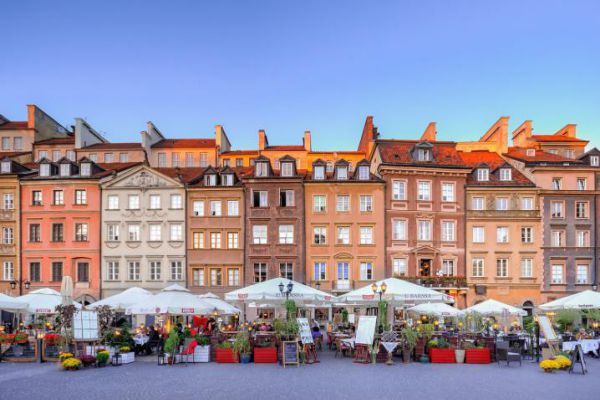 Image: Pixabay
A little bit quirky, a little bit fascinating, Poland is as intriguing as it is unexpected. It is well known for its rich history and national dishes, but this European country also offers scenery, outdoor pursuits and exhilarating adventure. Get to know all of it when you hit the Polish roads in a rental car.
Compare Poland car rental deals with AirportRentals.com
No matter where in Poland your travels begin or finish up, Airport Rentals can help you track down the best vehicle for the trip. The live inventory includes all leading car rental companies in Poland, so you'll be able to browse vehicles from all the top brands with one simple search.
All you need to do is enter your travel dates and your intended pick-up and drop-off locations. From there, you'll be able to view all available cars and sort by cost to find the best deal of the lot. You can also filter your search if you're looking for something specific, such as an automatic vehicle or a large van or SUV to suit a large group.
Should you have any questions at all, use the 24/7 online and phone assistance for a quick response. Or, go ahead and book online at no extra cost as soon as you've made your rental decision.
Poland's top car rental locations
There are several car rental locations to choose from in Poland, and if it suits your travel plans, you can pick up a vehicle in one city and drop it off in another.
Warsaw Chopin Airport - Warsaw is a stunning city in which to start your Poland adventure. Its incredible architecture, history and scenery will have you in awe. You can visit the Old Town and see sections that had to be reconstructed after WW2, and visit the Warsaw Uprising Museum which marks the country's 1944 fight for independence.
Gdansk Airport - This port city on the Baltic coast is a hit with tourists. Its colourful streets make for a great setting to enjoy delicious meals and observe fascinating culture. You can also head off in your rental car for some time outdoors at the Slowinski National Park.
Katowice Airport - Katowice in the southeastern part of the country embodies art and history. Poland is known for its history as a major stage during World War II, and there are innumerable memorials and sites throughout the country where you can pay your respects. The most infamous of these is Auschwitz near the southern border, which serves as a sobering reminder of the horrors of war.
Krakow Airport (John Paul II) - Krakow is the second largest city in Poland and a popular tourist magnet. Its aesthetics provide an intriguing atmosphere while its attractions deliver on interest. The Wawel Castle offers a spectacular look into 14th century history, and the Wieliczka Salt Mine gives you an unmissable opportunity to head underground and explore lakes, chapels and chambers.
Other major airport options to pick up a Poland rental car include Lublin Airport and Bydgoszcz Airport.
You can also pick up your vehicle in Poland and return it to a branch in another country if you're looking to complete a European road trip. Simply uncheck the 'return to the same branch' option when you run your Airport Rentals search.
Poland's top car rental companies
You're spoiled for choice when it comes to car rental companies in Poland. Many of Europe's leading hire brands offer rental desks all over the country, so you'll have no troubles finding the one you're after.
● Thrifty is an international company that aims to always offer the lowest prices.
● Alamo focuses on value and a hassle-free experience.
● Sixt is one of the world's oldest rental companies and works to offer cars in locations all over the world.
Note that when using Airport Rentals to find a cheap car hire in Poland, you can use the filter to search by rental brand if you know which company you prefer.
Road rules in Poland
It's always a good idea to brush up on road rules in Poland before you arrive, and don't forget you can always ask at the rental desk if you're unsure.
● As in the rest of Europe, you'll drive on the right-hand side of the road and overtake on the left.
● You'll be required to keep your vehicle lights switched on at all times, even throughout the day.
● The maximum blood alcohol level is 0.2 mg per ml, so it's best to avoid drinking if you plan to drive.
Top tips for driving your car hire in Poland
Driving in a new country is no doubt exciting, but there's no harm in learning a few road trip tips before you go.
● Be sure to keep that petrol tank filled as smaller towns and villages often close their stations at around 7pm.
● Be extra wary of other drivers, as locals can be cavalier about stopping at red lights. Some may even tailgate you if they think you are driving too slow, so pull over and allow them to pass as soon as possible instead of being tempted to speed.