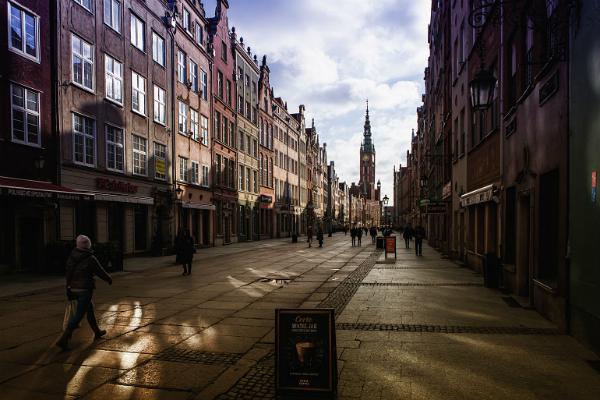 Discover the port city of Gdansk with an airport rental car. Located on the Baltic Coast, this Polish city is a favourite holiday spot for both local and international travellers.
The city was reconstructed after WWII and its stunning Long Market (Dlugi Targ) is not to be missed. Stroll along the colourful buildings on cobblestone streets, and pop into cafes and shops in the Main Town. You can enjoy a boat cruise up the river or relax dockside at one of the many beer gardens. Observe the scars of world wars when wandering through the old city and learn of its past at the Historical Museum of Gdansk. Hop in your rental car and head to Stogi Beach just minutes northeast of the city.
Planning to travel to other hotspots in Poland? Make your way to Warsaw, Krakow or Katowice with the option to drop your rental car at any one of these locations.
Booking a cheap Gdansk rental car with Airport Rentals
Choose Airport Rentals for all your car hire needs. Find the best rental car deals in one place with our optimal comparison search engine. Simply type in Gdansk Airport and your travel dates to view a large inventory of vehicles from highly-rated brands, both domestic and international. Prefer a compact car or hiring with a certain brand? Use our handy filters to narrow your search down to the perfect road trip car for Poland. Finish your booking on our secure site without the worry of hidden fees, plus receive free Airport Rentals benefits such as unlimited mileage. If you have any questions, our 24/7 customer service team is available to assist.
Gdansk Lech Walesa Airport (GDN)
Touch down at Gdansk Lech Walesa Airport (named after a former Polish president) where over 4 million passengers are processed each year. The transport facility contains two terminals where you can find duty-free shops, tourist information booths, bars and cafes. If you need to look up reservations or directions, hop on the WiFi, free for up to 15 minutes. Locate your car rental kiosk in the Main Hall on the ground floor.
Heading to downtown Gdansk to pick up your rental car? Take the local bus service or hail a taxi to the city.
Guide to driving a car hire in Gdansk
Use our guide to driving, directions and parking in Gdansk.
Driving from the Gdansk Lech Walesa Airport to downtown Gdansk
Exit the airport onto Droga Wojewodzka 472 and stay in the right lane to merge onto S6 toward Gdansk. Next, merge onto DW501 until turning left onto DK91. This roadway will bring you into downtown Gdansk in under 20 minutes in normal traffic conditions.
Driving tips for your Gdansk rental car

Gdansk is a popular tourist destination in summertime so visitors can expect longer delays in the city and near tourist hotspots during these months.
Poland rental car driving tips
● Drive on the right-hand side of the road.

● Always wear a seatbelt.

● Try to avoid driving at night as the roads are poorly lit and often narrow.

● The blood alcohol limit is .02 in Poland for driving; it's not worth the risk, take a taxi if you plan on drinking.

● Make sure your rental car is equipped with a warning triangle, reflective jacket and a fire extinguisher in case of an unlikely breakdown.

● Planning a trip in the winter? Read our winter road trip tips.
Parking options at Gdansk Airport and in Gdansk
Gdansk Airport offers two short-term and two long-term lots for parking, plus up to 10 minutes for free in the Kiss & Fly zone. The short-term lots are located next to the terminal, P1 charges 9 PLN for the first hour, 18 PLN for the first two hours and an additional 7 PLN for every hour after. P2 charges .50 PLN less and 60 PLN for overnight. Pay 19 PLN per day in the long-term lots.

When parking in Gdansk, avoid parking in permit parking zones especially in old town. Street parking is available for around 3 PLN per hour enforced Monday through Friday from 9am to 5pm. Garages are available, plus many hotels offer guest parking.

Make sure to read our driving tips for a foreign country if this is your first international car hire experience!