With medieval castles and 14th-century Gothic architecture, it's easy to see why Krakow is one of Poland's most historically-rich and fascinating cities. Hire a Krakow airport rental car to see some of the country's best tourist attractions.
Start your Krakow holiday in Old Town to explore the city's historic centre and check out Wawel Castle, a medieval royal castle complex. Next, stop by the 13th-century Rynek Glowny (Main Square) in the heart of the city to find a bustling Renaissance-era market full of handcrafted goods. Stroll around Planty Park, a massive green belt surrounding the old city. Visit St. Mary's Basilica and Ogrodzieniec Castle for more impressive architectural sights. Plus, explore must-see spots such as the Wieliczka Salt Mine and Ojcow National Park, both outside the city limits and accessible via rental car.
After some time in the south of Poland head north to Lublin, Warsaw and Gdansk for more road trip adventures.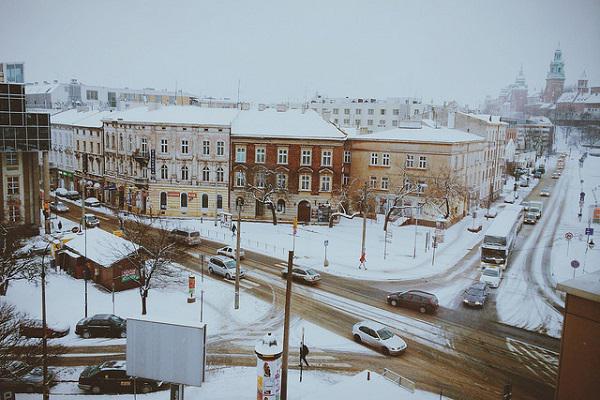 Image: tico_24
Booking a cheap Krakow rental car with Airport Rentals
Choose Airport Rentals for a hassle-free rental car hire experience. Our optimal comparison site allows you to search the best industry deals from numerous suppliers on one simple page. Just type in Krakow Airport and your travel dates, click 'search' and watch the deals roll in. Feel more comfortable in an automatic, or driving with a particular rental company? Use our handy filters to sort your preferences and find your ideal car in no time.
Never worry about hidden fees with Airport Rentals and gain free benefits like unlimited mileage. If you have any questions along the way, we encourage you to reach out to our friendly 24/7 customer service team.
John Paul II International Airport Krakow (KRK)
Each year around 4 million travellers pass through John Paul II International Airport in Krakow. Grab a quick bite to eat from one of the many cafes or restaurants on both sides of security. You will find duty-free shops, a pharmacy, boutiques and travel accessory shops in the terminal. Connect to complimentary WiFi for up to 15 minutes or visit the tourist booth in the arrivals hall if you have any questions. Ready to collect your airport rental car? Head to the level one passenger terminal to locate your designated car hire kiosk.
Alternatively, if you are picking up your car hire from a downtown Krakow location, hop on the train for a quick ride to the city or take a public bus or taxi.
Guide to driving a rental car in Krakow
Use our guide for driving tips, directions and parking in Krakow.
Driving from the Krakow Airport to downtown
The drive from Krakow Airport to the city takes around 25 minutes during normal traffic conditions. Exit the airport and merge onto A4, heading south. Keep in the right lane to follow signs for Krakow at Mirowski, then turn left on Mirowska and follow it straight onto DW780. Keep to the right to get onto Most Zwierzyniecki, follow it across the Vistula River and continue onto Dietla to arrive in the city limits.
Driving tips for your Krakow rental car
Expect typical rush hour traffic in Krakow and make sure to use a GPS to navigate the busy city.
Poland car hire driving tips
● Drive on the right-hand side of the road.
● Always wear a seatbelt.
● The blood alcohol limit is .02 in Poland for driving; it's not worth the risk, take a taxi if you plan on drinking.
● Make sure your rental car is equipped with a warning triangle, reflective jacket and a fire extinguisher in case of a breakdown.
● Planning a trip in the winter? Read our winter road trip tips.
Parking options at Krakow Airport and in Krakow
You can use the 10-minute complimentary Kiss & Fly zone for pick-ups and drop-offs at Krakow Airport. Alternatively, you can park at the seven-story short-term parking garage across from Terminal 1 for long-term parking and pay 10 PLN per hour and 55 PLN for the day.
Find on-street paid parking in the center of Krakow, enforced between 10am to 8pm on weekdays and charging around 3 PLN per hour. Make sure to abide by signs in the area and avoid permit parking. Fair warning: spaces can be difficult to find near the city centre. Parking on the outskirts of town and jumping on public transport is a great alternative.