Situated in the south of Poland near the borders of Czech Republic and Slovakia is the Silesian Metropolis, composed of 14 cities in the Province of Silesia. Secure a cheap airport rental car to travel across this beautiful region of Poland.
Silesian Metropolis is home to over 5 million residents in the Province of Silesia. The largest district city of the region is Katowice with a population of over 2 million. The districts have created a strong union, pooling economic resources and unifying the common infrastructure. Within the metropolis area, tourists can enjoy numerous nature parks, museums, art centres, historical castles and churches, plus much more. Travel via car hire or the Silesian Interurbans, the largest tram systems in the world, connecting every city in the Silesian Metropolis.
Extend your booking and travel across Poland visiting Warsaw, Krakow and Gdansk.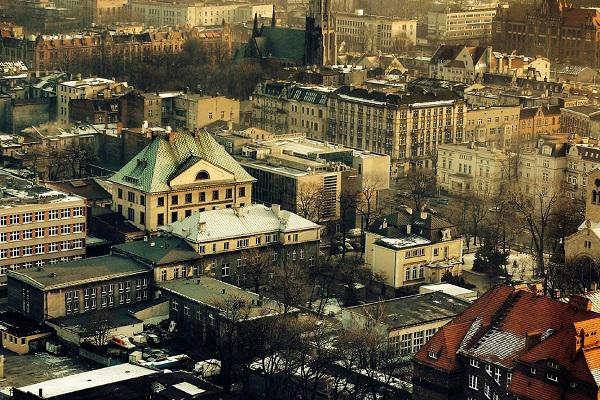 Booking a cheap Silesian rental car with Airport Rentals
Choose Airport Rentals to find the best car rental deals on our easy-to-use comparison site. Simply type in your travel details to search a wide selection of vehicles from top-rated European and international rental companies. Browse options from Alamo, Keddy, Sixt and others, and confirm with Airport Rentals to receive benefits like roadside assistance and unlimited mileage. Complete your booking on our secure site without the hassle of hidden fees. Plus, enjoy access to 24/7 customer service, should you need it.
Silesian Metropolis Area Guide
Katowice, Sosnowiec and Gliwice are the three most populated cities in the area, yet there are incredible spots to visit all across the province. Nature lovers may like to hang out in Bagna Nature Reserve and Silesian Central Park. Thrill-seekers will love the Silesian Amusement Park, while history buffs should check out Gliwice Castle, Goldstein Palace and the historical cathedral in Katowice. For a night of arts, you can book tickets for a show at the Silesian Theatre or Silesian Opera. Even sports fans will find plenty of events to attend. See more of the Silesian region by cruising the metropolis in your rental car.
Flying out of Katowice Airport? Drop off your Silesian rental car at the airport, just north of Katowice city.
Guide to driving a car hire in Silesian Metropolis
Use our guide for driving tips, directions and parking in Silesian Metropolis.
Driving from Katowice to Katowice Airport
Getting around the metropolitan area is easy with a GPS. If you are flying out of Katowice Airport, the journey takes around 30 minutes from downtown Katowice. Hop on DK79 and merge on the highway following signs to Krakow. Next, take the S86 exit toward Lodz then keep left to continue on DK86/DK94. Then, merge onto S1 toward Katowice Airport and take the DW913 exit, following signs to the airport.
Driving tips for your Silesian Metropolis rental car
Do not use your horn unless in immediate danger when driving through towns. If you can, avoid driving through Katowice during rush hour times.
Poland car rental driving tips
● Drive on the right-hand side of the road.
● Always wear a seatbelt.
● The blood alcohol limit is .02 in Poland for driving; it's not worth the risk, take a taxi if you plan on drinking.
● Make sure your rental car is equipped with a reflective jacket, warning triangle, and a fire extinguisher in case of a breakdown.
● Planning a trip in the winter? Read our winter road trip tips.
Parking options in Silesian Metropolis
Find paid parking called 'parking platny' in downtown areas of the cities in the Silesian region. On-street spaces are enforced Monday through Friday from 9am to 5pm. The rate for the first hour is 1.50 PLN and .20 PLN for additional hours. Pay the attendant or machine depending on the area and display the ticket on the dashboard to avoid a 50 PLN fine. Secure parking lots are also available in most cities in the downtown districts, near hotels and shopping centres.
Is this your first time renting a car in a foreign country? Read our tips to plan a successful road trip.