With mountains, fjords, and oceanviews, Alesund is the perfect Nordic city for a holiday. Located on the west coast of Norway, this scarcely populated city is alive with beauty. Find yourself staring at snow-covered peaks alongside sapphire blue fjords while soaking up Alesund's artistic side. Book your Ålesund airport rental for the ultimate Scandinavian tour.
For cross-country journeys check out car hire in Stavanger, Olso or Trondheim with the option to pick up or drop off at different locations.
Getting around Alesund with your rental car
Alesund Airport Vigra is only 18 kilometres from the city centre, making it a quick trip to the CBD. Avis, Budget, Hertz, Europcar and Sixt are available at the airport to get you started on your road trip as soon as you arrive. If you're heading into town to pick up your rental, hop on a bus for a 25-minute journey or wave down a taxi to save 10 minutes.
Nordic rules of the road are strict. Always use headlights, wear a seatbelt, follow speed limits and be prepared for snow and ice if travelling in the winter months (November to April). Moose and red deer are incredible to see on your trip, but stay alert as they are known for crossing highways at dawn and dusk.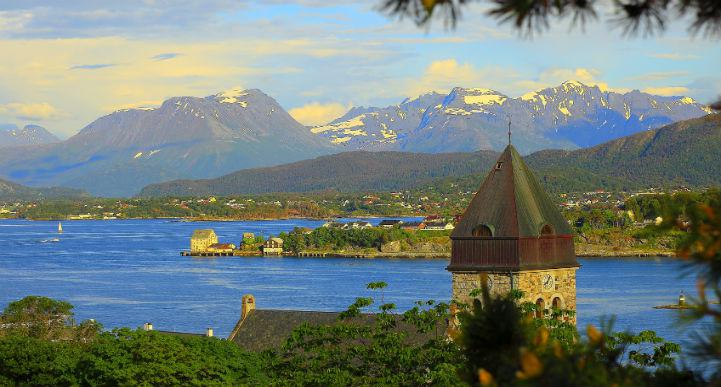 Compare top rental companies in seconds for your Nordic holiday
With options to pick up at the airport or within the city, hiring a car in Alesund is easy with Airport Rentals. Type in your desired pick-up location and travel dates, and voila! In seconds, we compare multiple car hire brands at affordable rates. Select from included benefits like unlimited mileage and 24hr roadside assistance with vehicles from economy-size to cargo vans. Any questions or concerns can be directed to our 24/7 customer service team.
Airport Information
Vigra airport is located on Vigra island in Giske, a 20 minute drive north from the city centre. There are four parking lots available: short-term, business, business plus and economy. Pick up a rental car on site, take a taxi or hop on a Nettbuss to travel to Alesund. Connect to the airport's free WiFi to pull up your car rental reservation or surf the internet.