Bremen is an economic and industrial hub with heart in Northern Germany. Rent a car to discover this fascinating city of business, culture and art.
Sitting roughly 60 kilometres south of the mouth of the Weser River on the North Sea, Bremen's major port helps to support the roughly 2.4 million people living in the Bremen/Oldenburg Metropolitan Region. The market square, historical galleries and art museums will take you on a journey of interesting heritage and provide a balance to the multinational companies and manufacturing centres common throughout the city.
From Bremen, you are well-placed to visit other fantastic German cities such as Hanover, Berlin, Hamburg, Dortmund, and Leipzig. A Bremen Airport car hire will give you the freedom and flexibility to go at your own place exploring this fantastic European country, and perhaps nearby Denmark to the north or the Netherlands to the west.
Booking a Bremen rental car
Get your trip to Northern Germany off to a good start by pre-booking a Bremen Airport rental car with Airport Rentals. Our sophisticated comparison site allows you to compare the vehicles, features and prices of multiple rental companies all on one page.
Begin your search by typing in your travel dates and watch as a selection of available vehicles from Bremen Airport appear before your eyes. With the most affordable options at the top, you can easily identify the cheapest vehicle and book it with a few simple keystrokes. Or, you can discern your search further to find cars to match specific preferences, such as favourite brand, style or transmission type.
Booking is easy with instant confirmation, online reservation management and 24/7 access to our friendly and knowledgeable customer service team.
Bremen Airport (BRE)
Bremen Airport serves roughly 20 countries in Europe and Africa with non-stop flights to nearly 50 destinations, and efficient connection services to key European hubs. It is well positioned close to the city centre and boasts the fastest departures in Europe, making it a popular choice for passengers flying in or out of northwestern Germany and even the Netherlands.
The airport offers a variety of dining and shopping options and standard traveller amenities. WiFi is accessible in Istanbul Foods and Drinks, and the Bremen Airport Lounge (members and day pass holders only).
Rental car representatives are located in Terminal 3 across from the check-in counters.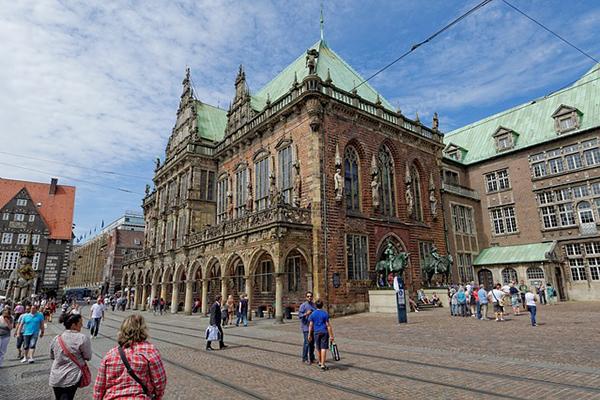 Guide to driving a rental car in Bremen
Driving from Bremen Airport to Bremen city centre
Getting to the city from Bremen Airport is a straightforward 4.2-kilometre trip that should take roughly only eleven minutes. Follow Flughafenallee and Flughafendamm to Friedrich-Ebert-Strabe, which turns into Wilhelm-Kaisen-Brucke and crosses the Weser River. Take an immediate right to continue onto Tiefer before turning left onto Atenwall. From here, turn left onto Ostertorstrabe, which turns into Buchtstrabe. Stay on this road (which changes name a few times) until you reach Herdentorswallstrabe, where you will turn left to arrive in the city centre.
Driving tips for your Bremen rental car
Driving on the Autobahn is a unique experience and one which takes some getting used to. However, the high-speed highways are great for a cross-country road trip. Prepare well and use our driving and parking tips to make the most out of your Bremen car hire.
Germany car hire driving tips
● Drive on the right-hand side of the road and overtake on the left.
● Inclement weather can mean temporary speed limit changes, so stay alert to signs.
● The blood alcohol concentration limit for drivers in Germany is 0.05%.
● It gets cold and icy during the winter in Northern Germany, so if you are visiting between Christmas time and March, take note of our winter driving tips.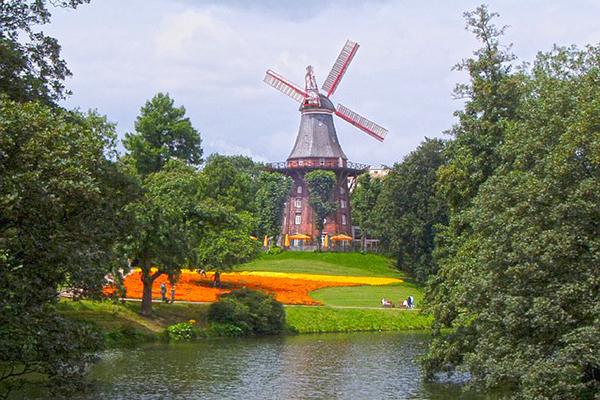 Parking options at the Bremen Airport and Bremen city centre
Parking your car hire at Bremen Airport is no trouble, as there are 4500 spaces available across two car parks near the terminal. Both short-term and long-term parking is available at varying prices, and the service is modern, secure and convenient.
The city of Bremen provides paid on-street parking in the city centre at a rate of €0.15 per 15 minutes to a maximum limit of 2 hours. Rates and times vary slightly just outside of the urban centre. Car parks are also available at rates beginning at €1.20 per hour. Prices get cheaper with more flexible time restrictions for both on-street and car park parking outside of the city.