Reserve an airport rental car to see the sights in Hannover, the capital of the German state of Lower Saxony.
Not only is Hannover rich with cultural attractions and museums, it's home to Europe's largest urban forest, the Eilenriede. Pack a picnic, hire a bicycle and explore the lush woods. Take in more fresh air at the grand Royal Gardens of Herrenhausen, one of the most important historic gardens on the continent, located only 5 kilometres north of the city. Soak up some art at Sprengel Museum or relax at the Strandbad Beach at Lake Maschsee.
Exploring more of Germany? Drop your car hire in cities such as Berlin, Frankfurt, Munich and many more.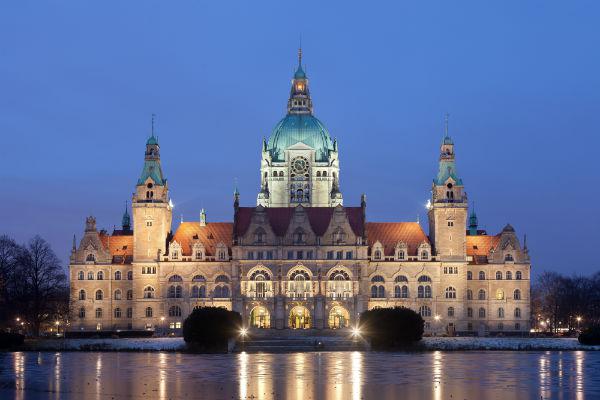 Image: © Thomas Wolf, www.foto-tw.de CC BY-SA 3.0 DE
Booking a Hannover rental car
Reserving a cheap rental car from Hannover Airport is only a few clicks away with Airport Rentals. Simply type in your travel details to instantly compare a large number of vehicles from highly-rated rental brands on one page. Use preference filters to narrow your options down to the perfect car hire for your upcoming trip.
Confirm your reservation on our secure site without having to worry about hidden fees, and enjoy access to 24/7 customer service, should you need it.
Hannover Airport (HAJ)
Each year, over 5 million passengers travel through Hannover Airport, making it the ninth busiest airport in Germany. It's located 11 kilometres north of Hannover and is made up of three concourses, each providing shops, restaurants and travel agents. Enjoy three hours of complimentary WiFi to look up reservations or browse the web. When you're ready to start your road trip, head to the arrivals level between Terminal A and B to locate the rental car kiosks.
Heading straight to the city to pick up your car hire at a downtown location? Hop on the 470 bus, hail a taxi, or take the S-Bahn line from Terminal C for the shortest journey.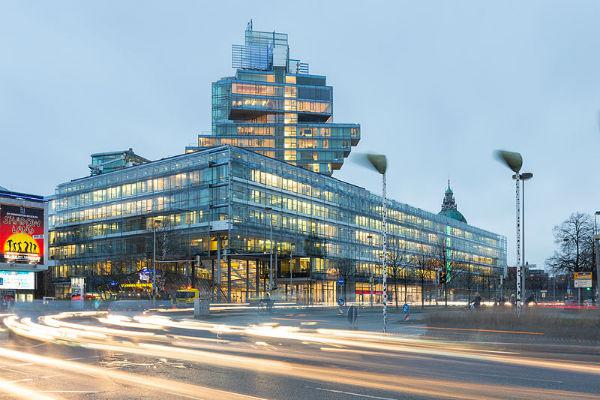 Guide to driving in Hannover
Use our guide on driving tips, directions and parking for Hannover.
Driving from the airport to downtown Hannover
The drive from Hannover Airport to the city centre takes around 25 minutes. For the quickest route, hop in your rental car, head west on Flughafenstraße and merge onto B522 towards Hannover. B522 becomes Vahrenwalder Street; take this until turning left onto Hamburger Allee and a right onto Celler Street to arrive in downtown Hannover.
Driving tips for your Hannover rental car
Hannover was one of the first cities to join the anti-air-pollution law, making it mandatory for all cars to have a green-zone (environmental-friendly) sticker. Make sure your rental car has one before heading to Hannover.
German driving tips:
• Drive on the right side of the road, overtake on the left side.
• The autobahn is the fastest way to travel around the country. Do note that overtaking on the right is illegal.
• Speed limits are as follows: 50 km/h in urban areas, 100 km/h on open roads and 130 km/h on the autobahn.
• Stick to the speed limits and read up on German driving tips (scroll to the bottom of the page).
• Always use turn signals, wear your seatbelt and stay off of your mobile phone.
• If you plan on drinking alcohol, take public transport or a taxi. It's not worth the risk.
First time driving in a foreign country? Check out our driving tips.
Where to park at the Airport and in Hannover
Choose from over 7 parking lots at Hannover Airport depending on how long you need to leave the car. Car Park K is located in front of all three terminals and charges €2 per 30 minutes. P2 and P3 are within walking distance to the terminals and charge €4 per hour and €12 for six hours. For weeklong parking, use P10 to pay €35 for seven to eight days.
Parking lots and garages are easy to find in Hannover and great for all-day or overnight parking. Metered, on-street parking is limited and enforced Monday to Saturday from 9am to 8pm at a rate of €1.80 per hour. Several train stations on the outskirts of the city offer free parking with public transport to downtown.
Take your German adventure to the next level with an Autobahn road trip. Use our driving distance guide to plan your route.