Hire a cheap car to discover the history and beauty of old-world Prague. Known for its gothic-style architecture, Czech Republic's capital city offers visitors a distinct cultural experience.
Spend your days strolling the romantic cobblestone streets and linger to hear one of the many talented street musicians along the way. Visit the historic and breathtaking Charles Bridge with stunning Prague Castle as its backdrop. Wander the medieval-style alleyways and stop at one of the city's many pubs for a pint of frothy beer.
Fall in love with Prague and then head out to explore more of the Czech Republic in your hired car.
Hiring a car in Prague with Airport Rentals
Renting a cheap car with AirportRentals.com is fast and easy. Simply type in your travel details to access the live inventory of cars for hire at Vaclav Havel Airport Prague. Compare brands and styles on one easy-to-use page, and narrow search results using our handy preference filters located on the left-hand side.
Hire a luxury vehicle for a high-end holiday or an economy car like a Nissan Almera for a Euro road trip. Instantly confirm your booking on our secure site and benefit from Airport Rentals' perks like unlimited mileage, free cancellation, and 24hr roadside assistance, to name just a few.
Sort your car rental for Prague Airport in just a few clicks.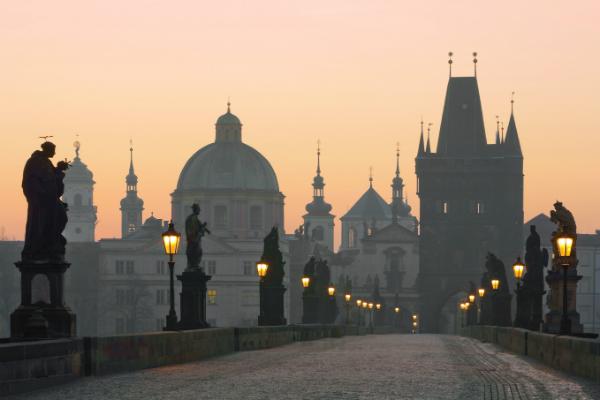 Vaclav Havel Airport Prague (PRG)
Vaclav Havel Airport Prague is the busiest airport in the Czech Republic, serving over 12 million passengers each year. Located approximately 20 kilometres north of downtown, Prague Airport is easily accessible via bus, rental car, or taxi. You'll find many shops and restaurants, as well as relaxation and children's areas throughout. Prague Airport is well-maintained and efficient, offering its visitors a reliable airport experience. International flights arrive daily from cities all over the world including Corfu, Barcelona and Moscow. Domestic flight services are available to cities like Ostrava, Brno, and Karlovy Vary.
Head to Parking C (Comfort Parking) via the footbridge located at terminal 2 to locate the car rental offices and confirm the details of your car hire.
Guide to driving in Prague
Use our handy guide for parking and driving tips including directions.
Driving from Vaclav Havel Airport Prague
The drive from Prague Airport to the city is approximately 20 kilometres and takes about 30 minutes depending on traffic. For the quickest route, exit the airport onto Aviaticka to Route 7. Exit right onto Evropska to Pevnostni and merge into Dejvicka tunnel. Continue to M. Horakove and exit right onto Bubenska. Follow this road to access downtown Prague.
Driving tips for your Prague rental car
Hire a GPS for your rental car and carry a paper road map of the area in case your GPS fails.
● There is zero tolerance for drinking and driving in Prague. If you plan to drink, make other arrangements for transportation.
● Headlights are required to be on at all times.
● A vignette (a sticker used to access highways) should be purchased from your rental office and placed on your windshield.
● Use of a mobile phone while driving is not permitted and will result in a large fine.
● Follow the posted speed limits.
● Seat belts must be worn at all times and children are to be placed in a proper fitting car seat or booster seat in the backseat of the vehicle. This can be added to your booking.
Parking in Prague and at Vaclav Havel Airport Prague
You'll have no problem finding parking at Prague Airport. Express lots (for quick 15-minute-or-less stops) are conveniently located in front of terminals 1 and 2, with Comfort and Economy lots for longer stays located behind the Express lots.
Parking in Prague is color-coded: blue zones are for residents, purple zones are for residents and visitors, and orange zones are specifically for visitors. Each parking zone is outfitted with a parking ticket machine and the city is divided into three price sectors. For more information including a price list visit Prague Parking.