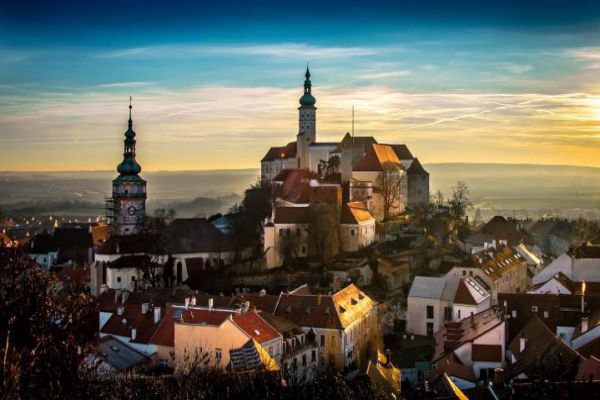 Image: Pixabay
Step into a land of castles, moats, cobblestone streets, and beautiful landscapes in the Czech Republic. Rent a cheap car to explore the big cities of Prague and Brno, with towering spires and large-scale stores, museums, and galleries, and then head to the countryside to visit villages steeped in culture and tradition.
Fascinating history and aesthetic beauty await you in the Czech Republic. Tour the country on your own time with a suitable car hire.
Secure a cheap rental car in the Czech Republic with Airport Rentals
Secure the best deal on car rental in the Czech Republic when you book with Airport Rentals. Use our top-rated search tool to compare rental deals from numerous brands all on one page. Simply pop in your desired location and travel dates and hit 'search' to generate a list of cars available from popular Czech locations.
Vehicle specs are outlined clearly for quick comparison and the cheapest cars are displayed first. You can then filter your results by transmission, group size and brand. When you've found the perfect vehicle, completing the reservation takes just a few clicks and confirmation is instant. Need a hand? A friendly customer service team is awaiting your call 24/7.
Top spots to rent a car hire in the Czech Republic
Prague is an incredible city but it isn't your only option when you land in the Czech Republic. The country is full of popular tourist destinations and little villages worthy of your visit. Let us help you find the ideal vehicle in one of the Czech Republic's many pickup locations.
Prague car rental - The capital is a popular city to begin your Czech tour. With its stunning spires, beautiful art galleries and delicious (and cheap) beer, you learn pretty quickly why so many people fall in love with this place. Spend as much time here as you can before heading off to explore the rest of the country in your rental car.
Brno car rental - Home to several universities, the city of Brno is humming with life. The lively cafe and bar scene creates a young, energetic buzz throughout the CBD, while the beautiful traditional churches and the famous Old Town Hall create a balanced atmosphere.
Plzen car rental - Plzen (or Pilsen in German) is home to the famous Pilsner beer. Put the beer aside, and you'll find a cultural hub with a lovely town square and fascinating historic underground tunnels.
České Budějovice car rental - České Budějovice is a maze of winding cobbled streets and baroque chapels, and while the city itself doesn't have an abundance of attractions, it's the perfect base for exploring the southern region of Bohemia. Visit the nearby town of Český Krumlov, or take a tour of the famous Budvar brewery.
Karlovy Vary car rental - Known for its Russian influence and spectacularly colourful 19th century architecture, Karlovy Vary is the place to go for the ultimate pampered experience. Thanks to its thermal springs, this riverside city is full of relaxing day spas, popular with locals and tourists alike. Book in a session before you head along in your rental car as spots fill up fast.
You can also pick up the vehicle in one city and drop it off in another - plan an itinerary that best suits your personal travel style.
Rental car suppliers in the Czech Republic
With so many different options, you have a some wiggle room when it comes to choosing rental car brand in the Czech Republic. Select from all of the major rental suppliers, including Alamo, Avis, Budget, Dollar, Enterprise, Hertz and Sixt.
Road rules for the Czech Republic
It's important to be familiar with the road rules of a country before getting behind the wheel of a rental car.
● Drive on the right side of the road.
● If you're turning onto another road you must give way to all vehicles.
● Trams in the cities and towns always have the right of way.
● The speed limit is generally 50km/hr in the cities, up to 90km/hr on the rural roads and 130km/hr on the highway.
● There's a zero blood-alcohol tolerance in the Czech Republic.
● Using a cell phone while driving is illegal, as is not wearing a seat belt.
● In Prague, using your horn after dark is prohibited.
Handy tips for driving your car hire in the Czech Republic
Driving in a new country can be daunting, but it doesn't have to be. Read up on these handy tips before you hit the road.
● It's good practise to keep your lights on during the day.
● Speed radars are common throughout Czech cities. It's important to obey the speed limits for your safety, as well as to avoid hefty fines.
● Planning on using the motorway? You'll need to obtain a motorway sticker which must be displayed in the windscreen. Read more about tolls and motorway passes in our guide.
Planning a cross-border road trip? Read up on driving distances in Europe to get a feel for how long it might take you.