Set along the north side of Greece's mainland in the Ionian Sea, Corfu island is a treat for the eyes and a delight for your soul. Alongside cobblestone streets and Venetian and French buildings of its capital Kerkyra (Corfu Town), lie the iconic Greek beaches sprinkled with warm sand and crystal clear waters. Rent a car for cheap to experience as much of the island as you can fit in.
With its many villages and beaches lining the coast, there is something for every type of traveller on Corfu island. Visit the village of Kavos to have an unforgettable night of bar hopping and hit the beach the next day to join in some exciting water sport activities. Prefer to experience beauty from long ago? Explore the Old Town of Corfu city and be inspired by its historical churches and fortresses.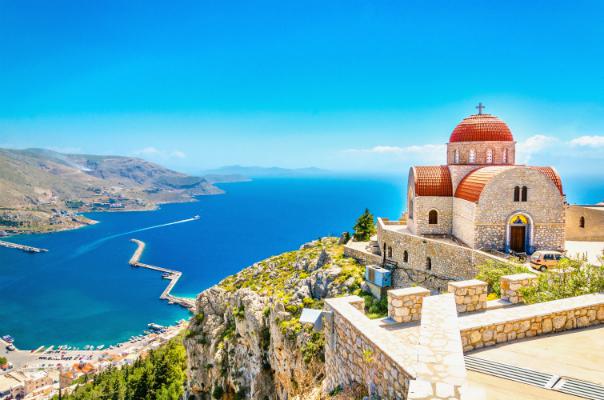 Hiring a car in Corfu
Securing a rental car from Corfu International Airport (Ioannis Kapodistrias) is easy with Airport Rentals. Provide your travel location and itinerary details to search from a vast selection of cars for hire. Narrow your search by using the preference filters located on the left side of the page. Every car listing has a detailed description of its features including a breakdown of the benefits included with your rental free of charge.
Reserve your rental and consider adding Total Protection which includes coverage such as third party damage and single vehicle accidents. The rental details page provides you with an overview of the cost in your currency as well as the billing currency. Provide your payment information and confirm your rental. With over 30,000 pick up locations around the world and access to 24/7 customer service, you can rest assured that Airport Rentals is the best choice for your rental needs.
Corfu International Airport (CFU)
Corfu International Airport serves domestic flights year round from Athens and Thessaloniki and chartered flights from cities like Rome, Frankfurt, and Amsterdam during the high season.
Due to the increase in travelers throughout the busy season, Fraport-Greece has made plans to complete a general clean up of the airport and its facilities, expand and remodel the terminal, upgrade services, and provide more check-in counters, departure gates, and security-check lanes.
The airport is currently equipped with an ATM, cafeteria, Hellenic Duty Free Shop, and several car hire agencies. Gather your belongings and head to your designated car hire agency to confirm your rental details, hop in your rental car and begin an unforgettable journey on the island of Corfu.
Guide to driving on Corfu island
Use the guide provided below for directions, tips for driving on the island and parking information.
Driving from the airport to Corfu
Corfu International Airport is located approximately 2.7 kilometres south of the city of Corfu, 0.5 kilometres north of Pontikonisi and is easily accessible from Democracy Avenue, then via Desylla, Vlacheron and Georgaki streets. The journey to and from the city centre of Corfu takes approximately 10 minutes.
Driving tips for your Corfu rental car
Hire a GPS for your rental car and carry a current road map of the area.
Tips for driving on Corfu island
● Drive on the right side of the road, over take on the left side.
● Road signs are clearly marked in Greek and English.
● Roads are narrow and winding and drivers tend to drive in the middle of the road. Stay alert and keep to the right, especially around corners.
● Traffic is heavier during the busier summer months. Follow the rules of the road and let other drivers pass.
● Download these road trip apps to help you on your way.
Parking at Corfu Airport and Corfu island
Long-term and short-term parking is available just outside the terminal at Corfu Airport. Follow instructions from your car hire agency on where to park the vehicle at the end of your holiday.
There is a public car park located close to New Town if you're visiting Corfu Town. There are many parking spots available in and around the islands' many villages, and most beaches have parking spots, just be sure to park your rental safely and obey the parking laws.
Check out our tips for driving in a foreign country to ensure you're well prepared for your Corfu road trip! If heading to the mainland afterward, be sure also to read up on driving distances in Europe.