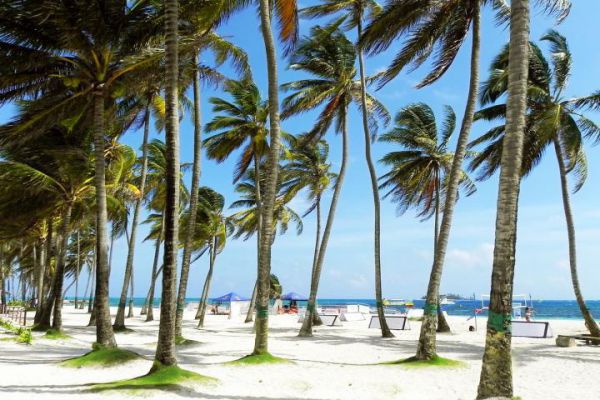 Image: Pixabay
Tour the top spots of Colombia in an affordable rental car. This South American nation is a one-of-a-kind destination and a favourite among travellers.
Colombia has it all. Dense rainforests, towering Andes mountains, colourful historical cities, pristine coastlines and some of the best coffee in the world. Plan your holiday to try and see it all.
Highlights include:
● Bogota - the bustling, colourful capital city
● Cartagena - a colonial old town surrounded by a fortress and castle
● Tayrona National Park - ancient ruins among tropical jungle lands.
● Ciudad Perdida - one of the world's most mysterious lost cities.
● Central Colombia - incredible, hilly coffee region
● Medellin - home of infamous Pablo Escobar.
Driving a rental car across the country is a great way to hit all the must-see destinations.
Thinking about turning your Colombian holiday into a South American adventure? Head to the neighboring countries of Ecuador, Brazil and Peru to make the most of your holiday.
Hiring a cheap rental car in Colombia
Book your Colombia car hire with Airport Rentals for a quick and easy process. We make it simple to find the best industry deals and provide a plethora of options for hiring. Simply type in your Colombian travel plans including your desired destination and travel dates and click 'search' to generate a list of vehicles from top-rated vendors.
Do you picture yourself cruising the Caribbean coast in a convertible with the top down? Or how about a 4WD to head into the jungle for an epic adventure? Use the preference filters to select your ideal car and transmission type to match your travel plans. When you are ready to book, confirm instantly on our trusted site and pay no additional fees. Plus, each car hire includes exclusive benefits like unlimited mileage and breakdown assistance, and our customer service team is available to take your call at any hour of the day. Airport Rentals is the one-stop shop for all your car hire needs.
Airport rental locations around Colombia
Deciding where to go in Colombia is tough with so many incredible locations across the country. Read on for information on the nation's top destinations.
Bogota car rental - The capital city can be a bit overwhelming to drive around. Take it slow or rent a car from the airport on your way out.
Cali car rental - Home of the salsa dance, this sprawling, southern Colombian city is a great place to pick up a rental and spend a few days.
Cartagena car rental - This walled, colourful, colonial city sits on the Caribbean Sea and is an exquisite Colombian bucket-list destination.
Medellin car rental - Medellin is more than just a city famous for Pablo Escobar. Head up the metrocable to take in incredible mountain views over the skyline.
If you don't plan on making a round trip back to your city of origin, remember you can always drop off your rental in a different city or even a different country. Select this option when completing your booking on Airport Rentals.
Trusted rental car brands available in Colombia
Choose from a wide variety of local and international brands in Colombia. For those who wish to support local suppliers, hire with Confort for cheap daily rates and exclusive benefits. Trusted international car hire providers such as Avis, Budget and Dollar are also available across the country. Book with these household names to enjoy bonuses like unlimited mileage and breakdown assistance.
If you have a vendor preference, simplify your search during the booking process by selecting the filter for your chosen brand.
Driving laws in Colombia
To rent a vehicle in Colombia, the driver must be 23 years old with at least one year of driving experience. Some rental car companies charge a young-driver fee for those under 25 years old.
Read on for traffic laws in Colombia.
● Drive on the right side of the road.
● The speed limit for urban areas is 60 km/h, 80 km/h on country roads and 100 km/h on highways.
● Seatbelts are mandatory for front-seat passengers, but recommended for everyone in the vehicle.
● Children must be in car seats and kids under 10 years old must sit in the back.
● Use of a mobile device when driving is illegal.
● Keep your headlights on at all times.
● The legal blood alcohol level is .04%, don't risk it and choose a taxi if you plan to imbibe.
● Third party insurance is required and must be carried at all times and medical coverage from a Colombian insurance company must be purchased.
Tips for driving a rental car in Colombia
Fair warning, speed limits are often ignored and rarely enforced. Drive defensively at all times. Police have a reputation for corruption in Colombia so be mindful of this in your dealings with them.
● Colombia drivers are aggressive so prepare to use your horn often.
● Carry cash to pay tolls.
● Stay on the look out for potholes and speed bumps, especially on side streets.
● Avoid driving at night as the roads are poorly lit.
● If you are pulled over while driving, a ticket should be issued. Some police may try to collect a fine on the spot, but it is best to ask for the ticket and where to pay (typically a police station).
● It's best to use secure paid parking lots for your rental car.
● Do not leave valuables in the vehicle.