Cartagena is a gem of a city on Colombia's Caribbean coast, with natural and historic beauty in spades. The stunning, colourful walled colonial Old Town has alleyways and cobbled streets which were made for wandering, while the Bocagrande neighbourhood on a narrow peninsula of land beyond the Old Town is a contrasting stretch of modern high rises behind a surf beach bustling with swimmers and sunbathers. Visitors tend to fall in love with charming Cartagena, so don't head out immediately on the highways - take time to see the city first!
Once you are ready to depart, you can point the wheels of your Cartagena car hire in one of several directions to explore Colombia. Barranquilla is just a few hours to the northeast, close to the magnificent flora of the Salamanca Islands Road Park and the Sierra Nevada mountain range. To the south lie more fabulous Colombian cities: Medellin, and Bogota (the capital). Plus, the rainforest wonders of Colombia become more apparent: the Cocora Valley near Bogota is a great place to start exploring the wilderness. Pack up your road trip essentials and start driving!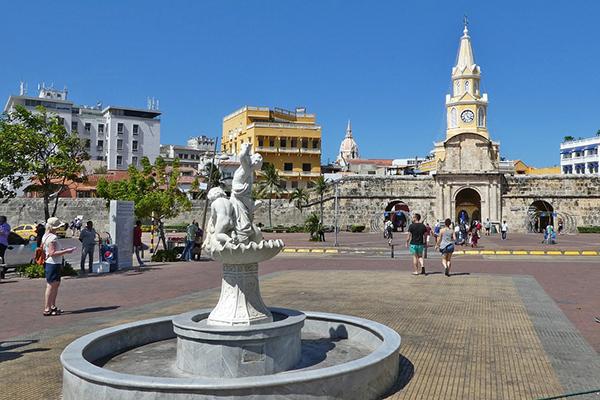 Book the best Cartagena car rental
Make your life a little easier when you use Airport Rentals to track down the perfect rental car from Cartagena Airport. Our search engine trawls a comprehensive database of car hire options available, presenting you with a list of results that match your dates, with all the necessary details visible on the page, so it's a simple process to compare them and make an informed decision. Filters narrow the field so you can pinpoint the one that suits you - whether that's a luxury car, a fuel-efficient one, a van, an automatic or manual transmission, a short or long-term rental. Find it all right here!
Our secure site means you can book with no worries and in just a few steps. We negotiate great low rates for all rentals, along with special offers where possible, so you know you are getting a deal. What's more, there is a team of friendly car rental consultants available by phone 24/7 to answer any questions during the search, booking and hire process.
Cartagena Airport (CTG)
Rafael Núñez International Airport serves the city of Cartagena and is the largest in northern Colombia. A range of airlines fly from the airport to destinations around the Americas and as far away as Europe. The international and domestic terminals house banking services, ATMs, currency exchange, a medical centre and a range of shops and eateries. There is free WiFi available. Rental counters for Budget and Avis can be found in the Arrivals area at the domestic terminal.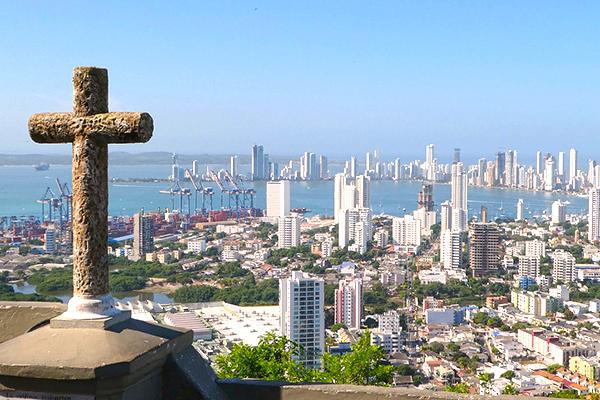 Guide to driving a rental car in Cartagena
Driving from Cartagena Airport to the city
Turn left out of the Cartagena Airport onto Calle 70, then turn right to get on Carrera 1. Continuing straight as this becomes Avenida Santander/90A will take you towards the Old Town and Bocagrande. To get to the actual city centre, veer left onto Calle 60, continue straight onto Carrera 17 and go left at the roundabout onto Avenida Pedro de Heredia which will take you into downtown Cartagena.
Colombia car hire driving tips:
● Colombians drive on the right-hand side of the road.
● Drunk driving is harshly penalised, and Colombia has a zero-tolerance policy. Abstain from drinking entirely before driving.
● The roads in urban areas and the highways around Colombia are in good condition, thanks to toll revenue. Expect to pay the equivalent of a few US dollars (in pesos) when you come across a tolling station.
● Colombian drivers use their horns frequently and for many reasons. Don't worry; it's often a friendly toot.
● The default speed limits in Colombia are 60 kilometres per hour in urban areas, 80 km/h on rural roads and 100 km/h on highways.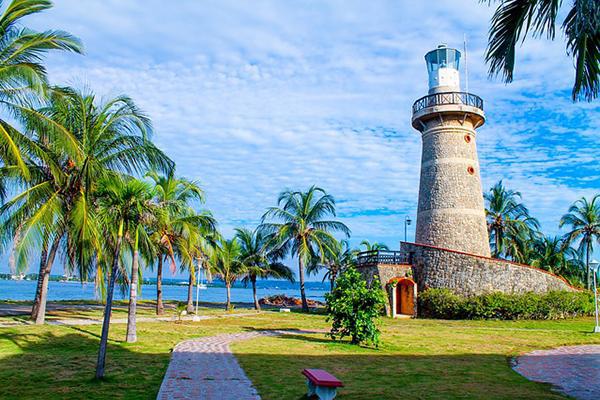 Parking at Cartagena Airport and around Cartagena
Cartagena Airport offers both short and long-term paid parking options.
Parking can be limited in parts of Cartagena, particularly around the Old Town, Bocagrande and the city centre. Booking a hotel with a parking space included and exploring the city on foot or by public transport is the best way to go.