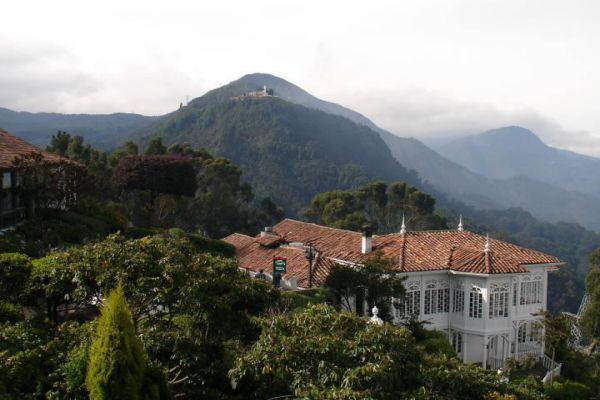 Image: Pixabay
A trip to Colombia isn't complete without a visit to the country's sprawling capital. Visit Bogota to experience this high-altitude city and grab an airport rental car to tour the country's top sights.
Located in the heart of Colombia, high in the Andean peaks, Bogota is home to over 8 million residents. La Candelaria in the city centre is a must-visit for all tourists, featuring cobblestone streets and colonial landmarks such as Teatro Colon and Iglesia de San Francisco. You must also check out Bolivar Square and the Gold Museum, and make time for a stroll through the Bogota Botanical Garden, a 20-acre park with waterfalls and orchids. After a few days in the city, hop in your cheap car hire and tour Colombia's beautiful countryside.
Planning a trip to the Caribbean coast? Drive your rental car to Cartagena, Santa Marta and Medellin.
Hiring a cheap Bogota rental car with Airport Rentals
Choose Airport Rentals when booking your car hire for pick up at Bogota Airport. Our highly-rated comparison site allows you to find top deals from a wide selection of rental companies. Hire with international brand favourites such as Avis, or opt for Confort, a local provider. Use our handy filters to narrow down your options to one preferred vehicle. Complete your secure booking without the hassle of hidden fees, plus receive free benefits such as theft protection and unlimited mileage.
Have a question? Our customer service team is available at any hour of the day.
El Dorado International Airport (BOG)
Touch down at one of the world's busiest airports in the heart of Colombia. El Dorado International Airport is one of the main transport hubs for South America, serving over 30 million travellers each year. Find every type of retail shop at El Dorado Airport, plus tourist services, and a mix of fast food joints, restaurants and cafes. Pay-per-use WiFi is available in the terminal.
When you're ready to collect your car hire, head to the Arrivals Hall on the first floor of the International Concourse. If you are picking up a car hire from downtown Bogota, pre-arrange a shuttle with your accommodation provider, or take a taxi into the city.
Guide to driving a rental car in Bogota
Use our Bogota driving guide for local driving tips, directions and parking information.
Driving from the El Dorado International Airport to downtown Bogota
Getting from El Dorado Airport to downtown Bogota can take up to 45 minutes due to heavy traffic. Exit the airport and continue straight to stay on Av. El Dorado, then take the Av. Boyaca al Norte exit to continue on Av. Boyaca, and keep on this until entering the city centre.
Driving tips for your Bogota rental car
Bogota is Colombia's busiest city for traffic. As a result, vehicles rotate during the week to reduce congestion. License plates ending in odd or even numbers are restricted to designated driving days. If possible avoid driving in the city and pick up your rental car after spending some time here.
Colombia car rental driving tips
● Drive on the right side of the road.
● Colombia drivers are aggressive so prepare to use your horn often.
● Carry cash to pay the tolls.
● Look out for speed bumps and potholes.
● Keep your headlights turned on.
● Avoid driving at night as the roads are poorly lit.
Read our tips on what to do in case of a breakdown.
Parking options at the Airport and downtown Bogota
Both terminals at El Dorado Airport offer parking near their respective entrances. The rates are $105 COP per minute and $48,000 COP for a 24-hour period for all parking lots.
On-street parking in Bogota is prohibited in most areas. It's best to use private car parks or garages to avoid fines, which charge by the minute, quarter-of-an-hour, or hour. Some restaurants and business offer free or discounted parking for patrons. Inquire with your accommodation provider to see if guest parking is available.
Is this your first time driving in a foreign country? Read our top tips for planning a successful international road trip.