On the northwest edge of New York state is the city of Rochester. Known as The Flower City for its extensive floral history, parks and gardens, Rochester is a beautiful place to rent or hire a car in and hit the road.
The Genesee River winds through the heart of the city, its waterfalls cascading along the way. Beautiful arched bridges connect the two sides, while the walkways along the banks make for excellent evening strolls and waterfront pubs host lively crowds each night. Visitors can enjoy a range of sights and attractions, from museums, galleries and shopping to hiking, fishing, boating and more.
An easy drive west from Rochester will bring you to Buffalo and Niagara Falls, while a drive east will take you to Syracuse. The city is in prime position for a New York state road trip.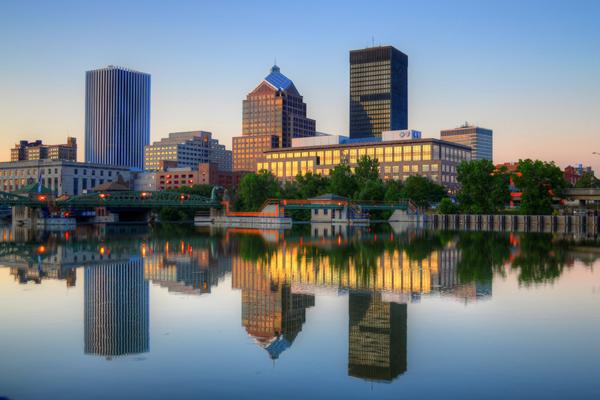 Image: Patrick Ashley (Own work), CC-BY-2.0, via Wikimedia Commons
Booking a rental car in Rochester with Airport Rentals
Secure your rental car in Rochester NY with Airport Rentals to get a great deal on car hire.
It's quick and easy to find the ideal car hire for your trip to New York. Simply enter your travel dates and hit 'search' to generate a list of options from multiple brands, organised by price. Use the filters to narrow down your choices to favour a certain brand, transmission type, or car style until you find the perfect vehicle.
Once you've made your final selection, booking is secure, with no hidden costs or booking fees. Plus, if you need a hand, our customer service team is ready to assist 24/7.
A quick guide to Rochester
Rochester sits along the south banks of Lake Ontario and is just a short drive away from the Canada-America border. It is serviced by Greater Rochester International Airport, which lies 5 miles southwest of the city.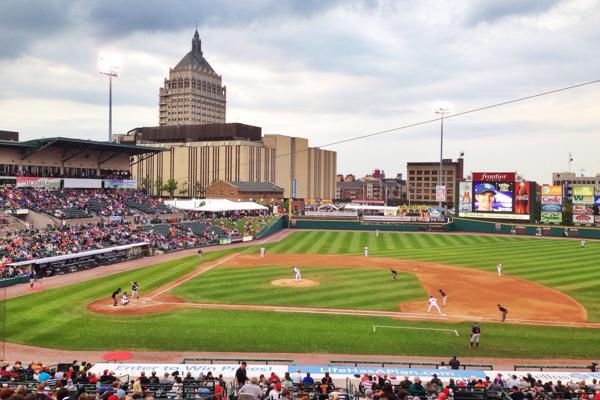 Image: Ryan Hyde (Own work), CC-BY-SA-2.0, via Flickr
Driving your car hire in Rochester
Rochester has two loop roads - aptly named the Outer Loop and the Inner Loop - optimised for travellers moving between the downtown area and the outlying suburbs. Interstate 490 and 590 run by Rochester making it easy to hit the road with your car hire for a weekend getaway to nearby cities, such as Syracuse and Buffalo.
Driving to the airport from the city
Flying out of Greater Rochester International Airport? It's an easy 15-minute drive from the heart of the city. Take South Plymouth Avenue from Rochester until you reach Brooks Avenue. Continue straight, then take a left onto Airport Drive.
Tips for driving your car hire around Rochester
Remember to brush up on the local road rules before getting behind the wheel of a rental car.
● No speed sign? The maximum speed allowed on highways is 55 mph.
●You may turn right at a red light unless otherwise stated.
● Peak hour traffic can get pretty heavy so plan your activities around these times.
● In the winter months, driving can be hazardous due to heavy snow and ice. Prepare well and avoid driving in bad weather.
Where to park your rental car
There are plenty of on-street parking spots, surface lots and garages in downtown Rochester. Most surface lots are priced at around USD$5 per day, but prices may rise on nights when there is a game or concert on. Always double check the time restrictions before leaving your rental car.