What began as a small army outpost on an Arizonan lake has grown into the thriving town of Lake Havasu City. Within just a few hours' drive from the metropolises of Los Angeles, Las Vegas, San Diego and Phoenix, Lake Havasu is the perfect spot to begin or end any west American road trip. Pick up your rental car and hit the road.
As well as the highly visited tourist attraction of London Bridge, there's plenty of amazing things to see and do in this lakeside city. The English Village is especially sweet with its own Trafalgar Square, and retail enthusiasts will love the boutique stores of the downtown area. You can learn about the artificial Lake Havasu in the museum, or head to the Colorado River to get up close and personal with the stunning natural landscape of the area. Whatever you end up doing on your visit to Lake Havasu City, it likely won't be your last.
Pre-book a cheap rental car in Lake Havasu with Airport Rentals
Booking a cheap rental car at Lake Havasu City Airport doesn't have to be a challenge. We make it easy at Airport Rentals by presenting you with all your vehicle options across multiple suppliers, allowing you to compare important details like price and style all in one place.
It's easy to get started: select your travel dates and click 'search'. Looking for something in particular? Narrow down your car rental options by adjusting the filters to sort by passenger capacity, style or brand of vehicle, and more. When you've found the perfect car hire, book securely online and receive instant confirmation and access to a 24/7 customer service team who are ready and willing to help should you require any assistance along the way.
A quick look at Lake Havasu Airport
Also known as Lake Havasu City Municipal Airport, Lake Havasu Airport is small compared to its state counterparts, but that doesn't stop thousands of visitors passing through its gates every year. Pick up your rental car keys and set off on your Lake Havasu holiday.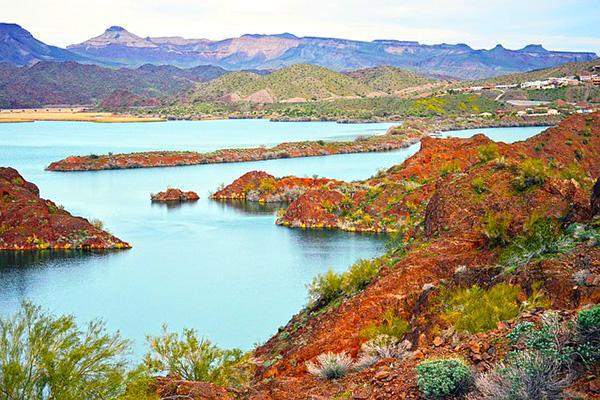 Driving a car hire around Lake Havasu City
Like many planned towns in the United States, Lake Havasu City is built on a grid, making navigation a breeze. The Interstate 40 runs just to the north of the city, connecting the area with California in the west and New Mexico in the east.
Getting to and from Lake Havasu City Airport
Lake Havasu City Airport is located seven miles to the north of the city. From the airport, head out onto Whelan Drive and take a left onto the AZ-95 S. Follow the highway for five miles, then exit the highway at W Acoma Boulevard and follow the road into the CBD. The trip should take around 15 minutes.
Tips for driving a rental car in Lake Havasu City
● New to the USA? Keep to the right side of the road and refer to our USA driving guide to prepare.
● Highways around the larger cities can get congested in summer months.
● At a four-way stop, every vehicle must stop, then move on in the order in which they arrive.
● Watch your speed on the highways, as stretches of road are long and it's easy for your speed to creep up.
● Watch for animals near the road in rural areas.
Where to park your rental car
Lake Havasu City Airport has short and long-term parking available. Parking rates for all zones begin at USD$2 per 20 minutes, with a maximum daily cost of USD$15. It's a short 10 minute walk to the terminal from the parking area.
Finding a parking space for your rental car in Lake Havasu is reasonably easy, as on-street parking is available on many streets. Major attractions, such as London Bridge and the information centre have free parking.