Chattanooga is a town of many names. Officially - and understandably - it is called the Scenic City, but locals also call it everything from Chatt to Nooga to Chattown. Plus, thanks to its claim that it has the fastest internet service in the Western Hemisphere, it even occasionally goes by 'Gig City'.
No matter what you call it, Chattanooga is a picture-perfect city in the southeast of Tennessee that has even more surprises than it does nicknames. Make your stay as easy as possible with a car rental in Chattanooga to help you get around.
Hiring a cheap car rental in Chattanooga with AirportRentals.com
There are seven different car rental companies operating out of Chattanooga Airport, so while you've got plenty of choice, it can be tiresome to get quotes for available vehicles from Hertz, Avis and so on. Instead, make a beeline for Airport Rentals and type in your travel dates and a couple of other quick details. You'll instantly be presented with a page of all available car rentals at Chattanooga Airport from each company.
Check out your options, use the 24/7 helpline or email support if you have any questions, then book securely online for the simplest car rental booking you've ever made.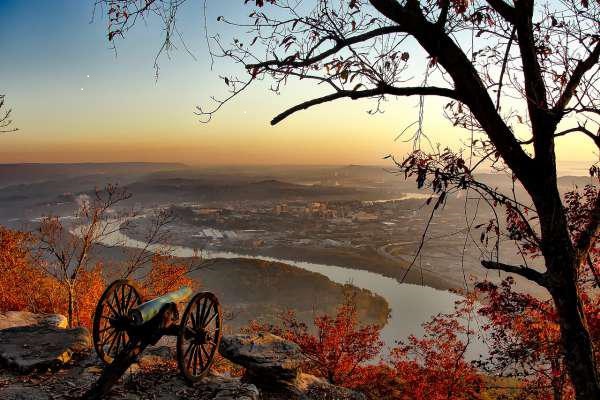 Image:Pixabay
Chattanooga Airport
Chattanooga Metropolitan Airport is a compact facility that's just 20 minutes from the city centre. Like the rest of the city, the facility is deeply involved with eco-friendly practices, so has created a field of solar panels, introduced sustainable lighting products, and replaced coal tar pavements with greener products.
With just one terminal open 24 hours per day, the airport is easy to get around. There is also free WiFi throughout the terminal, and an information booth can be found on the first floor should you have any questions. Note that there are no currency exchange facilities currently available at Chattanooga Airport.
Most of the car rental desks can be found within the airport. However, Thrifty and Dollar are located off-site, and will send a shuttle to pick you up on arrival.
Chattanooga Airport facilitates non-stop flights to a number of major US destinations, including:
● Chicago
● New York
● Orlando
● Detroit
Driving your car hire in Chattanooga
As a town that's on the smaller side, you shouldn't have any problems at all when driving in Chattanooga. You may experience a few delays around peak travel times, but rush hour here is nothing like it is in big cities.
If you're new to the USA, be sure to familiarise yourself with the local road rules.
Driving between the airport and the CBD
The trip between the city centre and Chattanooga Airport usually takes roughly 20 minutes in normal traffic conditions. That said, always be sure to leave spare time just in case of the unexpected.
To get from the airport to town, turn left onto Airport Road as you leave the terminal then left again onto Shallowford Road. Take another left once you reach Tunnel Boulevard then right onto Bailey Ave, which will take you all the way into town.
Driving tips for Chattanooga car rental
Chattanooga is a fairly standard city in terms of getting around, so you shouldn't have any issues driving your car hire. If you're planning on taking your car up to Lookout Mountain, give yourself extra time for the trip and keep your eyes on the road as the curving mountainous route can be off-putting for those unfamiliar with this terrain.
Parking your car hire in Chattanooga
At Chattanooga Airport, you have the option of short- or long-term parking. The short-term area is located right next to the terminal, and is free for the first 15 minutes, $1 for 30 minutes, and $16 per day. If you know you'll be a while, long-term parking options are available next to the short-term lot for $9 per day. You can pay on site or use the Parkmobile app to pay for your parking with a smartphone.
Whenever possible, book your accommodation somewhere that includes parking to make your stay that much easier. Otherwise, there are still plenty of places to park in town, with more than 2,100 on-street metered spaces and another 1,300 spots in parking garages.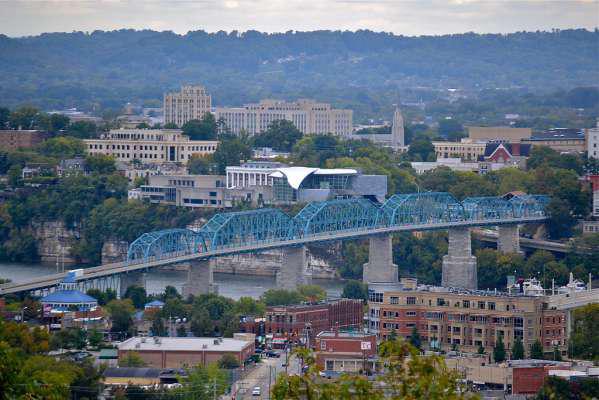 Image: Imilious