Perched in the centre of Saudi Arabia is the country's capital and most populated city, Riyadh. The dry sands of its surrounding desert anchor this lively city to its roots, while the burgeoning metropolis acts as a commercial and financial hub for the kingdom. Rent a car to delight in this divergent setting.
Hit a round of golf at one of the city's perfectly manicured golf clubs, and then head out for a bite to eat at one of the many incredible restaurants. Take time to discover the city's many parks, museums, shopping districts, and futuristic architecture.
Useful tips:
● Alcohol is strictly forbidden; however, you will find many cosy coffee and tea shops in Riyadh.
● Women visiting Riyadh are required to wear an abaya, a gown that covers the head as well as the body.
Hiring a cheap car rental in Riyadh
Renting a cheap car for your trip to Riyadh is easy with AirportRentals.com. In a few simple keystrokes, you'll be booked and ready to go. Simply type in your details to generate a list of available cars at King Khalid International Airport and then use preference filters to narrow down your search results. Compare multiple brands on one page.
We have options to fit every traveller's budget. Choose an economy car like a Nissan Micra or a luxury car for an upscale vacation. You'll find the perfect car to complement your road trip. Online reservation management, 24/7 customer service and no hidden fees make Airport Rentals the best option for your Riyadh adventure.
King Khalid International Airport (RUH)
The recently renovated King Khalid International Airport is located 35 kilometres north of Riyadh, and sees over 22 million passengers each year. Terminal 5 (the newest terminal in the airport) handles all domestic flights including arrivals from Jeddah, Dammam, and Jizan. Terminals 1 and 2 handle international flights including arrivals from popular foreign destinations such as London, Rome and Dubai. Riyadh Airport is outfitted with many restaurants, cafes and shopping options, and is home to Riyadh Airport Mosque, hosting up to 5,000 worshippers at one time.
To locate the appropriate car rental kiosk, head to the arrival hall of terminal 1, 2 or 3. All terminals are connected by walkways for easy access. Provide your rental details and follow instructions from your rental agent. In most cases your car hire agent will shuttle you to their office in Riyadh to pick up your hired car.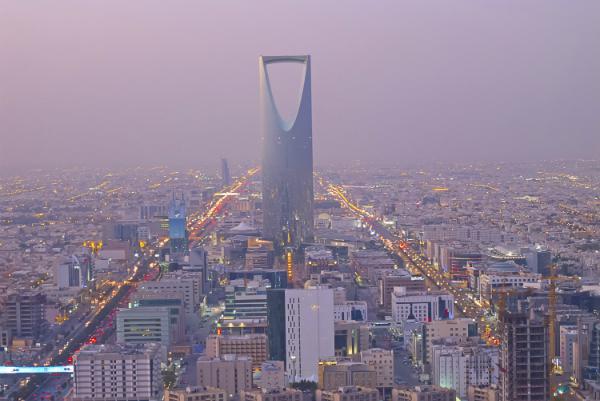 Guide to driving in Riyadh
Use the handy guide provided below for driving and parking tips including directions.
Driving from King Khalid International Airport
To access the business district from Riyadh Airport, exit onto Airport Road then King Salman Road. Take the roundabout to King Fahd Road (route 65) to arrive at King Abdullah Financial District.
If you made arrangements to pick up your rental in Riyadh itself, you can take a taxi for a cost of at least SAR 100 and no more than SAR 200-220. To access the city by the metro, go to terminal 5, yellow line (L4).
Driving tips for your Riyadh car rental
Hire a GPS for your rental car and enter your desired destination prior to driving in Riyadh. Carry a paper road map of the area in the event your GPS fails.
● Currently women are not allowed to drive in the Kingdom of Saudi Arabia and can only passenger with direct family members or a hired chauffeur. However, this law will be lifted beginning June 2018. To ensure you are following foreign laws, inquire with your home consulate as to what the law is during your travel to Riyadh.
● Keep to the right and use indicator lights to avoid accidents.
● Follow the posted speed limits.
● Wear your seatbelt at all times.
● Always carry your passport with you when driving.
Parking in Riyadh and King Khalid International Airport
King Khalid International Airport is equipped with two large three-level parking garages which are linked to the airport terminal by walkways.
Inquire with your rental agent where to park your vehicle at the end of your Riyadh stay. Many agencies will have you deliver your hired car to their office in Riyadh, and a shuttle will escort you to the airport. Ensure you allow plenty of time to arrive at the airport for your departing flight.
There are many paid parking lots located throughout Riyadh. Street parking is permitted, however it is best to use a parking lot when available to avoid tickets.