Tauranga is the Bay of Plenty's largest city, and one of the fastest growing population centres in New Zealand. This harbourside town is known for its love of the ocean, as well as its enviable proximity to the beautiful beaches of Mount Maunganui.
Finding the best car hire deal usually means checking all the options and prices before making a decision. This process can be time consuming, so cut out the legwork and head to Airport Rentals instead. Here, all you need to do is indicate your dates of arrival and departure, and the site will bring up a list of available vehicles from highly regarded companies such as Avis, Thrifty and many others.
Whether you're after something grunty to take you out of the city, or a sporty little coupe, you'll have a range of models to choose from. Compare the prices for a good deal, then know that whichever option you pick, Airport Rentals guarantee the lowest price.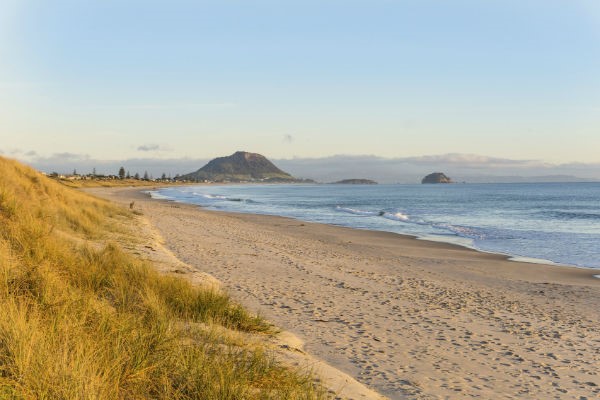 Explore the Bay of Plenty in your Tauranga car hire
Tauranga is the heart of the Bay of Plenty, an area of scenic beauty and family-friendly activities. The name itself means 'safe anchorage'.
Take a 15-minute drive to Mount Maunganui, known locally as 'The Mount', for one of New Zealand's best beaches. Here you'll find white sands, local beachside shops and cafes, and a selection of walking tracks to the top of the 230 metres dormant volcano that resides over it all. Hire a surfboard to check out the consistent waves produced by an artificial reef set 250 metres offshore.
For a real 'Kiwi' experience, drive 30 minutes from the city to Te Puke. The area is renowned for its expanse of kiwifruit orchards, and the jewel of its crown is the massive Kiwi360 slice of this vibrant green fruit. Hop on a tour to see the orchards, take a ride in a train-car and pick up some tasty souvenirs before snapping plenty of selfies with the immense fruit sculpture.
Time your visit right, and you might just get to enjoy one of the many events on Tauranga's social calendar. The National Jazz Festival at Easter has been held in the city for more than five decades and brings a swathe of concerts, carnivals and parties to town for several days of musical magic. The Seriously Good Food Show in late June is a must-taste for foodies with 150 stalls, live cooking shows, top New Zealand producers, and of course, plenty of tastings.
Pick up your Tauranga car hire as soon as you step off the plane and spend less time organising the boring stuff and more time exploring the awesome Bay of Plenty!


From Tauranga, the impressive geothermal sites of Rotorua and the Waitomo glowworm caves are within just a few hours drive. Auckland city is also within reach. Alternatively, you could go to Whakatane and embark on a tour to the impressive White island.