Palmerston North - affectionately known as 'Palmy' to the locals - is an inland city in the North Island of New Zealand, home to more than 80,000 people. It's an eclectic mix of outdoor adventure, heritage, arts and culture, and urban city living, as well as being a central point between other major cities such as Wellington and Wanganui.
With so much to see, do and experience, a car hire in Palmerston North is the easiest way to get around. For a bargain on your car hire you don't have to look any further than the airport itself. Here you'll find the leading local rental companies all in the same place: Auto Europe, Avis, Budget, Europcar and Thrifty. Instead of approaching each desk on arrival to find out what's available and how much it all costs, you can save yourself time, hassle and money by sorting it all with a few clicks at Airport Rentals.
By automatically pulling together all of this information, you can quickly and easily compare each vehicle and price ahead of time. This is a great way to ensure you get the car hire in Palmerston North you're after, whether that's a zippy coupe for getting about town or a big station wagon to fit all the kids and luggage.
Each rental also comes with a lowest-price guarantee, and you won't pay anything extra for hire such as booking or credit card fees. Plus, once you're on the road, the service continues with round-the-clock support from the Airport Rentals customer service team.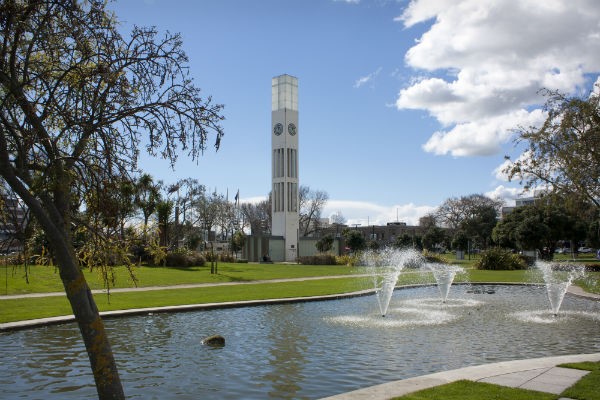 What to do in Palmerston North
Palmerston North - or just 'Palmy' to its friends - is an underrated hive of culture and activity. Checking out all the museums and galleries about the town could fill several days, so you'll have to pick just a few if you're limited on time. Most notably, the city is home to the New Zealand Rugby Museum, which boasts the country's biggest collection of memorabilia and records. Even if you don't back the All Blacks, it's a fascinating tour through time looking at the most memorable moments and characters of New Zealand's national sport.
From walks to white-water rafting, there's no shortage of outdoor adventures either. Take a day trip out to New Zealand's highest bridge bungy at Gravity Canyon about 90 minutes from Palmerston North's CBD. You can get your fix of adrenaline on the 1.1km Flying Fox, the 50m freefall over Mokai Canyon on the giant swing, or simply jump the 80 metres over the Rangitikei River. For more sedate outdoor excursions, there are countless walks, kayaking tours, horseback rides and biking tracks, allowing you to enjoy some of the country's world-famous scenery.
Palmerston North Airport: What you need to know
The Palmerston North Airport is only 8.6 kilometres from the city, so just a quick 10-15 minute drive into town once you've picked up your hire car.
Your car rental company is easily located within the airport terminal, and remember that we don't charge for most changes or cancellations, should your plans change once you arrive.

For those that want to venture from further afield and end up in Palmy, consider picking up a Christchurch Airport car hire, or car hire from Auckland Airport. Alternatively, Wellington is just a few hours drive to the South. In case you decide to head North, you will have the choice between the beautiful Hawke's Bay, also reknown for its wine, and the stunning Mt Taranaki.