Come and explore the cultural capital of the Yucatan Peninsula. Hire a Merida Airport rental car to check out historic sites and cruise along the Gulf of Mexico.
Merida is brimming with cultural attractions from the colonial period, reflecting a strong Spanish influence. Plaza de la Independencia is a must-see and is home to Merida Cathedral and the dazzling white limestone Iglesia de la Tercera Orden. Make time for Gran Museo del Mundo Maya and Casa de Montejo. Hop in your rental car to visit the zoo and cruise to other hotspots in the Yucatan.
Drive over to Cancun and Tulum or plan a Mexican road trip to Mexico City and Guadalajara.
Hiring a cheap car in Merida
When you are ready to book your Merida rental car, use Airport Rentals to save time and money. Simply type in your travel details and our optimal search engine will present top industry deals from a wide range of vehicles and rental brands. Choose from international brands like Avis and Budget or book with a local provider like Firefly. Use the preference filters to help narrow down your options. Find included benefits in your rental car such as theft protection and unlimited mileage. Once you select the perfect vehicle for your Merida trip, finalise your booking on our secure site. Never worry about hidden fees, and enjoy access to 24/7 customer service, should you need it.
Merida International Airport (MTY)
Land at Merida International Airport, open 24-hours a day, to find duty-free stores, a food court, boutique shopping, and more. Each year around 1 million people pass through the airport, heading to beautiful destinations in the Yucatan. WiFi is only available in the airport lounges, but if you have any questions, you will be able to find tourist information booths in the arrivals hall.
Pick up your keys at your designated rental car kiosk located on the ground floor near baggage claim, otherwise take a taxi to collect your car hire from a depot in downtown Merida.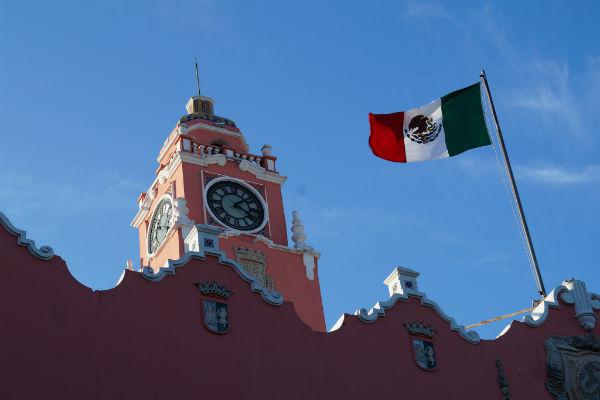 Image: Niek van Son
Guide to driving a rental car in Merida
Use our guide for help on driving tips, navigating and parking for Merida.
Driving from the Merida International Airport to Merida
Hop in your rental car to make the 30-minute drive to downtown Merida. Exit the airport onto Uman-Merida/Mexico 261 and follow this to Centro. Turn right onto Calle 51, then right on Calle 70. Make a left on Calle 59 to reach the Merida's city centre.
Driving tips for your rental car in Merida
Hiring a car for a holiday in Yucatan is the best way to see this region's beautiful sights. If driving at night, look out for cattle or locals near the road. Here are a few more driving tips for the area:
• Drive on the right side of the road and be prepared for slow drivers to pull over to the shoulder lane to allow you to pass.
• Left turn signals on the highway are used as an invitation to the car behind you to pass and it's a common practice with trucks and buses. They are rarely used for turning so make sure to keep your distance between cars.
• Topes are speed bumps used in villages and rural roads; slow down before driving over them.
• Always book insurance with your rental car.
For more on driving tips in Mexico, scroll to the bottom of the Mexico car rental page.
Parking at Merida International Airport and downtown Merida
Find plenty of parking at Merida International Airport. Pay around Mex$36 per hour and Mex$215 for the day. The parking lot is located directly across from the terminal.
Most accommodation providers offer free parking on-site. When parking in downtown Merida, look for "estacionamiento" signs or a big E to locate parking garages or on-street parking, paying around Mex$150 for the day.
Take your airport rental car to other amazing spots in the area. Read up on what to do on the Yucatan Peninsula to help plan your route.