When you think of the typical "spring break" destination, many picture the stunning blue waters in Cancun. Experience why this destination is such a hotspot when you hire an airport rental car to cruise around the peninsula.
One side of Cancun is a beach lover's fantasy with endless stretches of sand, towering resorts, beach bars and restaurants. Head into the city to see the less touristy, more local side, with mouth-watering taco joints, salsa clubs and Mercado 28, a street market full of handcrafted goods. Save time for exploring ancient Mayan archaeological sites with visits to San Miguelito and Zona Arqueologica El Rey.
Experience a wild spring break in Cancun or plan an epic road trip to other nearby Mexican cities such as Merida, Tulum, Tuxtla Gutierrez.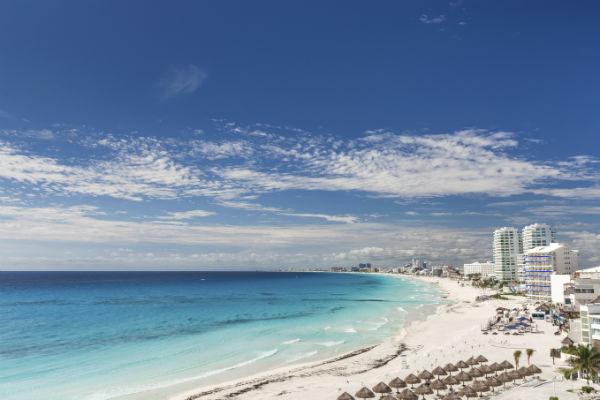 Hiring a cheap car in Cancun
When you're ready to plan your Cancun holiday, visit Airport Rentals for quick and convenient car hire. Choose between highly-rated domestic and international brands through our optimal comparison site. Enter in your travel information to find instant deals with included benefits like theft protection and unlimited mileage. Sort through the vehicles with ease using our preference filters and find the right car in no time. Finalise your booking on our secure site and never pay hidden fees. Plus, enjoy access to 24/7 customer service.
Cancun International Airport (CUN)
Touch down at Cancun International Airport, the country's busiest transport facility for international travellers. Each year, over 14 million passengers access the Yucatan Peninsula from this location and are welcomed with duty-free shops, cafes, fast food joints and eateries. There are no restaurants in the arrival terminals. Access free WiFi to look up reservations or browse the internet. When you're ready to pick up your keys, head to the rental car kiosks in the arrival hall.
If you are picking up your vehicle from downtown Cancun, make sure to pre-arrange a ride through your accommodation or rental agency. Taxi service is not available at the Cancun Airport.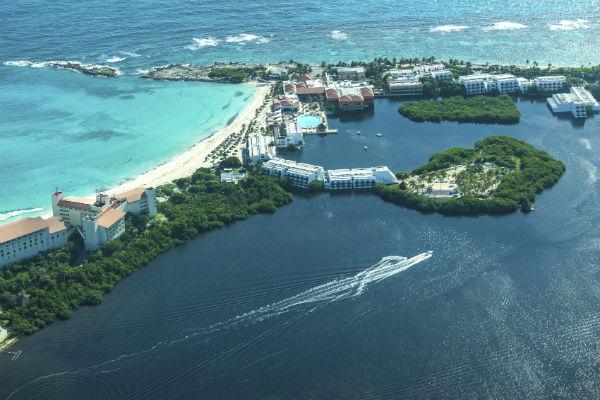 Guide to driving a rental car in Cancun
Use our guide for help on driving tips, navigating and parking for Cancun.
Driving from the airport to Cancun
The drive from Cancun International Airport to the city takes around 25-30 minutes. For the shortest route, follow these directions: exit the airport and merge onto Mexico 307, stay in the right lane to take the 2nd exit at the roundabout onto Av Rojo Gomez Kabah. This road turns into Calle Prol Av Kabah and brings you directly to the city centre.
If you are heading to 'Hotel Zone', continue straight on Airport Road to Punta Nizuc and follow this to your accommodation. The drive is around 20 minutes.
Driving tips for your Cancun rental car
Thanks to heightened tourist traffic, roads in the Yucatan are in great shape compared to the rest of the country. Here are a few tips worth noting for your trip:
● Drive on the right side of the road and be prepared for drivers to pull over to the shoulder lane to allow you to pass.
● If you are pulled over for speeding, be prepared to pay an on-the-spot fine.
● Always check your mirrors before switching lanes as the locals are known for overtaking whenever possible.
● Stick to the right side of the road unless you are passing.
● Nobody has the "right-of-way" in Mexico including pedestrians; keep your eyes peeled on the road.
For more on Mexican driving tips, scroll to the bottom of the Mexico car rental page.
Parking options at Cancun International Airport and in the city
Find convenient parking across from the main entrance to Cancun International Airport. The hourly rate is 34 pesos and 210 pesos for the day, plus the lots are patrolled with 24-hour security.
Parking at your accommodation in Cancun is the easiest way to explore the walkable hotel zone. If you're heading into the city, park along the outskirts of town and walk or bus in. Also, many tourist-favourite attractions offer parking at a cheap rate.
Check our guide on what to do on the Yucatan Peninsula to find the bucket list items and book your Cancun car hire today!