Explore the region of Brittany when you pick up a Quimper Airport car rental in Western France. Its Roman origins and Celtic roots will charm you through cathedrals and ancient structures, as will its many museums and artistic displays.
Home of the famous Quimper Faience pottery, Locmaria (the historic pottery quarter) offers tours of the HB Henriot workshop. The Steir, Odet and Jet rivers flow through the city and underneath pretty footbridges. Visitors can stroll along Vieux Quimper (Old Quimper) sampling delicious Breton cuisine and cider from local restaurants, biscuiteries and creperies.
Highlights include the Cathedrale de Saint Corentin, Jardin de la Retraite, Jardin du Prieure Locmaria and the Musée des beaux-arts de Quimper.
Experience more of the area in your Quimper rental car with a visit to Pont-Aven or the beaches of Benodet, and then the rest of France awaits! Nantes, Paris, La Rochelle and Bordeaux are all within reach.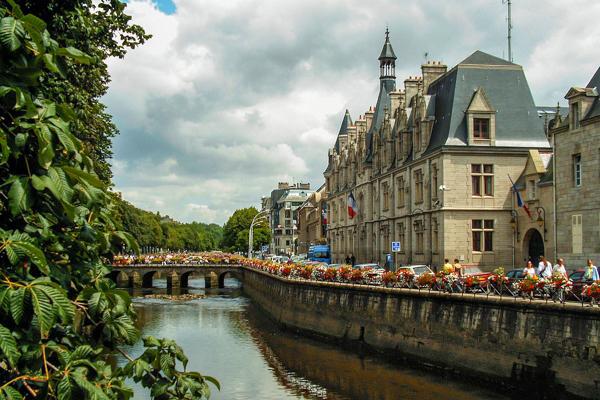 Image: S.Moller (Own work), via Wikimedia Commons
Booking a Quimper rental car with Airport Rentals
Secure your affordable Quimper car hire in just a few clicks with Airport Rentals. Simply select your dates of travel and hit 'search'. Our sophisticated booking engine will generate a list of available vehicles at Quimper–Cornouaille Airport.
Compare multiple rental brands on one user-friendly page and narrow your options using handy preference filters like transmission type, vehicle size, style and more, until you are left with the perfect vehicle for your trip.
All aspects of your booking can be completed quickly and easily using our handy online reservation management system. If you should require assistance, our knowledgeable customer service team is available by phone and on hand to help 24/7.
Quimper–Cornouaille Airport (UIP)
Quimper-Cornouaille Airport is a small regional airport in the west of France. Flights departing from Quimper connect to most airports within France and many of the major hubs throughout Europe. Consisting of one terminal, the amenities are basic but comfortable. There is one bar and restaurant, and free WiFi is available throughout the terminal ensuring you can always be connected.
When you are ready to collect your car hire keys, car rental agencies are stationed in the terminal.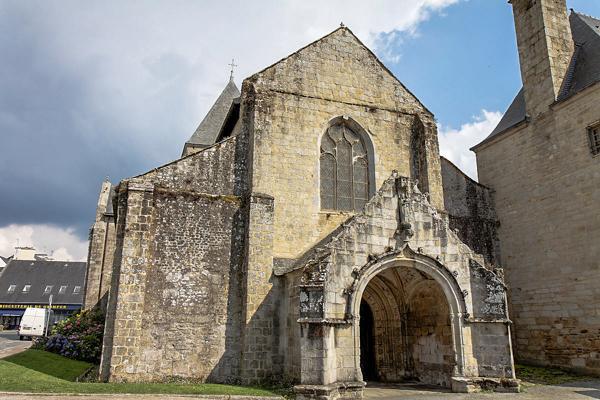 Image: Thesupermat (Own work), CC-BY-3.0, via Wikimedia Commons
Guide to driving in Quimper
Use our driving and parking tips to make the most out of your Quimper car hire.
Driving from the Quimper–Cornouaille Airport to Quimper city centre
Your journey from the airport to Quimper city centre should take approximately 15 minutes. Departing the airport, turn left on D56 heading towards D785. Take another left onto D785 and travel for about 5.7 kilometres before continuing onto D34 which will take you directly into the city centre.
Driving tips for your Quimper rental car
France driving tips
● Driving is on the right side of the road and overtaking on the left.
● Seatbelts are mandatory for all occupants of the car.
● The blood alcohol concentration limit for drivers is 0.05%. We recommend abstaining from drinking if you intend to drive.
● Speed limits can vary according to weather conditions.
● Many of the major highways in France are toll roads, so keep some cash or a credit card handy.
● You will become familiar with roundabouts on French roads. Remember when entering to give way to vehicles already on the traffic circle.
● Cities in France can be quite congested. Be prepared for every situation with these road trip essentials.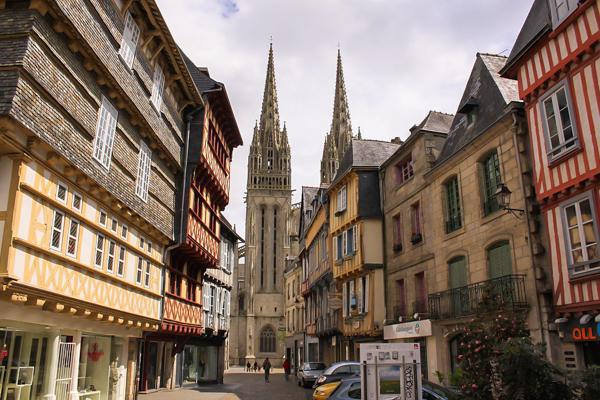 Image: XFalkx, CC-BY-3.0, via Wikimedia Commons
Parking options at the Quimper–Cornouaille Airport and Quimper city centre
Quimper-Cornouaille Airport has ample parking across two separate lots. The P1 parking area is more conveniently located close to the terminal than P2 and as such charges slightly higher rates, with short and long-term parking available at both lots.
Parking your car hire downtown is just as accessible with a mix of on-street parking and parking garages available. The first 15 minutes of parking are free no matter where you park. On-street parking comprises three zones; with red for short-term parking, orange for medium-term, and green zones further outside the centre being free.