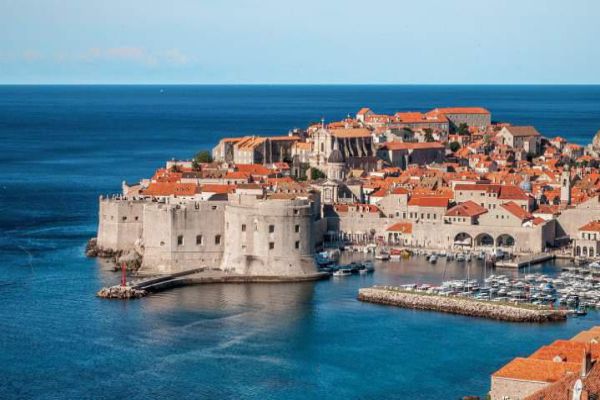 Image: Pixabay
Dubrovnik, one of the prettiest and most toured cities in Croatia, lies on the Dalmatian coast of the Adriatic Sea. Rent a cheap car hire to experience everything this European hotspot has to offer.
The city is known for its spectacular medieval Old Town, and with payment of an entrance fee you'll gain walking access to its massive stone walls. From the top of Mount Srd, you can admire the dramatic blue waters of the surrounding ocean, and the sea of terracotta rooftops adorning the ancient architecture of Dubrovnik's meandering streets.
Once you've experienced all this incredible city has to offer, head out to explore more of Croatia, discovering picturesque villages, and friendly beach towns like Makarska and Split.
Hiring a cheap rental car in Dubrovnik with Airport Rentals
Rent a cheap car hire at Dubrovnik Airport with AirportRentals.com to secure the best rental deal available. Through our powerful search engine, you'll gain access to a live inventory of cars for hire on your travel dates. Rentals are sorted with the most affordable option at the top, and handy preference filters allow you to narrow down search results to your ideal vehicle type. You can search by automatic transmission or a specific brand, making it easy to find the perfect rental for your Croatian road trip. After selecting your rental, review the details and book instantly on our secure site.
Airport Rentals has a knowledgeable and dedicated customer service team, available to you via phone or email 24 hours a day, seven days a week. Book your Dubrovnik rental with Airport Rentals and let us take the hassle out of car hire.
Dubrovnik Airport (DBV)
Dubrovnik Airport is located roughly 20 kilometers from the city of Dubrovnik. It also goes by the name of Cilipi Airport Dubrovnik, due to its close proximity to the small village of Cilipi. The airport is a major hub for flights across Europe during the busy tourist season. Charter flights from the Croatian cities of Split, Zagreb, and Rijeka, are also serviced here. Upon landing, visitors can expect to find a coffee shop, newsstand, duty free store, bank, and currency exchange counter within the terminal.
Car rental agencies are located outside the departures and arrivals building, just beyond the bus terminal. After finalising your rental details, an agent will escort you to your rental located in a nearby parking lot.
Guide to driving your car hire in Dubrovnik
Read ahead for handy driving tips and parking information for Dubrovnik.
Directions from Dubrovnik Airport
The drive from Dubrovnik Airport to Dubrovnik should take about 22 minutes depending on traffic. From the airport, exit onto Route D8 for about 19 kilometers until you reach the exit to Ul. Pera Bakica. Follow this road to access downtown Dubrovnik.
Tips for driving your car rental in Dubrovnik
● Drive on the right side of the road, overtake on the left.
● Driver and passengers must wear seatbelts at all times.
● Follow the posted speed limits.
● Carry cash for toll roads.
● Drive cautiously and allow others to pass.
Parking in Dubrovnik and at Dubrovnik Airport
Dubrovnik Airport has short and long-term parking for 200 cars and prices vary by convenience. The first fifteen minutes are free.
Parking in Dubrovnik is divided into 5 zones, designated as 0 through IV. Parking times and cost depend on what zone you park in. Read and follow parking signs carefully to avoid costly fines.