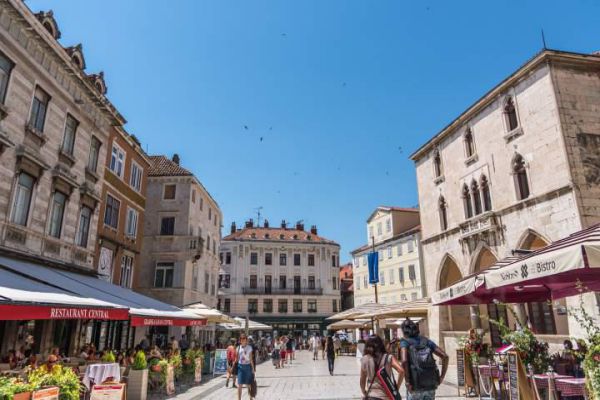 Image: Pixabay
Welcome to the Dalmatian city of Split, where the Dinaric Alps create a sturdy backdrop to city streets lined with ancient Roman architecture. Rent a car hire to explore this historically rich city and beach hop along the Adriatic coast.
Roman Emperor Diocletian built his grand and stunning palace in Split and its ruins have become a major tourist attraction. The Old Town surrounding the fortress is an ideal place to enjoy a morning coffee and evening meal.
Experience more of Mediterranean Croatia in an airport rental car.
Hiring a cheap car rental in Split with Airport Rentals
Use AirportRentals.com to compare a wide range of vehicles and prices for car hire in Split. To make it simple, our live inventory of vehicles are displayed with a clear and concise breakdown of car details, benefits, and cost in your country's currency. You can quickly weigh up the benefits of an economy car, luxury SUV or anything in between. Whether road tripping with a group of people or splurging on a high-end vacation, Airport Rentals has vehicles to satisfy every traveler.
After selecting your rental and finalising your reservation details you'll receive instant confirmation. You can make changes to your booking at any time through our online reservation system, and our dedicated customer service team is available 24/7 hours a day, seven days a week should you have any questions throughout the process.
Split Airport (SPU)
Split Airport, also known as Resnik Airport, is the international gateway for Split and the surrounding region. Located close to the town of Trogir and about 26 kilometers west of Split, the airport receives flights from European hubs like Dublin, Rome, and London, and domestic flights from Dubrovnik, Zagreb, and Rijeka.
Recent renovations have modernised Split Airport. On the ground level travelers will find a duty free store, souvenir shop, cafe, and coffee bar. Car hire kiosks are located in the arrivals hall, also on ground level. A rental agent will escort you to your car located in the nearby parking lot.
Guide to driving your car hire in Split
Continue reading for directions from Split Airport to Split, handy driving tips, and parking information.
Driving from Split Airport
Split Airport is located approximately 24 kilometers from the centre of Split and takes about 29 minutes by car, depending on traffic. From Split Airport, drive eastbound on Route 8 and follow the signs to access the heart of Split. Alternatively, visitors can take the scenic coastal road, E65.
Other modes of transportation from Split Airport to Split include taxi, public bus, or airport shuttle bus.
Driving tips for your Split rental car
● Drive on the right side of the road, overtake on the left.
● Seatbelts must be worn by all passengers, at all times.
● Cell phones must be used in hands-free mode while driving.
● Carry cash for toll roads (exclusive to motorways).
● The speed limit is 50km/hr in towns and 130km/hr on motorways, unless otherwise posted.
Parking in Split and at Split Airport
Split Airport has short and long-term parking for over 500 cars, 118 of which are for rental vehicles.
Parking options in Split include metered street parking, secured lots, and some free parking areas. To avoid potential theft, park in a secured parking facility.