While Croatia is fast becoming a not-so-hidden gem, there are still undiscovered nooks and crannies of this Eastern European country, and a Rijeka Airport car hire will help you find them.
As the nation's third largest city and Croatia's main seaport, Rijeka holds an interesting history, ornately displayed in its Austro-Hungarian architecture and blended culture. Old world charm and a colourful nightlife give life to the centre, while the activities in the harbour keep the economic engine burning.
Despite its position on an inlet of the Adriatic Sea, Rijeka lacks a proper beach. But, where it fails in sandy bays, it picks itself up with lively events - including the nation's largest annual carnival.
A Rijeka car rental will make it easy to pop down the coast, filling your eyes with dramatic sea views and your heart with memories to last a lifetime. A well-trodden route will take you down south to Zadar, Split and finally Dubrovnik, with lovely little stop-offs along the way in the region called Dalmatia. You may also wish to head east to Osijek or inland to the capital, Zagreb for another type of foreign road trip adventure.
Booking a Rijeka rental car
Find and compare car hire deals for Rijeka Airport with Airport Rentals. We provide the best value whether you are looking for a short or long term rental. Target your search to match personal preferences using filters for size, brand and style, and complete your reservation by filling out a short form.
Booking is fast and easy, and all aspects of your reservation can be organised online. If you would rather speak to a person, our friendly and knowledgeable customer service team is ready to take your call 24 hours a day, seven days a week.
Rijeka Airport (RJK)
Rijeka Airport (RJK) is a small but busy airport and welcomes flights from most of the major European airlines. The airport consists of two floors; the first floor is for international flights, while the ground floor handles check-in and domestic departures. Each level has a cafe, and a store offering basic necessities. Additionally, the ground floor features other amenities such as a currency exchange and a tourist office.
The car rental desks are located on the ground floor beside the entrance to the main hall.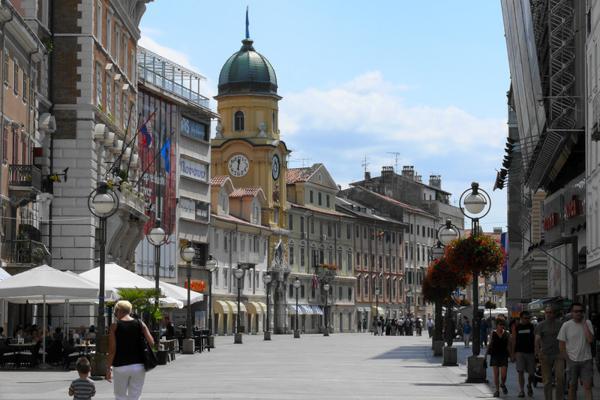 Guide to driving a rental car in Rijeka
Driving from the Rijeka Airport to Rijeka city centre
Uniquely positioned on an island called Krk, Rijeka Airport offers a stunning entrance to Croatia. The drive to the city on the mainland will take around 30 minutes. From the airport, head north to D102. Continue onto the A7 towards Rijeka for 10 kilometres. This road becomes E65 which you will continue on for another 3.7 kilometres before taking exit 9 for D404 which will take you to the city centre.
When driving back to the airport from the city, there is a mandatory toll of 35 kunas to access the island of Krk which is payable upon arrival.
Driving tips for your Rijeka rental car
Croatia's coastal roads are narrow and winding in some sections, and others poorly lit. While local drivers can be aggressive, the horn is mainly used for greeting purposes. There are reports of roadside emergency scams, so if your vehicle happens to break down, make sure you are in view of ongoing traffic before accepting help.
Croatia car hire driving tips
● Traffic flows on the right side of the road.
● Book car ferries in advance.
● Seatbelt use is mandatory.
● Accidents are frequent in Croatia. Prepare well and always err on the side of caution.
● Carry a fluorescent vest, warning triangle, and first aid kit in your vehicle in case of a breakdown.
● Check out these recommended road trip apps before your trip.
Parking options at the Rijeka Airport and Rijeka city centre
There are multiple parking lots located in front of the terminal. Payment is made at the automated machines within the terminal, and availability includes both short-term and long-term parking.
Rijeka city has a wide range of parking options, from open and closed car parks to paid on-street parking. Be sure to pay close attention to the signs with maximum time limits if parking on-street.