Explore northern Chile's Atacama Desert when you hire a car in Calama. Calama is one of the driest cities in the world and known for all things copper.
Take a stroll around the city to see the copper roof of Cathedral San Juan Bautista and many copper statues. Visit the nearby town of Chuquicamata to experience the world's largest copper mine.
When you're ready to venture further afield, you can explore surrounding natural attractions like geysers, salt flats, and volcanoes. Finally, escape the desert heat and head to one of the seaside cities of Arica, Iquique, or Antofagasta.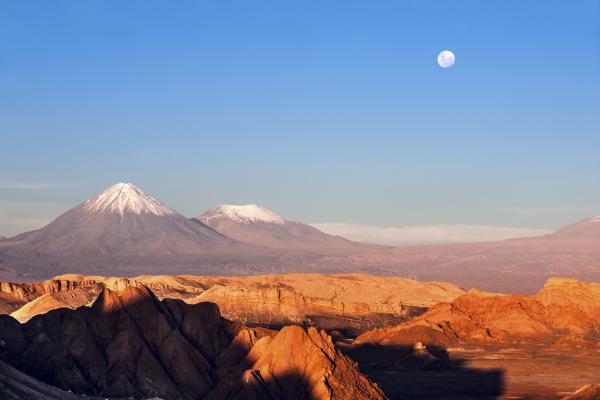 Renting a car from the El Loa Airport
Airport Rentals makes it easy to reserve a cheap rental car at El Loa Airport. In just a few clicks, you can generate a list of cars available on your travel dates. Simply type in your trip details to compare rental cars and prices from both international and local brands.
Use the preference filters to narrow your search and find the perfect car hire for your trip. Complete your secure booking and have peace of mind with instant confirmation and no added fees or hidden charges.
Should you need assistance, contact our customer service centre online or over the phone. The team is always ready to help and are available 24 hours a day, 7 days a week.
El Loa Airport
El Loa Airport opened its new passenger terminal in 2014. LATAM and Sky Airlines are the major airlines operating out of the facility and both companies offer frequent flights to Santiago, La Serena, Copiapó and Antofagasta.
The airport provides basic amenities but has most everything you will need after a flight. For something to eat, there is a large restaurant on the upper level, as well as a bakery and coffee bar. There is also a small selection of retail outlets for those last minute purchases. Passengers can enjoy free and unlimited WiFi throughout the terminal.
When you're ready to collect your keys and hit the road, make your way to the arrivals hall where you'll find the car rental customer services desks.
Driving your car hire in Calama
Driving in the city poses few problems, however outside of the city many roads and tourist attractions are not well signposted. To reduce stress, plan your trip in advance, carry a map and ensure you are equipped with some form of navigation system.
Driving from El Loa Airport to Calama city centre
The centre of Calama is easy to reach from the El Loa Airport and should take no more than 15 minutes to drive. After leaving the airport, head north and follow the signs to the city centre.
Driving tips for Chile
● Drive on the right-hand side of the road and overtake on the left.
● Keep an eye out for stray dogs, who often wander onto the road.
● Obey all local road rules, especially the speed limits as the local police will be monitoring.
● Carry all required documents including a valid driver's license and passport.
Parking at El Loa Airport and in Calama
Parking is easy and plentiful at the El Loa Airport. Recently, an additional 500 spaces were added, bringing the total number of car parking spaces to over 600.
Most hotels offer free off-site parking in Calama. When parking on the street, be mindful that spaces are often narrower than what you may be used to.