Visit Chile's port city Antofagasta, known as the 'Pearl of the North'. It is often overlooked by visitors, who go straight to San Pedro de Atacama. With so much to see and do, Antofagasta is worth the delay.
This historic city has many attractions to keep you busy, including pretty artificial beaches, beautiful national parks, a seaside pedestrian promenade, fascinating monuments and a cute central plaza. Take your hired car and check out the must-see La Mano del Desierto, the impressive 11-metre high giant hand sculpture just 75 kilometres from the city.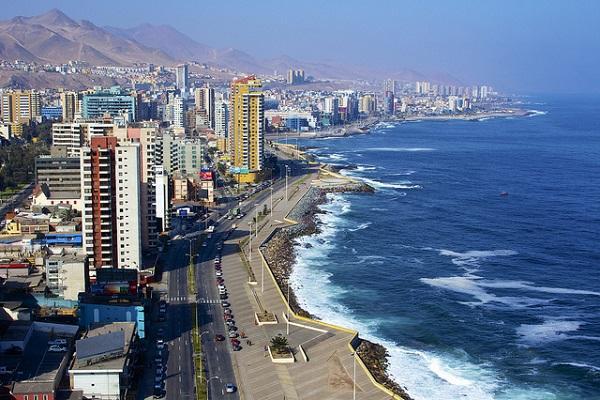 Image: Javier Jofre
Renting a car from the Cerro Moreno International Airport (ANF)
Securing a cheap rental car for collection at the Antofagasta Airport couldn't be easier with Airport Rentals. Compare multiple vehicles across several car rental brands and make a reservation all within a few clicks.
Simply pop in your travel details and click 'search' to view a vast selection of vehicles. Use the preference filters to favour your preferred features including make and model, transmission type and vehicle size, until you narrow your options down to one.
Complete your secure reservation and get instant confirmation, all without paying additional fees for the convenience. Should you need any assistance throughout the process, don't hesitate to contact our 24/7 customer service team.
Cerro Moreno International Airport (ANF)
Cerro Moreno International Airport is located 25 kilometres north of Antofagasta centre. It services frequent flights to Santiago and other domestic destinations, as well as international flights to Lima.
The old and dated terminal offers little in the way of dining options, but you will find a bakery on the first level and restaurant and cafe on the second level. You can also do a spot of shopping at the mini market.
When you are ready to pick up your keys and hit the road, make your way to the arrivals area to find the car rental counters.
Driving around Antofagasta
Make the most of your hired car and add some other popular cities to your itinerary, such as Iquique, Calama, and Copiapo. These cities are in easy reach from Antofagasta.
Driving from the Cerro Moreno Airport to Antofagasta city centre
It is an easy 30-minute drive from the Antofagasta Airport to the city centre. Once you leave the airport, drive south along the B20 road and then merge to the right onto Ruta 1. Follow this road all the way to the city.
Driving tips for Chile car hire
● Drive on the right-hand side of the road.
● It is illegal to use mobile phones while driving.
● Seatbelts are mandatory for all passengers.
● Chilean roads have a lot of tolls, always carry cash or a credit card.
Parking at Cerro Moreno International Airport and in the city
There are two parking options available at the Antofagasta Airport, both located in front of the terminal. Short-term parking is charged at 1,400 pesos per half an hour. The long-term parking costs a daily maximum of 11,000 pesos and a monthly maximum of 100,000 pesos. Parking can be paid for at the automatic machines or the customer service counter.
For security and peace of mind, use the guarded parking lots when parking in Antofagasta city, called 'Estacionamiento' in Spanish. If using on-street parking, don't leave valuables visible in your car.