Santiago is the capital of Chile and one of the country's most visited cities. The sprawling metropolis has a mix of skyscrapers and colonial architecture with a stunning backdrop of the Andes Mountains. Rent a car in Santiago to see it all.
Check out the city's many attractions, including fascinating museums, ancient buildings, stunning palaces, incredible churches, and beautiful parks. For amazing culinary treats, head to the restaurants in Barrio Bellavista - also one of the city's best spots for nightlife.
When you've seen enough of Santiago, hop in your rental car to explore the wineries of Maipo Valley and taste internationally renowned wines, then take a day trip to visit nearby coastal cities like Valparaíso, Viña del Mar, San Antonio and Concepción.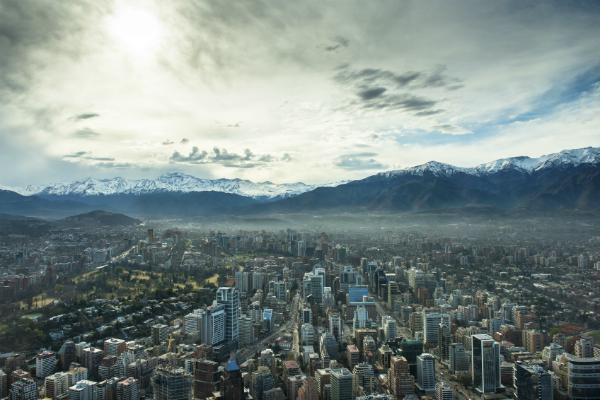 Renting a car from the Arturo Merino Benítez International Airport
Reserve your cheap car hire for collection in Santiago with AirportRentals.com. Simply type in your travel details to instantly compare big name international and local companies.
Compare a range of available makes and models, using the preference filters to refine your search. Select your preferred vehicle and securely complete your booking in just a few clicks.
Need to make amendments? No problem, you can easily manage your booking online or contact our customer service team, who are ready to help 24/7.
Arturo Merino Benítez International Airport
Arturo Merino Benítez International Airport is located 15km north of the downtown area, servicing both domestic and international travellers. It sees 19 million passengers a year and is in the process of expanding. A new passenger terminal is due for completion in 2020.
The terminal has over 70 retail stores and 4 duty-free outlets with everything you could need, including souvenirs, wine, music, fashion and accessories. There's no chance of being hungry at this airport, with 21 restaurants and bars to choose from. Santiago Airport also offers some fantastic additional services including a free book exchange, yoga classes, and unlimited WiFi.
Upon landing, make your way to the arrivals hall to find the car rental customer service desks, collect your keys and start your Chilean adventure.
Driving your car hire in Santiago
Driving in Santiago is a similar experience to driving in most other large cities. Traffic congestion is a problem, especially during rush hour. If possible, avoid driving between 7 and 9 in the morning and between 5 to 8 in the afternoon.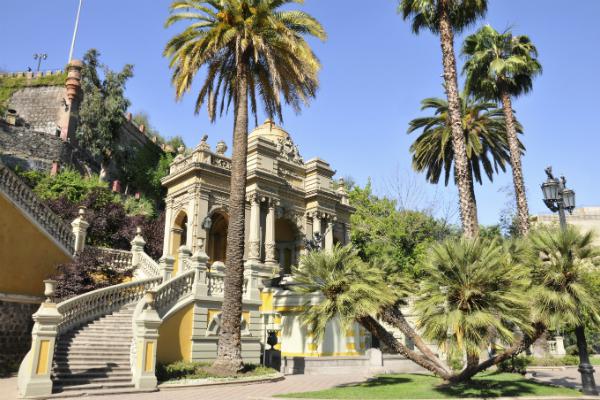 Driving from Arturo Merino Benítez International Airport to downtown Santiago
The drive time from Santiago Airport to the central city is approximately half an hour and can be easily done using the 6-lane expressway, Costanera Norte. This road conveniently connects the airport with downtown Santiago.
Driving tips for Chile rental car
● Drive on the right-hand side of the road.
● Keep small change or a credit card handy to pay for the many toll roads in Chile.
● Chilean drivers are notorious for changing lanes or merging without signaling.
● Driving distances can be long between destinations. Plan your journey ahead of time to ensure you have plenty of petrol.
Parking at Arturo Merino Benítez International Airport and Santiago City
With nearly 4000 spaces, parking at the Arturo Merino Benítez Airport is a breeze. There are four car parks to choose from, with the closest a 2-minute walk to the terminal, and the furthest 1.6 kilometres away. Prices reflect the distance.
Street parking can be hard to find in Santiago so it is best to park in one of the secure underground car parks. There are many options around the city, close to all major tourist attractions.
Santiago Airport Terminal Map