Located in the gently rolling hills of Alberta, Red Deer is the centre of the prairie region and has agriculture and farming in its veins. The city and surrounding region is blessed with beautiful parks, waterways and lakes, offering a breath of fresh air to visitors.
Red Deer is situated right in the middle of Calgary and Edmonton, Alberta's biggest cities. It is not far from the city to the beautiful Rockies and mountain resorts like Banff, and while a trip to Vancouver may require two days on the road, it is a very scenic drive. Most of Canada is within reach when you pick up a car hire from Red Deer, so pack for a road trip and hit the highways.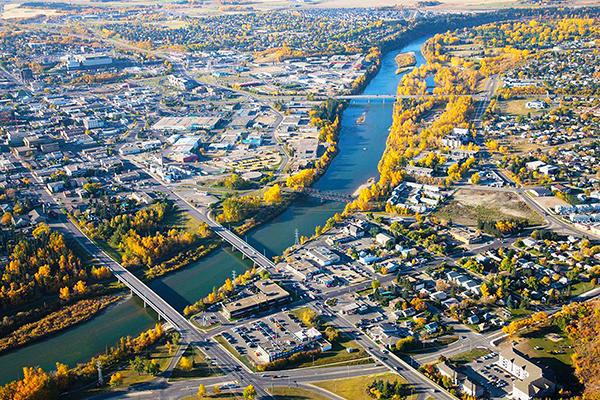 Driving your rental car in Red Deer
Red Deer Traffic
Aside from a little peak hour congestion and some hold-up around the bridges over Red Deer River, traffic is not bad in Red Deer. Travel outside of rush hours for an easy ride.
Driving to and from Red Deer Airport
The 14-kilometre trip from Red Deer Airport into the city in your car hire should take around 20 minutes with no traffic. Head out east on Airport Drive, then turn left onto AB-2A towards Red Deer. Continue straight on the highway, which becomes Taylor Drive as you enter the suburbs. Turn right onto 49 Street W before crossing the river, and this will take you straight into the centre of the city.
Red Deer car rental driving tips
Driving in Red Deer itself is much the same as in other Canadian cities - for some foreign road trippers, the most important thing to remember is to drive on the right-hand side! The surrounding region is relatively flat, and that can mean long stretches of straight highway. Ensure you take breaks when tired, and if you head into more remote areas, make sure the car is stocked with food, water and fuel.
The Rockies are a very different landscape which require different considerations for drivers. On the steep and winding roads, shift down gears to control your speed where possible rather than overusing your brakes. Use caution on blind corners, and pull over for the driver to admire the views instead of doing it from behind the wheel.
The colder months mean a lot of snow in Canada, so if you are planning your trip to Red Deer between November and April, read up on our winter driving tips.
Parking at Red Deer Airport
You can park for free at Red Deer Airport! The parking lot has no charge. Note that the 22 stalls in the front row of the lot are equipped for electric vehicles, and there is a CAD$10 per day cost for charging services. Curbside parking directly in front of the terminal is for loading and unloading only.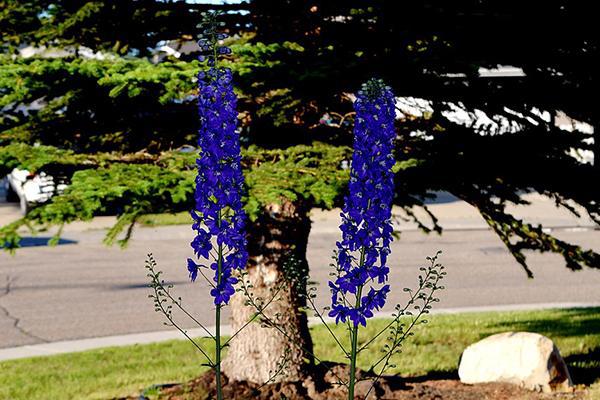 Image (modified): randreu, CC BY 3.0, via Wikimedia Commons
Parking in Red Deer
On-street metered parking in the downtown area will cost between CAD$0.80 and CAD$1.50 per hour, depending on the location. Check for time limits on your meter. There are also parking lots downtown, both private and city-owned with various rates.
Book a cheap Red Deer car rental
You will get some of the best rates around on your Red Deer Airport car hire with Airport Rentals. Not only that, but our simple and quick search engine makes it easy to find the perfect car for a memorable trip. Enter your dates and location, set it to searching and you'll have a list of available options from a range of different rental suppliers in no time.
Browse and compare the possibilities for your rental, and narrow them down into a shortlist that fits your preferences using the handy filters. The cheapest rates are listed at the top by default, so it's no problem to spot a bargain! Once you have chosen your rental, complete the simple booking process to get instant confirmation on our secure site. Any questions throughout the booking process can be answered with a call to the friendly Airport Rentals team, available by phone 24/7.
Red Deer Airport
Flying in to Red Deer Regional Airport is a great experience. The terminal building, open 4am to 11pm seven days a week, offers free WiFi, vending machines and a television lounge for waiting passengers. There are regularly scheduled flights between Red Deer and Calgary.
There are no rental companies based in the terminal, so check your confirmation for details about how to pick up your vehicle and make a speedy getaway.