A city of contrasts, Bangkok is a thriving metropolis of city blocks and local communities, skyscrapers and colourful market stalls, shiny high-class restaurants and humble street food. There's never a dull moment in Bangkok; shop till you drop in magnificent malls, visit the astonishing towering palaces, take a ferry ride across the harbour, wander through museums, or take a trip into the countryside. Whatever your travelling tastes, experience Thailand like never before by renting a car in Bangkok.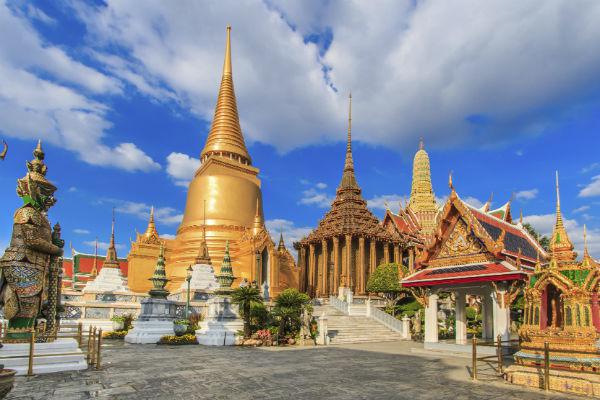 Secure a cheap car hire in Bangkok with Airport Rentals
Save time and money when you pre-book a car hire from Bangkok Suvarnabhumi Airport with Airport Rentals. In partnership with a wide network of suppliers, we're able to bring you the best car rental deals across the board.
After selecting your travel dates, you will be presented with a list of available vehicles from Bangkok Airport, arranged lowest price first to ensure you're getting the best deal. Are you after an economy car? Or perhaps you need a minivan for your family? Sort your results by car type, transmission, group size and more to find exactly what you're looking for.
When you're ready to check out, book instantly and securely online. With no additional booking fees and a customer service team just a call away, you'll have your hired car sorted in just a few clicks.
Searching for a car hire from Don Mueang Airport? Visit the Bangkok Don Mueang Airport airport car rental page.
A quick look at Bangkok International Airport
Formally called the Suvarnabhumi Airport, Bangkok International Airport is the largest airport in Thailand, hosting millions of travellers each year. A brilliant range of dining options, retail stores, bookshops, and more await you as you touch down from nearby Phuket, or internationally from Beijing, New Delhi, or Auckland (to name a few). Grab a bite to eat and catch up on social media with the free terminal-wide WiFi, and when you're ready to begin your Thailand adventure, pick up your rental car keys from your supplier's desk on the 2nd floor, near Gate 8.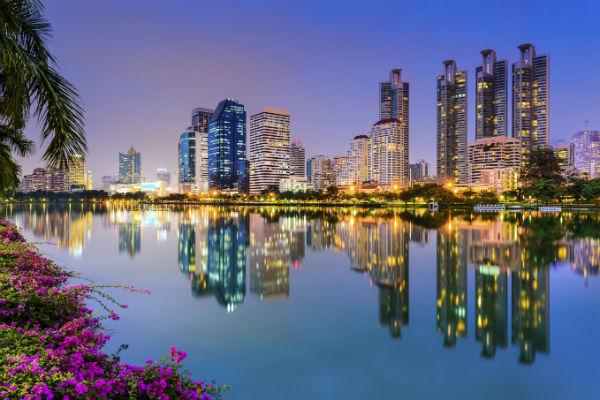 Driving your car hire in Bangkok
The main thing to remember about driving in Bangkok is that the driving laws are only loosely observed by locals. While you should always follow the road rules, be aware that others may not. There are a lot of accidents in Bangkok; stay vigilant.
Getting to and from Bangkok Airport
It is a 31km ride from the airport to Bangkok, and will take around 45-minutes. Follow the signs from the airport to Route 7, and take the highway west towards Bangkok. Keep right to get onto the Sirat Expressway, then head left at the fork, following the signs towards Lan Luang Road.
You can take a taxi, bus, or a train to Phayathai Station from the airport if you're picking your rental car up from the city.
Handy tips for driving your hired car in Bangkok
● In Thailand, motorists drive on the left.
● The speed limit in the city is 60km/h, and up to 90km/h on the highway.
● Motorcyclists tend to dart through traffic, so take extra care.
● Bangkok has many expressways, which can get you places a lot faster than taking the urban routes.
● Vehicles which flash their lights mean they're coming through, not that they are stopping or letting you go. Similarly, a honking horn is not necessarily a sign of road rage.
First time driving in Thailand? Here are some more tips for driving in foreign countries.
Parking your rental car in Bangkok
The Bangkok International Airport has both short and long-term parking available. Short-term parking begins at ฿25 per hour, with a daily maximum of ฿250. Long-term rates start at ฿30 per hour, and have a daily maximum of ฿140.
Parking in Bangkok can be a challenge and an expensive endeavour in the CBD. While there are several lots and garages throughout the city, they usually start at a rate of approximately ฿80 per 2 hours, but can be as high as ฿250 per hour.
Bangkok Airport Terminal Map
Bangkok International airport, also known as Suvarnabhumi Airport is one of two International airports serving Bangkok, Thailand. The airport is located about 25km east of Bangkok and is ranked the 16th busiest airport in the world and the 6th busiest in Asia.