Officially called Mbombela after a name-change in 2014, the South African city of Nelspruit has a lively character and upbeat culture, welcoming visitors to its neighbourhood in the northeast corner of South Africa. Experience the city and surrounding region by renting a cheap car hire from Nelspruit Airport.
Visitors to the area can enjoy spectacular parks and reserves, looming mountains and the flowing Crocodile River. Agriculture is a big part of Nelspruit life, and if you love fresh fruit, the local citrus farms and subtropical fruits such as mango and papaya are sure to win you over.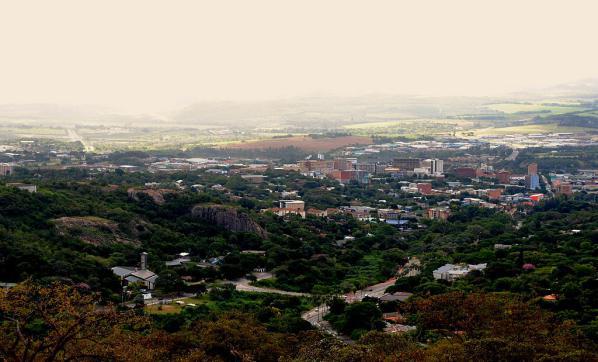 Image: Wernermeiringvdm
Booking a car hire in Nelspruit with Airport Rentals
Booking a cheap rental car in Nelspruit is easy with Airport Rentals. We work with an extensive range of suppliers to bring you the best cars at the greatest prices across multiple brands. To get started, simply pop in your travel dates and click 'search'. A list of available vehicles from Nelspruit Airport will be generated and presented lowest price first. Use the handy filters to narrow down your options further by style, group size, transmission, brand and more.
Ready to book? Confirm securely online with no worry of hidden fees. Need a hand? Enjoy access to friendly and reliable customer service, available to you 24 hours a day, 7 days a week.
An overview of Kruger Mpumalanga International Airport
Replacing the old Nelspruit Airport, the Kruger Mpumalanga International Airport is now the main airport serving Nelspruit and the Mpumalanga Province. The airport is a unique combination of western and African architecture, and is now the largest thatch constructed Airport in the world. Dining options and free Wifi are available to arriving passengers. Pick up your rental car keys from the kiosks located on the ground floor.
Fly into Nelspruit from Johannesburg, Cape Town, and Durban.
Driving your car hire in Nelspruit
Driving around Nelspruit is a stunning experience, with wild landscape and looming mountain ranges surrounding you. Be sure to keep your eyes on the road and pull over with caution for photo ops.
How to get to and from the airport
Kruger Mpumalanga International Airport is located approximately 27km north east of the city, the drive to town taking around half an hour. From the airport, head towards R538 and turn left onto the highway. Follow until you reach the N4, then take a right and follow the signs into Nelspruit. Alternatively, pick up your rental car from the city.
Tips for driving your rental car in Nelspruit
The major trade route from Johannesburg to Maputo in Mozambique heads along the north of Nelspruit. For this reason, there are often trucks along the N4 toll road, so be alert to them if you're headed that way. A few more tips to keep in mind are as follows:
● Keep to the left, and give way to the right.
● Outside of the city, animals may wander onto the road.
● In the city there are lots of traffic lights (called 'robots)', so be prepared to stop often.
● While generally safe during the day, it's best to keep your car doors locked at all times.
● Police often stop people for licence checks; carry yours at all times while driving.
● Local drivers can be reckless; stay alert and drive defensively.
Parking at Nelspruit airport and in town
Short and long-term parking are available at the Kruger Mpumalanga International Airport, both secure and monitored in the same lot. Rates begin at R5 for the first 30 minutes, with an additional R5 every hour thereafter. A full day's parking will cost R60. There's also a Drop & Go zone outside the terminal for collecting passengers.
If you're headed into the city to get in some retail shopping, the Crossing Centre complex has 1500 free parking sports, both open air and underground. Hotels, motels, guest houses and large attractions will also have parking available.