In the deep south of New Zealand, Dunedin is known for its Scottish heritage and large student population. It is also surrounded by some of the country's most beautiful landscapes, making it a fantastic place to pick up a rental car and hit the road.
The small airport has a single terminal which houses offices for a range of international and local car hire companies. From Avis to Thrifty and all the suppliers in-between, there are plenty of options. Airport Rentals simplify your car hire at Dunedin Airport by bringing them all together on one site so you can search, book and drive away with no hassle.
The Otago region is rich with history with stunning scenery to experience. Amongst the many options for things to stay occupied, we highly recommend seeing it all from above. There are few places in the world quite so naturally striking as the Otago region in New Zealand, and few places so well versed in teaching budding pilots to fly. Put them together and you've got Ace Aviation, an incredible facility that can introduce you to flying a plane, or improve your existing skills and get you ready for the next professional steps. Ace Aviation goes as far as offering personalised training programs to suit your timeframe and budget, and offers everything from vintage aircraft flight experiences to commercial pilot licence training. Grab a Dunedin car rental and enjoy a scenic 45-minute drive to get to your flight experience.
The world's only mainland breeding colony of Royal Albatross is located on the Otago Peninsula, less than an hour's drive from Dunedin. The Royal Albatross is the largest seabird on the planet, and they spend most of their lives at sea - making them an incredibly rare and special sight during your visit to New Zealand. Expect wingspans of up to 3.3 metres across, and watch as the young each as much as 2 kilograms of squid and octopus per day. A visit to the Royal Albatross Centre offers wildlife and cultural tours of the wild and scenic Taiaroa Head, including seeing the colony of birds, the historic Fort Taiaroa, and the cute Little Blue Penguin colony at Pilot's Beach. Enjoy the drive up the peninsula in your Dunedin car rental - and be sure to bring your camera for the ride! The Royal Albatross is based out of 1260 Harington Point Rd, Harington Point 9077, New Zealand.
The best way to see as much of this South Island city is with your own vehicle, so use Airport Rentals to book your car hire in Dunedin to start exploring. You may wish to pick up or drop off your rental car in a different South Island location to make it a one-way trip. Try Queenstown, Christchurch or Timaru airports.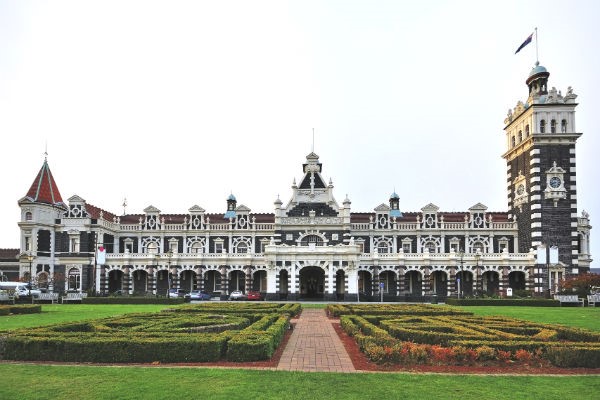 Compare companies and vehicles
To find your Dunedin Airport car rental, simply enter the requested details into the Airport Rentals search engine for an extensive list of vehicles available from the many suppliers. The results are formatted in a list for easy comparison, with the cheapest rentals at the top and all necessary information readily visible without needing to click through. Filters mean you can reduce the options even further to find the perfect car hire.
Dunedin Airport car rental on a budget
Airport Rentals is proud to offer some of the best car rental rates online, and our lowest-price promise means we put our money where our mouth is. See the "About Us" page for more details. Special offers and mystery deals can be found on the homepage, so check these out before you search to see if they apply to your plans - you might pick up a bargain and save money!
Directions from Dunedin
Head out with your car hire from Dunedin Airport to enjoy the scenic delights of New Zealand's South Island. There are so many destinations to choose from, but here are just a few ideas for a great road trip:

● Go south towards Invercargill via the lovely Catlins Coast, a highlight of the Southern Scenic Route where the rugged coastline is backed by podocarp forests and farmland.
● Make a beeline for the gorgeous lakeside towns nestled among the mountains of Otago. These include Te Anau, Wanaka and the famous Queenstown, Adventure Capital of the world.
● The coastal route north will take you through some friendly small cities and across the beautiful braided rivers of the Canterbury Plains to Christchurch, the South Island's major metropolis (pop. 370,000). Beyond that, the wine region of Marlborough awaits.
Stay safe and enjoy your car hire adventure in New Zealand!