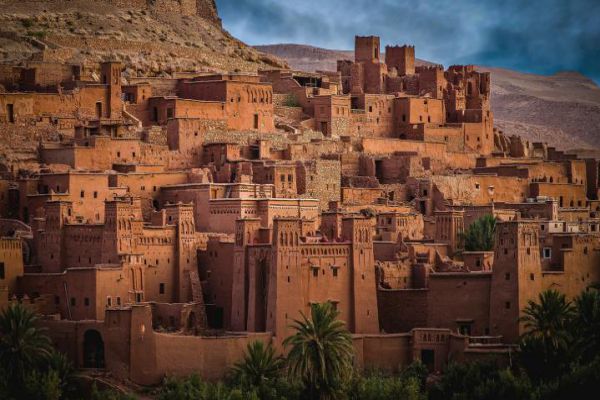 Image: Pixabay
From vast Atlantic coastline and bustling cities, to craggy mountains and arid desert, Morocco is a place of incredible wilderness, beauty and diversity. Get to know the secrets of this north African country when you hire a cheap airport rental car and tour the nation on your own time.
It's a place of incredible history, with fossils suggesting that the region has been inhabited by humans for more than 300,000 years. Today, more than 30 million people live in the Kingdom of Morocco, speaking a mix of Berber, Arabic, and French.
Morocco's top attractions are scattered about the country and are as diverse as the people who call it home. The city of Marrakesh and its Jemaa el-Fnaa marketplace and exotic Majorelle Garden is a treasure trove of delights in itself, and the capital of Rabat on the coastline is a sumptuous fusion of Islamic and French heritage where historic structures and beautiful sights abound.
Outside of the cities, you'll find phenomenal natural attractions such as Ouzoud Falls, where you can take a boat ride to get right up close to these 110-metre cascades, and watch for local macaque monkeys climbing through the trees on the riverbank. Or make your way to the Todgha Gorge in the High Atlas Mountains for something truly special.
See it all with a cheap car hire in Morocco from AirportRentals.com
Save time and money when you book a cheap rental car in Morocco. Instead of typing your details into multiple websites for quotes, simply use Airport Rentals to do just one search and compare numerous rental deals in one place.
Enter your pick-up location and travel dates to generate a list of vehicles available from all leading car rental companies. You can sort the list by price to quickly find the cheapest car rental in Morocco, or you can toggle the filter options to narrow your results down to specific options such as manual or automatic transmission, larger vehicles, or cars from specific hire companies.
Airport Rentals provides a 24/7 phone and email assistance option to answer any questions you may have, and you can book securely online as soon as you've made your decision - all without paying additional fees.
Once booked, you can make changes using our online reservation system at any time. With free benefits and excellent customer service, Airport Rentals is your one-stop shop for all your car hire needs.
Top car rental locations in Morocco
You can organise your rental pick up in Morocco for as soon as you touch down. Most rental brands offer desks in the arrivals terminals to make this process nice and easy, so you can pick up your car when you arrive in popular locations such as Marrakech Airport, Rabat Airport, Tangier Airport, or the Casablanca Mohammed V Airport.
That said, you still have plenty of options if you're travelling to smaller cities around Morocco. There are rental locations in the northeast at Oujda Airport or Nador Airport, on the coastline at Essaouira Airport and Agadir Airport, and in the north at Fez Airport.
Don't forget that you can opt to pick up your car rental in one city and drop it off when you fly out from another location. This makes it easy to visit all those places on your to-do list without having to make it a round trip. Simply tick this option and enter your departure city when you run a search on Airport Rentals.
Top car rental companies in Morocco
Many of the world's largest suppliers in car rental offer depots in locations all over Morocco.
● This includes big names like Avis, Thrifty, Budget, Dollar, and Sixt.
● There is also a new car rental supplier called Inter Rent available in a handful of locations in Morocco, positioning itself as a company that offers low-cost rentals with friendly service and transparent pricing.
If you're looking to rent from a particular supplier, you can filter your search results by brand when you run your car hire search.
Road rules in Morocco
● Drive on the right-hand side of the road and give way to the left.
● Speed limits in urban areas are usually 60km/hr, and open roads have limits of up to 120km/hr.
● Drink driving is strictly prohibited in Morocco, so if you are pulled over and test positive for alcohol, you will be fined on the spot.
● Third-party insurance is compulsory, and you must carry proof of your insurance with you.
Tips for driving your rental car in Morocco
Driving in Morocco can be a challenge so come prepared with a GPS and plenty of patience.
● Prepare to hear plenty of honking all of the time, and be wary of local drivers who flout the road rules.
● Expect a lot of traffic in the major cities. Give yourself plenty of time to get from A to B.
● You'll come across donkey-drawn carts on the roads in the cities, and you'll need to carefully pass them often.
● Outside of the cities, it's normal to find wildlife on the roads, so try to avoid driving at night when it's harder to see.