Get to know one of the world's most iconic cities when you rent a car in Rio De Janeiro.
Take a trip to Tijuca National Park and experience a huge urban forest. Kick back on the famous Copacabana beach, visit the famous Sugarloaf Mountain, and top off your trip with a visit to the Cristo Redentor (Christ the Redeemer) - the second largest Jesus statue in existence.
With its friendly locals, rich culture, lively nightlife and amazing food, it's easy to see why Rio De Janeiro is such a popular destination. Explore the city and its surrounding attractions when you rent a car at Galeao International Airport Terminal 1.
Booking a cheap Rio De Janeiro rental car with Airport Rentals
Book your rental car and have it ready for collection at Terminal 1 upon landing in Rio De Janeiro. Simply type your travel details into AirportRentals.com to view available vehicles from multiple companies, including Avis, Budget, Movida and Localiza.
Refine your search with preference filters to compare a range of compact, medium and full size vehicles, and choose between manual and automatic transmission.
Securely complete your booking to enjoy benefits such as instant confirmation, breakdown assistance and theft protection. Enjoy access to our friendly customer service team who are available 24/7 and never worry about hidden fees or charges when you book with Airport Rentals.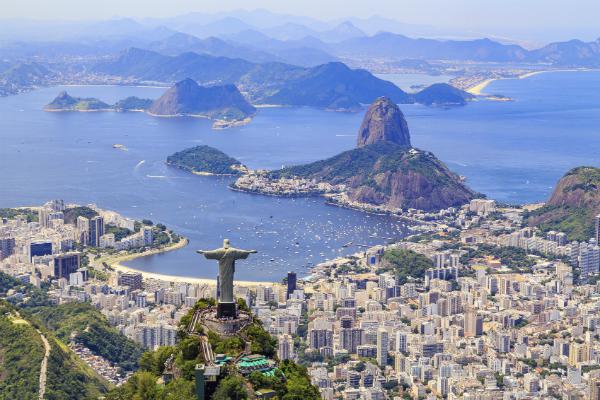 Galeao International Airport (GIG) Terminal 1
Galeao Airport is located 20km north of Rio's city centre. The busy hub has regular flights connecting Rio with other popular destinations in Brazil including Sao Paulo, Fortaleza, Florianopolis, and Iguazu Falls, as well as many international destinations.
The half-circle shaped Terminal 1 has 4 levels and a range of facilities and amenities. Passengers can choose from a variety of dining options including restaurants, cafes, and fast food outlets. Indulge in some retail therapy at one of the many stores and duty-free shops. For some pampering, visit the on-site beauty salon.
WiFi is available throughout terminal 1 and free of charge for 60 minutes. There is also currency exchange, ATMs, and tourist information. Head to the arrivals hall to find the car rental customer services desks.
Terminal 2 is easily accessible by the travelator.
Driving from the Galeao International Airport to Rio De Janeiro city centre.
Driving from the Galeao International Airport to Rio De Janeiro takes approximately half an hour, outside of the morning and afternoon rush hours. The airport is connected to the city centre by two major roads, Expressa Presidente João Goulart (Linha Vermelha) and Avenida Brasil.
Driving tips for your Rio De Janeiro rental car
Driving in Rio can be hectic, with a lot of traffic and pedestrians. Local drivers can be aggressive and disregard the road rules. Stay safe and drive defensively.
Brazil driving tips
● Drive on the right side of the road, overtake on the left side.
● Keep an eye out for unmarked speed bumps.
● Keep doors locked and windows up when driving at night.
● Roads outside of the cities and major highways can be in poor condition.
Parking options for Terminal 1 at Galeao International Airport
The airport offers plenty of parking with a total of 2742 spaces available in the multi-storey car park, conveniently located opposite the terminal.
Parking options for Rio De Janeiro city centre
While on-street parking is available in most areas, it is better to use a secure parking lot. Be sure not to leave any valuables in your parked vehicle.