Visit Sao Paulo and discover its many secrets when you hire a rental car. With museums, historic buildings, art, and many other attractions to explore, Brazil's largest city is guaranteed to delight and surprise you.
Let loose and party all night at one of the 15,000 bars in the city, indulge in some luxury shopping in the Jardins District and spend the day strolling around lush gardens in Parque Ibirapuera. With over 12,000 restaurants, Sao Paulo is a food lover's paradise. You'll need to return again and again to get your fill of this cosmopolitan city.
Booking a Sao Paulo rental car
Reserve your cheap rental car in just a few clicks with AirportRentals.com. Use our powerful comparison tool to find the best deals on car hire at Sao Paulo Airport.
Simply type in your travel dates to generate a comprehensive list of rental options available across multiple brands. Refine your list by selecting filters for preferences such as automatic transmission or economy vehicles. Once you've narrowed your options to a few ideal cars, select your vehicle and securely complete your booking in a few steps with no need to worry about hidden fees or charges.
Easily manage your booking online, or should you need some assistance, contact our customer service team who are ready to help 24 hours a day, 7 days a week.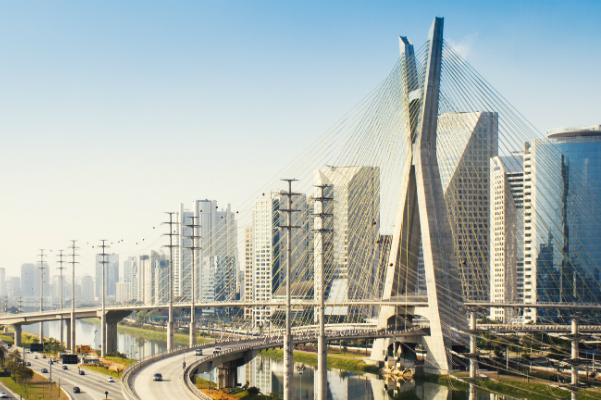 Sao Paulo Guarulhos International Airport (GRU)
Bustling Sao Paulo airport is located 25 kilometres from the city centre and offers both international and domestic flight services. It has three terminals servicing millions of passengers each year. Terminal 1 can be accessed from the other terminals by a free shuttle bus. Terminals 2 and 3 are connected and walkable.
Dining options are available in all terminals and include restaurants, cafes, and fast food outlets. The airport also has an impressive range of shopping outlets where you can pick up big name fashion, jewelry, souvenirs, duty-free items and more. WiFi is available throughout the airport and free for one hour.
To collect your hired car keys and begin your Brazilian adventure, head to the arrivals hall in Terminal 1, 2, or 3 to find your designated car rental service desks.
From Sao Paulo Airport, you can fly to other Brazilian destinations such as Rio De Janeiro, Florianopolis, Salvador, and Curitiba.
Driving from the Sao Paulo Guarulhos International Airport to downtown Sao Paulo
Sao Paulo city centre is easily accessible from the airport and it will take approximately 40 minutes to make the trip. Simply take Ayrton Senna or Presidente Dutra highways and follow the signs to the centre.
Driving tips for your Sao Paulo rental car
Driving in Sao Paulo can be challenging with heavy traffic, especially during morning and afternoon rush hours. Avoid driving during 6am-9am and 4pm-8pm, if possible.
Brazil driving tips
● Drive on the right side of the road, overtake on the left side.
● Keep some cash or a credit card handy to pay for the road tolls.
● Keep an eye out for motorcycle riders who often weave through slow moving traffic at high speeds.
● Take extra care if driving during or after the rainy season, when roads can be hazardous.
Parking options at the Sao Paulo Guarulhos International Airport
There are nearly 1500 car spaces available at the airport. All parking areas are easily accessible from all three terminals.
Parking options in Sao Paulo city centre
On-street parking is available on the main streets of the central area, known as Zona Azul or the blue zone. Buy tickets from authorised shops, newsstands and transit guards, and display the ticket on your windscreen. Alternatively, use one of the many paid parking lots, with rates starting at $R11.50 per hour.
São Paulo Airport Terminal Maps