There truly is no place like Sydney in the world. It's the largest city in Australia - and Oceania - and boasts the largest natural harbour on the planet. It's incredibly diverse in culture and population, and is frequently ranked as one of the best places to live in the world.
Sydney is one of the most visited cities in the world, as thousands of tourists flock to its many attractions - both natural and man-made. The Harbour Bridge and Sydney Opera House are huge draw cards, but will not be outshone by the stunning beaches, decadent nightlife and adventure opportunities in the nearby Blue Mountains and beyond.
As one of the most sprawling cities in the world, it's the kind of place where a vehicle can make a huge difference to your visit. Book your car hire in Sydney to help you see everything it has to offer!
Looking to start your Australian adventure in a different city? Rent a car in Brisbane, Perth or Melbourne.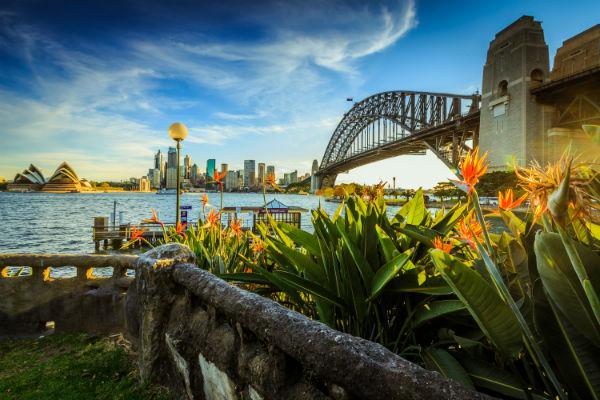 Booking with AirportRentals.com
Airport Rentals is your go-to car rental company comparison site for just about any city in the world.
All you need to do is enter your pick-up and drop-off dates, indicate the driver's age and whether you'll be arriving via the domestic or international terminal at Sydney Airport. Keep in mind that the two terminals are actually quite far away from each other, so be sure to double check where you'll be arriving.
With all of that information, Airport Rentals will present a list of vehicles and prices from the leading car hire companies in Sydney. You can easily find the best bargains from companies such as Thrifty, Avis, Europcar, Hertz and more, in an easy-to-read format.
Once you've made your choice, you can book securely online without paying any booking fees. Plus enjoy 24/7 customer service!
A Guide to Sydney Kingsford Smith Airport
Sydney Airport is the busiest in Australia, connecting with more than 90 destinations worldwide and serving more than 35 million passengers (more than the population of Australia) every single year.
The airport is just 12 kilometres south of the Sydney CBD, so not only will you enjoy a stunning view over the harbour as you land and take off, it's a quick trip into town as well.
As a major airport, you can expect to find many amenities and services on site. From free WiFi to a range of shops, a large variety of cafes, bars and restaurants, as well as additional features such as a prayer room and medical centre, Sydney Airport makes it easy to travel.
All Sydney Airport rental car desks are found on the arrivals level in both international and domestic terminals.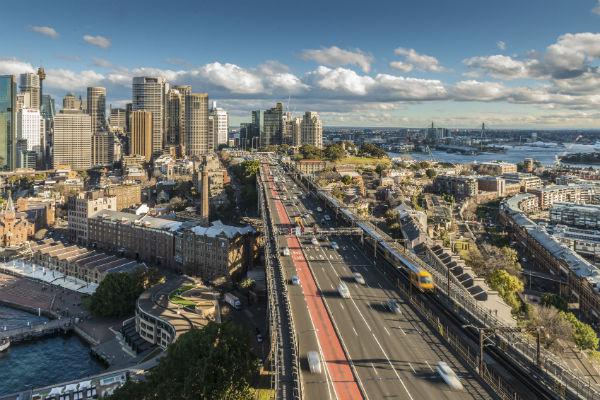 Driving in Sydney
As a city with more than 5 million inhabitants, it's only to be expected that traffic can get quite hectic. Naturally, before and after standard business hours are the busiest times of the week, so avoiding these times whenever possible may save you some driving frustration!
From the Airport
The fastest driving route between Sydney CBD and the airport is the M1, which is one of Sydney's toll roads. This trip is a practically a straight line that runs from north to south and will take just over 20 minutes in normal traffic conditions. The other option is to drive via O'Riordan Street, which runs almost parallel to the M1 and doesn't involve tolls, but often involves congestion at certain points so will take longer.
Sydney Tolls
There is a network of motorways, known as the Sydney Orbital Network, that circumnavigates the city. These motorways such as the Eastern Distributor, the Westlink M7 and Lane Cove Tunnel, often include tolls. Toll roads are cashless, so there's no need to carry change with you, but you will need to ensure your Sydney car hire has an electronic tag. Rental companies usually include these as standard, but it's a good idea to talk to the staff when you pick up your vehicle about how it all works.
Sydney Driving Tips
If it's your first time driving on the left side of the road, it may be best to leave the city and explore the greater Sydney region before attempting to drive in the bustling CBD. In fact, you may find it easier to park in the CBD then either walk or use public transport to explore this area, as it can be quite intimidating if you're not used to driving on the left side of the road. Naturally, a GPS will be a huge help in navigating Sydney, so be sure to book one with your car hire.
Sydney Parking
Parking at Sydney Airport is easy - there are more than 16,700 spots to choose from after all. You can book your spot online in advance or turn up on the day and find a space in one of the short- or long-term areas for the domestic or international terminals. In the city, finding a park can be a lot harder. There are two city-operated parking buildings in town, along with plenty of metered options and private parks as well, but competition is fierce. Note that meters accept both coins and credit cards.