Perth is Australia's fourth largest city with just over 2 million people calling it home, and it's a place that manages to walk the fine line between big-city living and laid-back lifestyles.
It's an ideal place for those who can't bear the cold, as its summers are hot and dry and winters are mild. Perth is the place to be if you love the beach and want to explore the remote southwestern corner of Australia, but don't want to give up all the modern attractions and amenities of a thriving major city.
Booking a car hire in Perth will help you see the sights and experience this state capital city like a local.
Looking to start your Australian adventure in a different city? Rent a car in Brisbane, Sydney or Melbourne.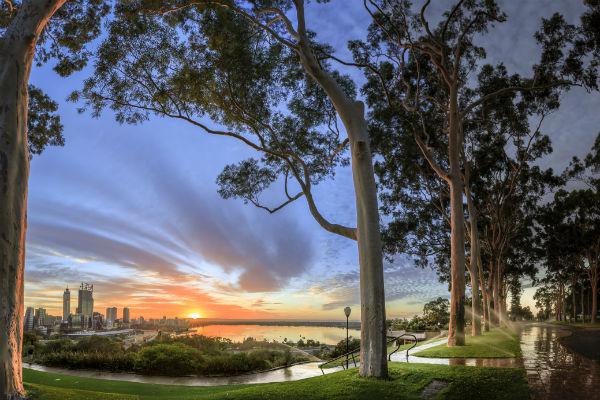 Book with AirportRentals.com to compare top brands
Organising your Perth rental vehicle doesn't need to be a chore. Instead of researching vehicles and rates with each separate car hire company in town, Airport Rentals will take your selected pick-up and drop-off dates and generate a list of available vehicles from top brands such as Thrifty, Avis and Hertz.
By using our comparison tool, you can quickly and easily find the right vehicle at the right price for your trip. Plus, you won't pay a cent in booking fees for the convenience.
You can book your car hire in Perth for pick up from the domestic terminal, or from the international terminal, so you won't have to worry about transfers between the two.
Perth Airport
Perth Airport is home to both domestic and international arrivals and departures. It's just 15km from the city, so should take you roughly 25 minutes to drive from the airport to the CBD and vice versa, depending on traffic.
There are four terminals in Perth Airport, all of which you can easily access in the main building. Each terminal has a dedicated function, so it may help to know which one you need when you arrive:
● Terminal One International: All international services
● Terminal One Domestic: Virgin Australia and some regional services
● Terminal Two: Alliance Airlines, Tigerair, Virgin Australia, Regional Express
● Terminal Three: Jetstar, some Qantas services
● Terminal Four: Qantas
There are plenty of shopping and dining options in the airport, and you'll find the car hire companies in the baggage claim area of the domestic terminals, and in the arrivals hall of the international terminal .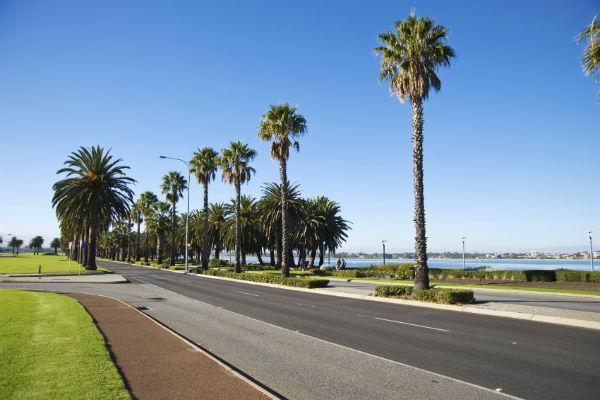 A Guide to Driving in Perth
Driving around in Perth is generally a lot easier than other capital cities as there is less traffic. However, the rapidly increasing population has seen more and more congestion along main routes. You can also expect rush hours before and after work on weekdays, so avoid these times whenever possible if you don't want to be held up.
From Perth Airport
There are a couple of routes you can take between Perth Airport and the city. It can be slightly quicker to opt for the southern option and follow State Route 7 and 8, or you can head further north, using State Route 4 and 51. Neither option includes toll roads, and both routes should take less than 25 minutes in normal traffic, but it's always important to give yourself additional time if you have a plane to catch, particularly if you're dropping off your car rental at the same time.
Perth Driving Rules and Tips
When you're driving in Perth, remember to drive on the left hand side. You will of course need a valid licence from your home country, and remember that if it's not already in English, you'll need to carry a translation with you at all times. Traffic can get busy so be sure to pay attention and never use your phone while driving (it's illegal in Australia).
If you're leaving the city, it is strongly advised to avoid travel at dusk, dawn and after dark. Once you get into rural areas, wildlife is most active at these times which can make it dangerous to drive. Therefore, always plan to arrive at your destination before nightfall, and if you're unable to do so, drive with extreme caution and consider driving below the speed limit.
Parking in Perth
You'll find parking options at Perth Airport to suit your needs. Short-term parking is available right in front of the terminals, or you can use the long-term parking and take a free shuttle to the terminal, which runs every 10 minutes. For premium, covered parking right next to the terminals, look for the Fast Track parking area. In town, you can enjoy two hours of free parking (within a five-hour period) within the Business Improvement Area. Or, find a stall in a municipal lot for longer stays for just $1 per hour. There are also more than 30 City of Perth car parks in town, and the mobile app can help you find ones that are available.